How To Get A Post-Facial Glow At Home, According To A Professional Esthetician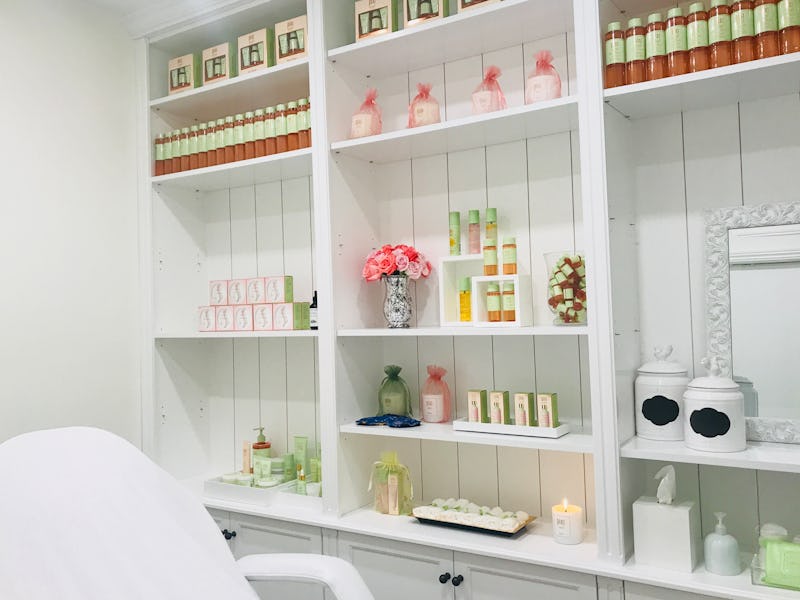 Sara Tan
If you've ever had a professional skin treatment, you know all about that post-facial glow — that dewy, smooth brightness you can't help but want to snap a selfie of immediately upon leaving the spa. The one that sadly, no matter what you do at home, you can't quite recreate on your own. But it's much easier than it seems, says Pixi Beauty Glow Spa's esthetician, Brittany Gilmore. All you need is a little bit of time and the right products.
Gilmore is the lead facialist at Pixi Beauty's new flagship store in Venice, California. The London-based brand recently introduced their first-ever Glow Spa, offering customized facials using products from their Skintreats collection. The menu of services were curated by Pixi Beauty's founder herself, Petra Strand, and esthetician Caroline Hirons, the mad genius behind the brand's newly acclaimed Double Cleanse product. The facials range from 30-minute "Express" Glow treatments to a 45-minute signature PixiGlow Facial, all of which promise to make your skin look smooth, healthy, and hydrated.
Gilmore is sharing her step-by-step guide for exactly what she does on her clients at the Glow Spa. Here's how you can DIY your own professional facial at home. Get ready to glow!
Step 1: Cleanse
Glow Mud Cleanser, $18, Pixi Beauty
First things first: Before you can treat your skin, you have to cleanse it. Gilmore says that one of the main focuses of a Pixi Beauty facial is to make sure your face is as clean as possible, because no matter how much you try to mask and moisturize, nothing will penetrate your skin if you've got dirt and build-up all over.
The Glow Mud Cleanser is a gentle, but deep pore cleansing mud made with glycolic acid and botanicals, so it cleanses and exfoliates at the same time. If you have one, lay a hot, wet towel over your face for a minute before using it to remove the cleanser from your face.
Step 2: Cleanse Again
Double Cleanse, $24, Pixi Beauty
To ensure that your skin is extra clean, Gilmore suggests following up with a double cleanse. Pixi Beauty's Double Cleanse handily packages what you need for this step into one container: One side is a solid cleansing oil and the other is a cleansing cream. For a deep double cleanse, start by massaging the solid cleanser on your face to remove makeup or sunscreen and then follow up with the cream to remove anything that's left behind.
Step 3: Tone
Glow Peel Pads, $22, Pixi Beauty
Typically, you'd follow up cleaning your face with a toner, but since this is a professional-style facial, Gilmore suggests using something a little stronger, like a product with exfoliating ingredients. The peel pads are made with 20 percent glycolic acid, rose water, vitamin E, and aloe vera, so when used, it'll exfoliate, balance, and soothe your skin. Use one pad all over your face until it's dry.
Step 4: Exfoliate
Peel & Polish, $24, Pixi Beauty
While your face might already feel squeaky clean, you've still barely scratched the surface. Take your cleanse one step further with an exfoliating peel. Pixi Beauty's Peel & Polish is a gentle enzyme peel made of lactic acid and fruit acids that'll help to loosen any dead skin cells and reveal a smoother surface. Leave it on for two minutes to let the enzymes activate on your skin.
Step 5: Mask
Glow O2 Oxygen Mask, $24, Pixi Beauty
If you really want to get the full Glow Spa experience, Gilmore suggests using two different masks to treat your skin.
First, apply a brightening mask. This is especially great before an event if you want your face to look bright as can be. In the case of the Glow O2 Oxygen Mask, you'll leave it on for two minutes, wait for it to bubble (that's when you know it's working), and rinse it off.
Nourishing Sleep Mask, $22, Pixi Beauty
Follow up with an extra hydrating mask, says Gilmore. Pixi's Nourishing Sleep Mask is a deeply hydrating mask with arginine (to strengthen), hyaluronic acid (to plump), and flower oils, so your face will feel soft and look healthy.
Typically, you'd use this overnight and rinse off in the morning, but during your facial, you can apply a thick layer, leave on for 10 to 15 minutes, and then rinse off.
Step 6: Moisturize
H20 Skindrink, $22, Pixi Beauty
To lock in all the moisture from the masking without leaving a creamy residue behind, Gilmore suggests using H20 Skindrink, a cooling gel moisturizer with green tea, aloe vera, and rosemary. Use upward strokes to massage the product gently into your skin.
Beauty Sleep Cream, $24, Pixi Beauty
Also, don't forget to moisturize your hands! While you wait for your masks to do their work, use a heavy face cream or a heavy lotion to massage your fingers, palms, wrists, and forearms.
Step 7: Use A Serum Or Oil
Rose Oil Blend, $24, Pixi Beauty
One of Pixi Beauty's most coveted products, the Rose Oil Blend is the perfect finishing touch to your facial. It'll act as an extra layer of moisture to lock in all the work you just did to your skin, plus give you a natural, non-greasy highlight.
Apply a drop to your forehead and your cheeks, and then use your fingers to distribute it across your face. Use the palm of your hands in a cupping motion to on your forehead, chin, and cheeks to help it absorb into your face.
Step 8: Apply Eye Cream
24K Eye Elixir, $22, Pixi Beauty
Treat your eyes with the 24K Eye Elixir, a cooling roll-on eye cream that'll encourage stimulation around the eye. Apply it gently to your orbital bone and pat it in with your fingers for extra absorption.
Step 9: Hydrate Your Lips
Nourishing Lip Polish, $12, Pixi Beauty
Seal your facial with a kiss using a lip balm. Pixi Beauty's Nourishing Lip Polish will exfoliate and nourish your pout, thanks to the shea butter and sweet almond, apricot, and evening primrose oils.
To learn more tips and tricks from Pixi Beauty experts, check out their YouTube tutorials here.