Why Double Cleansing Might Be The Key To Your Best Skin Ever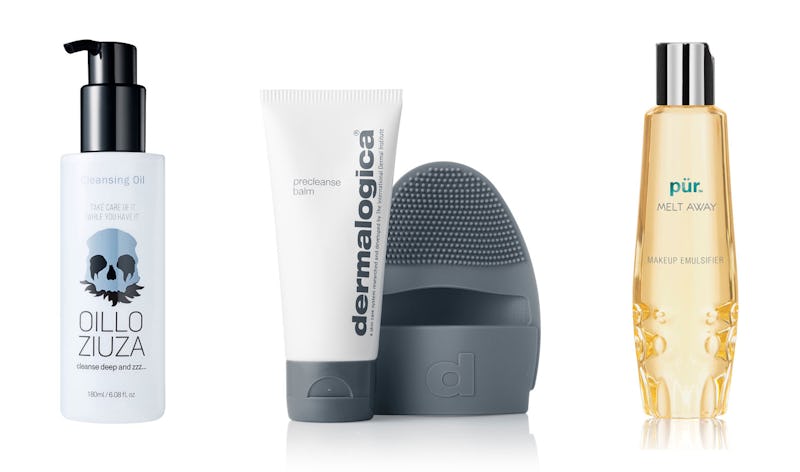 If you've ever washed off full face of makeup only to feel like your skin wasn't quite, well, clean, you're familiar with that grime-y, less-than-fresh feeling. The good news is, like many other skin woes, the K-beauty world has a solution for that. It's called double cleansing, and the method has made its way into Western skincare regimens.
No, it doesn't mean just washing your face twice with the same cleanser (you've probably tried that too, and it still doesn't quite produce that super-clean skin feeling). Double cleansing involves using an emulsifying oil or balm to help break up makeup, dirt, and grime, so your go-to cleanser is free to do the real work without fighting through all of that gunk.
"I always explain to my patients that 'like dissolves like,'" says NYC-based dermatologist Dr. Whitney Bowe. "Many of the makeup products and skin care products we use are oil-based, so they are very effectively removed using an oil-based cleanser." This goes for people with oily skin, too.
While the first step is focused on removing the gunk, it's important to follow it up with your usual cleanser. "It more deeply cleans your skin and primes your skin for the potent and powerful ingredients in your skincare products so that they can be optimally effective," says Bowe.
While anyone can benefit from double cleansing, you're a particularly good candidate if you wear heavy makeup. "Double cleansing is so much more gentle than trying to scrub this makeup off of your skin," says Bowe. It's also great if you're a city girl. "Pollution levels tend to be higher in cities, and those microscopic pollutant particles can dive into your pores and create free radical damage, promoting brown spots and premature aging," says Bowe. She reccomends that people in cities double cleanse at least twice a week.
Sold on the method? Here are seven double-cleansing products that'll give you that deep-clean feeling (without stripping your skin).
1. Dermalogica PreCleanse Balm
Dermalogica PreCleanse Balm With Mitt, $45, Ulta
The latest and greatest from Dermalogica transforms from a wax-like consistency to an oil as you rub it on with the super-satisfying silicone mitt (which exfoliates while it's at it). "It leaves my skin feeling very soft, hydrated and cleansed," says Bowe.
2. Ole Henriksen Wonderfeel Double Cleanser
Ole Henriksen Wonderfeel Double Cleanser, $32, Sephora
Another brand new addition to the double cleansing market, Ole Henriksen's formula actually includes oil in its cold cream formula, so it's a two in one product (no need to use a second cleanser afterwards).
3. Pixi by Petra Double Cleanse
Pixi by Petra Double Cleanse, $24, Dermstore
This space-efficient pot has an oil based solid on one side, and a nourishing, creamy cleanser on the other.
4. DHC Double Cleanse Duo
DHC Double Cleanse Duo, $38, DHC
This simple set includes everything you need to try double cleansing. Start with the oil, then follow it up with the ultra-mild bar soap.
5. PUR Melt Away Makeup Emulsion
PUR Melt Away Makeup Emulsion, $23, Dermstore
This all-natural botanical oil is gentle enough to remove eye makeup (and with lemon essential oil and juniper essential oil, it smells amazing too).
6. Erno Laszlo Detoxifying Cleansing Duo
Erno Laszlo Detoxifying Cleansing Duo, $10, Sephora
If you can't get enough of the super-clean feeling of activated charcoal and mud products, this detoxifying double cleansing set just might be the most satisfying skin system you ever get your hands on.
7. Too Cool For School Oilloziuza Cleansing Oil
Too Cool For School Oilloziuza Cleansing Oil, $28, Sephora
In Korean, Oilloziuza means "let's remove with oil," so this product does exactly what it says. Plus, it has a calming, bedtime-friendly scent to encourage you to wash your face before turning in.