How To Get A Refund On Himalayan Salt Rock Lamps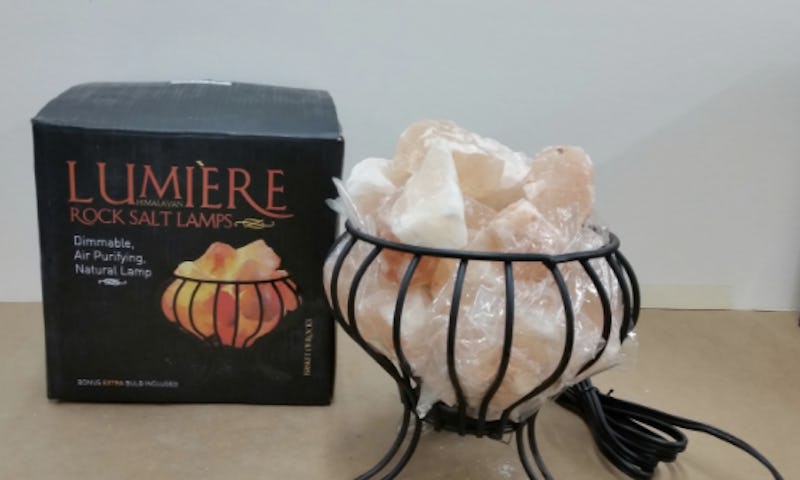 CPSC
Your Instagram aesthetic might take a hit today, now that thousands of Himalayan salt rock lamps have been recalled for being potential shock and fire risks — specifically, salt lamps manufactured by the brand Lumière that were sold in Michaels stores. If you're a salt lamp owner, undoubtedly you are wondering how to get a refund on the recalled Himalayan salt rock lamps. The good news is, it's as simple as walking into Michaels with the product and asking for a refund.
"Working together with the CPSC, we have recalled the line of Lumière Himalayan Salt Lamps sold between July 2016 and November 2016," a Michaels spokesperson tells Bustle in a statement. "The safety and well-being of our customers is our top priority and we have taken immediate steps to remove this product from our stores, inventories, and supply chain. We apologize to anyone who have been affected by this situation and are providing full refunds."
But first, you'll want to identify the brand of your salt lamp and make sure that it is among the lamps named as a fire hazard and eligible for a refund. The U.S. Consumer Product Safety Commission (CPSC) listed the products with their SKU and UPC identifiers, describing them as pink and mounted on wooden base or black metal basket. The affected salt lamps include the Rock of Gibraltar Lamp (SKU 495144, UPC 00886946056253), the Carnival of Lights (SKU 495433, UPC 00886946058325), and the Basket of Rocks (SKU 495146, UPC 00886946056277.
They also provided images for context.
Rock salt lamps have gained popularity in the past year or so because of alleged (but not scientifically proven) health benefits, which include cleansing the air, easing coughing, and improving sleep. While other brands have not been affected by the Michaels recall, owner of these salt lamps are advised to return them to the store for a full refund immediately.