Get Free Ice Cream At Haagen-Dazs This Week Just By Showing Up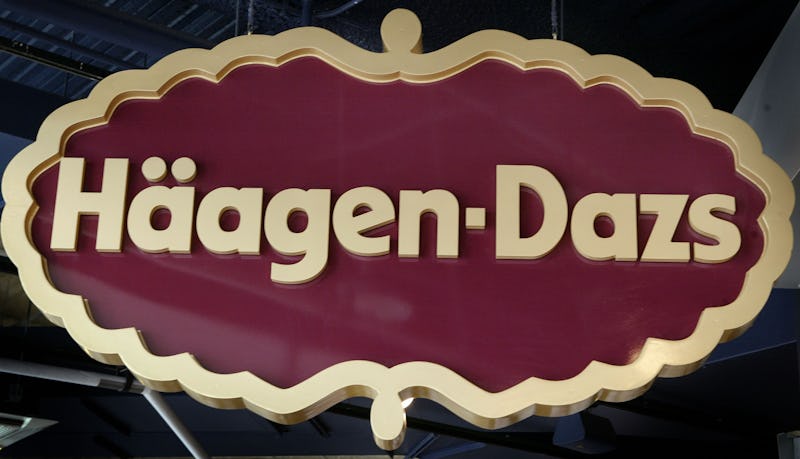 Scott Olson/Getty Images News/Getty Images
There are a lot of reasons why we indulge in ice cream. It cools us down in the midst of summer's relentless heat. It consoles us through a romantic-comedy marathon. It tastes good. And now, it draws attention to good causes. You should know how you can get free ice cream at Häagan-Dazs on May 8 through their "Free Cone Day" promotion, because it's creating a lot of buzz. Sure, yes, because it's ~free~ ice cream, but also because it highlights sustainable efforts to save the honey bee population. Guys, you can get free ice cream and save the world simultaneously which is possibly the best reason to indulge in ice cream, ever.
Häagen-Dazs knows how to make an ice cream everybody — including the lactose intolerant — can enjoy. From the classics to trio layer options that are akin to ice cream cakes, only contained in a pint to non-dairy options, customers can pick up their favorite flavor at their market or at a Häagen-Dazs location. If your tastebuds are fond of the flavors churned out of this classic ice cream parlor, your wallet will be fond of their latest event.
On May 8 treat yourself and your bank account to a scoop of Häagen-Dazs, for ~free~ at participating locations. But timing is everything here. The deal is only on the table from 4 to 8 p.m. Enjoy your free scoop or ice cream or sorbet in a cone, cake cone or cup. All scoops come with a complimentary side of honey bee knowledge. Yes, learn how to help save the population of pollinators while enjoying the ice cream they helped be possible.
For the past ten years Häagen-Dazs has done more than just create really, really scrumptious ice cream. The company has also dedicated itself to their honey bees initiative. Wondering why someone would spend so much time passionately defending a perceived pest? First of all, honey bees are not pests. They're the opposite. If you're a fan of flavors like Strawberry and Mango, you have a honey bee to thank. And if you'd like to see more of these flavors on shelves, you'll have to join forces to protect the bees.
The buzzing insects aren't nasty invaders with the sole purpose of threatening to sting you. Contrary to popular belief, they're not flying villains. In fact, they're ~essential~ to our eco-system and food system. As Häagen-Dazs revealed in a statement, "⅓ of the food we eat and ⅓ of Häagen-Dazs flavors are bee dependent, but bees are disappearing at an alarming rate." As proud pollinators, honey bees support all the crops that make ice cream flavors like Rocky Road. That we then thoroughly, thoroughly enjoy. Needless to say, it's crucial to take care of the bees for the sake of sustainability and the sake of your after dinner cravings.
Education is one way to begin your fierce defense of bees alongside Häagen-Dazs. Don't worry about overwhelming yourself with information by spending hours at the local library. The ice cream company has created a video to explain the plight of the honey bee. For the purposes of back pocket knowledge, the population is decreasing at a heart wrenching rate. In 2010, the population rate was at 64 percent. In 2012, the population fell to 53 percent. But you can help nurture honey bee friendly habitats that discourages the depletion of our buzzing buddies. One way to do it: eating ice cream.
With all the money you're saving on an ice cream or sorbet scoop on May 8 at Häagen-Dazs, you might consider donating a dollar or two to Xerces Society. By doing so, Häagen-Dazs revealed in a statement, you'll, "help reach a goal of planting 1 million acres of habitat for bees." The ice cream supplier knows how to help a bee out. In the ten years since supporting the honey bee initative, "Häagen-Dazs has donated more than $1M for bee research and planted more than 11,000 plants, impacting 840 acres of supplier farmland – benefitting millions of pollinators!" Keep those bees buzzing so that Häagen-Dazs can keep that ice cream coming! It's a win-win.