Here's How Regular People Can Score An Invite To Meghan & Harry's Wedding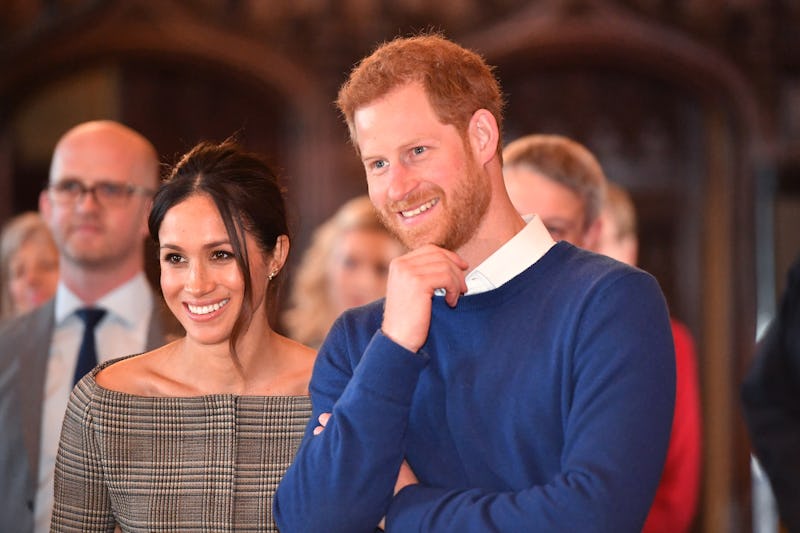 WPA Pool/Getty Images Entertainment/Getty Images
Now that the public is welcome to the 2018 British Royal Family wedding, you're probably wondering how to get invited to Meghan Markle and Prince Harry's wedding. Well, even though 2,640 people are being welcomed inside the Windsor Castle walls on May 19 to see the arrival of the couple and their wedding guests, it sounds like a pretty intense invitation process. Basically, you have to fall under the strict guidelines. If not, you'll be stuck with everyone else either standing in the street (outside of the castle walls) or watching the wedding on TV, if it's televised.
On Friday, Kensington Palace announced that Markle and Harry wanted to include the community as much as possible on their special day. What better way to do that than by including the public and other individuals who aren't invited to the actual ceremony and reception?
"Prince Harry and Ms. Meghan Markle have said they want their Wedding Day to be shaped so as to allow members of the public to feel part of the celebrations too," the palace's statement said. "This wedding, like all weddings, will be a moment of fun and joy that will reflect the characters and values of the Bride and Groom."
According to The Telegraph, there were even rumors that they would use a ballot system, like the Earl and Countess of Wessex, aka Prince Edward and Sophie, did in 1999. The Telegraph also reported that if they chose not to invite the public, they would most likely just do the traditional carriage ride through town. In Markle and Harry's case, they are doing both.
So, if you're hoping to score an invite, here's how you can do that.
You Must Live In The United Kingdom
According to Kensington Palace, 1,200 members of the public will receive invitations. The Guardian reports, "All of the tickets will be named, preventing anyone trying to make money by selling them." The 1,200 individuals who receive an invitation will be "from every corner of the United Kingdom" and must be nominated by regional Lord Lieutenant offices, the palace said. Per The Guardian, "Lord lieutenants are the queen's personal representatives in each county of the U.K."
Markle and Harry want the people selected to come from "a broad range of backgrounds and ages, including young people who have shown strong leadership, and those who have served their communities."
If you do live in the U.K., it might be best to contact your Lord Lieutenant's office for more information. (For example, the Lord Lieutenant's office for Berkshire's website is here.)
Or, You Have To Be Philanthropic
Seeing as both Harry and Markle do a lot of philanthropic work, it makes sense that they are also inviting 200 people from different charities and organizations they support, including ones Harry serves as Patron.
Or, You Must Attend A Local School
If you attend either The Royal School School, Great Park, Windsor or St. George's School, Windsor Castle, then there's a possibility you'll be invited. Harry and Markle are handing out invitations to 100 students from those two local schools.
Or, You Have To Be A Windsor Community Member
Windsor Castle community members should consider themselves lucky, because 610 of them, including residents of Windsor Castle and members of the St. George's Chapel community, will get an invite.
Or, You Must Be Part Of The Staff
That's right, 530 members of The Royal Households and the Crown Estate, will also be invited.
It's unclear exactly how some of the people are selected, but they probably go through a vetting process, either by the Lord Lieutenants or other heads of their schools or organizations, and, as previously mentioned, impacted their community in a major way. Ensuring the public feels part of their special day is something Markle and Harry have expressed ever since they announced their engagement in November 2017.
Jason Knauf, Harry's communications secretary said on Nov. 28, 2017 (via The Telegraph), "In a happy moment in their lives, it means a great deal to them that so many people throughout the U.K., the Commonwealth, and around the world are celebrating with them." Knauf added, "The couple of course want the day to be a special, celebratory moment for their friends and family. They also want the day to be shaped so as to allow members of the public to feel part of the celebrations too and are currently working through ideas for how this might be achieved."
Well, that's exactly what they've done. If you don't fall under any of the above categories, there's still some good news. If you're in England at the time, you can watch the carriage procession from outside of the castle grounds.
Palace officials confirmed on Feb. 12, "At 1 p.m. the couple, now married, will undertake a Carriage Procession from St George's Chapel through Windsor Town returning to Windsor Castle along the Long Walk." The statement continued, "They hope this short journey will provide an opportunity for more people to come together around Windsor and to enjoy the atmosphere of this special day."
It'd be an amazing experience to be on the Windsor Castle grounds for the royal wedding, but, either way, anyone who is able to attend the big day in some capacity should count themselves lucky.