Here's How To Get 50 Percent Off Your Pizza Hut Order In January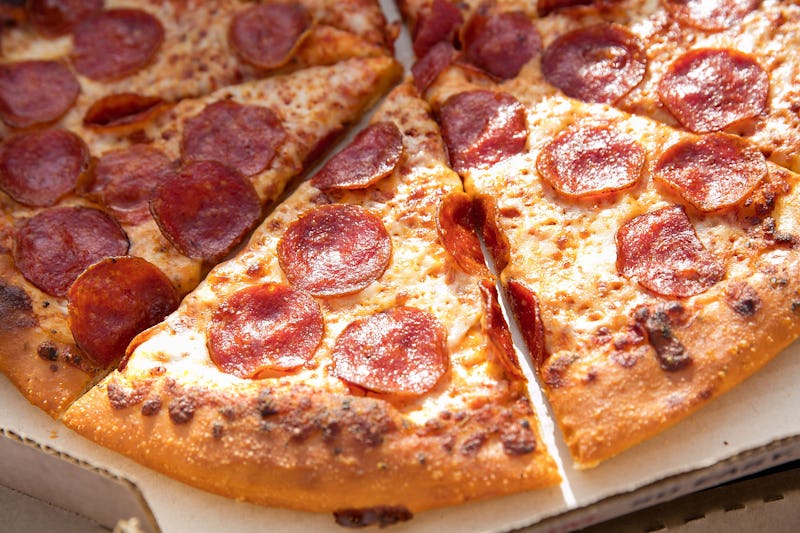 Jeff Schear/Getty Images Entertainment/Getty Images
Nothing says "Happy New Year" like a heavily discounted pizza delivery, amirite? I'm right. I know I am. And good news, a major pizza chain is offering a super easy way to get a heavily discounted pizza delivered in January 2018! What a charmed year this is already. So that said, it's time to start drooling and to learn how to get Pizza Hut at 50 percent off in January, because saving money on pizza is really what the good life is all about. And let's be real, you're going to order that pizza anyway, so you might as well get an awesome discount in the process.
Available now through Jan. 8, Pizza Hut is offering half off pizzas when you order online. I know you're waiting for me disclose a catch, but I'm happy to say this deal is catch-free — it's exactly what it sounds like. All you have to do is head to PizzaHut.com or open up the Pizza Hut mobile app before Jan. 8, and click on the 50 percent deal tile — you won't miss it. There, you'll see the available items in this offer — hint: it's pizza only — and you can immediately redeem your discount, order for delivery, or arrange an in-store pick up. Tax, delivery fee and delivery tip are not included in the discount, so make sure you account for that before placing your order.
If you're a super fan and a Pizza Hut Rewards Member, know that your half-off purchases will count towards your Hut Rewards points — which, if you're a member, will eventually help you earn free pizza when you have enough points. It's a total win-win, basically.
Also, if you don't already have the app, this discount deal might be a good time for you to download it. When you order your 'za using the app, you can get wait times, updates on deals and steals, and maybe most importantly, track your delivery. Personally, I think the best thing about ordering something online is the ability to track it. So if you're like me and start attempting to track your Amazon package the second you check out, you're gong to love the Pizza Hut pizza tracker — it's the only thing that will calm your hunger as you wait for that heavenly door bell ring.
Considering the fact that the holidays are over and that this deal is pretty limited, aka, it's over after this weekend, you might be wondering what kind of events might warrant a pizza party (other than, you know, life in general). So, I've put together a list of ideas for a discount pizza party, if you're looking for an excuse to order pizza:
Awards Season Marathon
If you haven't seen everything that's been nominated for a Golden Globe, now is the time. Otherwise you won't be able to participate in heady cinema conversations for the next two months.
Football Party
If sports are your thing, you can watch the college football championships this weekend. And if football is not your thing, you can just watch the pizza, while everyone else watches the game. Ooey, gooey, mesmerizing.
Netflix Party
Bring it On, RENT, The Truman Show, and Love Actually, Season 2 of The Crown, and Season 3 of Lovesick are now all available on Netflix, so a watching party is certainly in order!
Resolution Party
If you're a unicorn and your New Year's Resolution was to eat more pizza, congratulations! You're only a week in to the new year and you're already winning. Order some pizza and share it with your friends. Celebrate your pizza-rich life with even more pizza.