These Rainbow Glitter Nails Make For The Ultimate Summer Manicure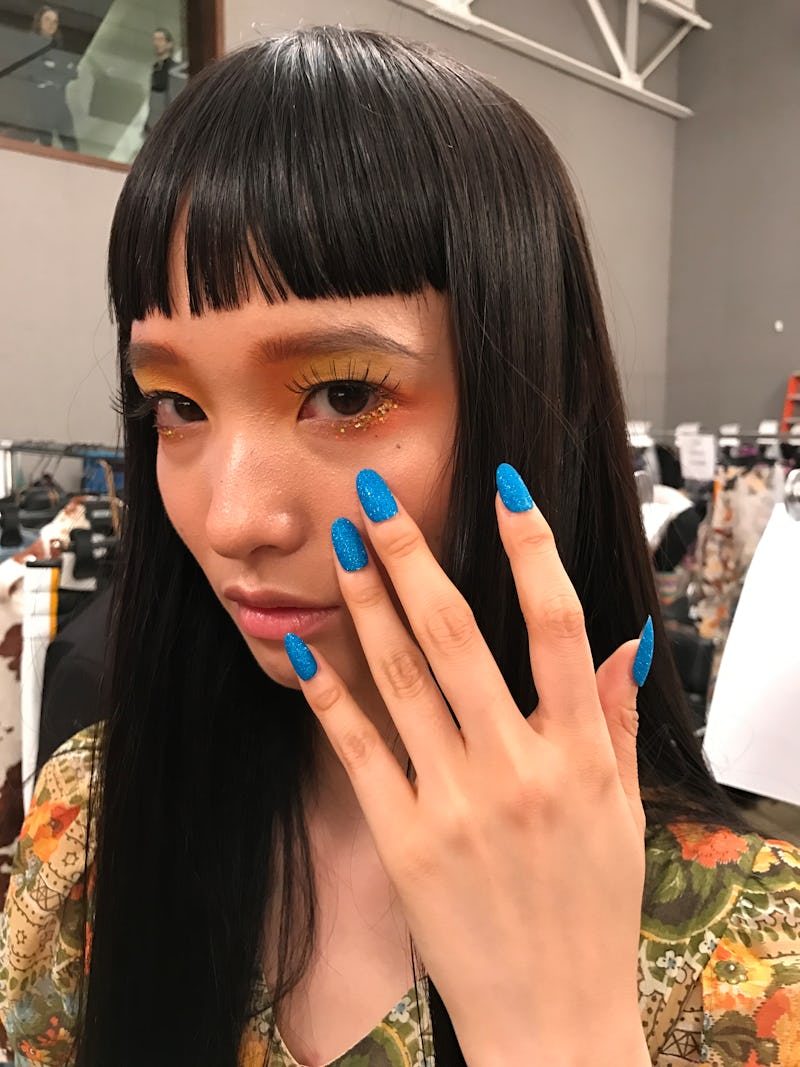 Katrina Issa/CND Photographer
Los Angeles was a little bit brighter and a whole lot more sparkly than usual on Thursday night, thanks to Jeremy Scott's 2018 Moschino Resort presentation and the dazzling CND nail looks his models were rocking. Scott returned to Hollywood to show his latest resort and menswear collections after making a splash last year as MADE LA's headliner. To complement the colorful, fiery, and graphic ensembles of the evening, Scott brought along CND and its creative ambassador, Miss Pop, to create a nail aesthetic that was just as show-stopping. The look? Glitter.
Miss Pop, whose real name is Simcha Whitehill, found inspiration from the show's tribute to Las Vegas and "fast cars and fast women...these nails go from zero to 60 in a flash — of glitter!" The coolest part? Each model had her own custom shade of sparkle, made with CND's VINYLUX. "We have 32 girls, they each are getting one of these 32 shades of glitter, and underneath we have a rainbow," Whitehill tells me backstage before the show begins. "I really feel like glitter is in the moment and when Jeremy was telling me about the collection, the Las Vegas inspiration, we had to go showgirl glitter and it's in the makeup, too."
On the table next to Whitehill, rows and rows of acrylic tips painted with a rainbow of glitter and CND polish (just as she had described) are laid out with one woman at the helm, telling each nail artist which specific color belongs to which model. According to one CND nail artist, Whitehill and her team spent almost 24 hours painting and prepping 960 tips for the 32 models in the resort show.
The glitter nail look isn't just reserved for models, though. "Glitter is great for someone who is really hard on their hands and who doesn't have time to go to the salon and wants long-wear," says Whitehall. "It's indomitable. It's hard to get off — don't you know it — and it's hard to chip off, too. It's also very easy to fix with a dab — it's very forgiving, that glitter."
"It's so easy, but it takes a girl who likes a little DIY, so where my nail art girls at," Whitehill says.
Here's how you can recreate this high-fashion, high-voltage look at home, according to Miss Pop herself.
1. Use A Metallic Color For Your First Layer
"Here's the secret — on the underside, they're painted with a metallic, either silver or gold, to get that glitz," says Whitehill. At the show, the nail artists used CND VINYLUX in Silver Chrome or Locket Love.
2. Apply Two Coats Of Your Favorite Color Polish
CND has over 100 different shades of shellac, but if you want to get the same looks from the Moschino show, choose colors you'd find in the rainbow — yellows, pinks, reds, and blues. Whitehill recommends doing two coats of the solid color as your base.
3. Mix Glitter With A Top Coat
Now, it's time to make your custom glitter polish. You'll need some top coat: Whitehill suggests pouring about 30 percent of a new bottle out or using "one of those bottles you're about to throw out." Then you'll fill it back up with cosmetic-grade glitter.
Apply your top coat over the two layers of color-matched polish. "When you do glitter, you don't want to pull it," Whitehill explains. "You want to dab, dab, dab, dab, dab and it'll give you that good, even coverage."
If you're intimidated by glitter nails because you're afraid of how difficult it'll be to remove, Whitehill's got you covered. "As you can see — these are glitter bombs. You just put cotton balls, dip them into polish remover — non-acetone or acetone, doesn't matter — put one on every finger, let it sit for two minutes, and then wipe it off. If you try it get it off [without this step], you end up exfoliating your nail bed," Whitehall tells me.
One more thing Whitehill wants you to remember: take care of your cuticles. Even if you aren't going full-on glitter, you should keep your nail beds as hydrated as possible, just like you would your face with moisturizer. "It's really important to use cuticle oil, especially if you get something like shellac, because even if you get it around your cuticle area, not only does it hydrate and stave off hangnails, it'll also keep you from having to go to the salon when you feel like your cuticles are all ripped up."
Her cuticle oil of choice? CND's Solar Oil. "I encourage you to use it, not just for your cuticles, but for the health of your nails so they grow long and strong."
To discover more nail inspiration from CND that's perfect for color-lovers, follow their Instagram here.