Skepta's UK Tour Is Selling Like Hot Cakes So Here's How To Make Sure You're There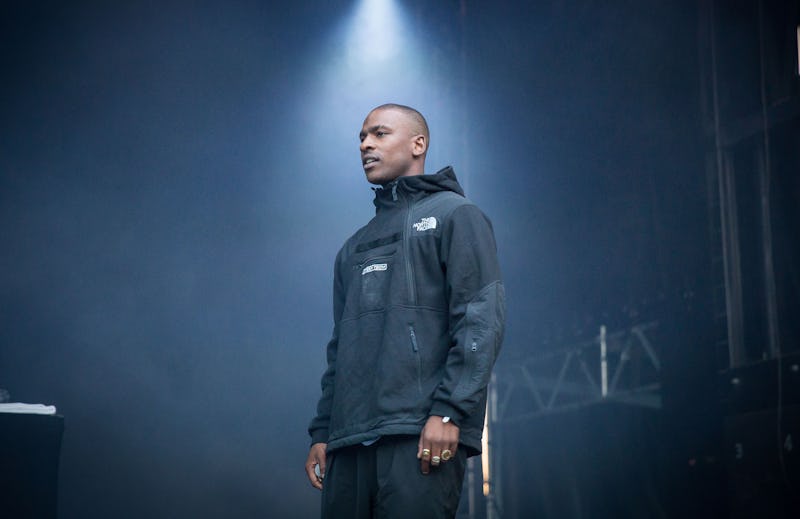 Hell Gate Media/Shutterstock
Ring ring Europe, it's shutdown. After a seriously busy summer spent headlining Lovebox Festival, Splash Festival in Germany and Primavera in Barcelona, Skepta will be heading out on an international tour later this year. The grime artist and rapper announced fourteen new tour dates that will take him from Warsaw to London with his SK Level tour. As one of the most exciting artists on the scene, the tickets are going to go quick (some dates are already totally sold out) so here's how to get tickets for Skepta's SK Level Europe Tour and see the grime superstar live.
The tickets have all been released and if you head over to the official SK Level tour website, you'll be able to select which city you're interested in grabbing seats for. Kicking off with a performance at Teatro Joy Eslava in Madrid, the artist will be hitting up cities including Lisbon, Milan, Brussels, Paris, Berlin, Warsaw, Rotterdam, Amsterdam, London, Copenhagen, Stockholm and finally Oslo on December 17th.
If you click on the tour date you're interested in, the website will automatically redirect you to the relevant ticket provider and you'll be able to purchase your tickets.
Thankfully for those of us in the UK, Skepta has announced two dates in London on December 12 and 13. He'll be performing at Printworks and while the performance on the 13th has already sold out, you can still snag a seat for his concert on the 12th through Gigs and Tours here. A London SK Level tour ticket will cost you £38.50, according to the website.
I've reached out to a member of Skepta's team to see if more UK dates will be added, so I'll let you know if they say anything. In the meantime though, it's worth grabbing your tickets ASAP.
Although Skepta hasn't released a full length album since Konnichiwa in 2016, he's been keeping busy collaborating with other artists and released a shorter EP called Vicious in 2017. Last month, the music video for his upbeat track with Nigerian singer Wizkid called "Energy (Stay Far Away)" dropped and hearing him lay down a beat again made me a little emotional TBH. Funnily enough, he also poked fun at the fact that he's been pretty quiet on the scene in the song's lyrics which go, 'Wiz got the house full of freaks/That's why I haven't been around for a week'.
Earlier this year, he also released a new track "Pure Beats" and it's as classic Skepta as it comes: full of concise and clever rap, dirty bass and a furious beat you'll find yourself tapping at the most inopportune moments. And even if he hasn't dropped an album in a good long while, his name has still been all over the charts as a collaborator on A$AP Rocky tunes "Praise the Lord" and "Ghost Ride", Dizzee Rascal's "Money Right" and rising star Stefflon Don's "Ding-A-Ling".
Tickets for Skepta's SK Level tour are available now over on the tour website, with dates set for November 29 through to December 17 later this year.