These Historical Hints Prove The Naomi Campbell & Skepta Dating Rumours Go WAY Back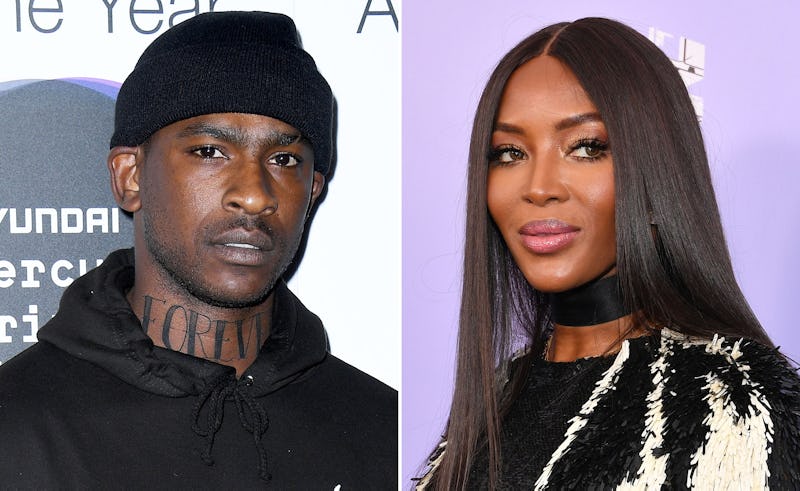 Gareth Cattermole/Getty Images Entertainment/Getty Images/Dia Dipasupil/Getty Images Entertainment/Getty Images
No matter how much celebrity culture evolves, one thing that'll never go out of fashion is the constant guessing game when it comes to A-list relationships. This couple in particular sent social media into a frenzy when rumours emerged that they were an item earlier this year. But are Naomi Campbell and Skepta dating? Seriously, I need some clarification.
The fashion icon, 48, and grime god, 35, became the hot topic on everyone's lips back in March when they appeared topless on the cover of British GQ together. Unless you live under a rock or decided to take a social media break, you'll remember just how cosy the rumoured couple looked in the photos, with Naomi sporting a huge smile as Skepta leaned in for a kiss — it was all very steamy.
And to add extra fuel to the fire, the issue of the magazine just so happened to be titled "Race, Sex, Love and Power: When Naomi met Skepta." If that doesn't sound like a couple confirming their relationship to the word in a very Beyoncé revealing her pregnancy-esque way, then I don't know what is. Yet, still the pair refused to make any comments about their relationship status in the actual interview. So are they actually together or not?
Well, let's go back to the beginning. Romance rumours first surfaced after they were reportedly introduced at the British Fashion Awards in November 2016, according to W magazine. The pair made a huge first impression on each other from the very get go. Skepta, whose real name is Joseph Junior Adenuga, opened up about it during his interview with GQ: "She was like a bullet. She was just going and going and going, and everyone just has to, like, catch up."
Three months later, Naomi and Skepta were then spotted together at the V05 NME Awards in February 2017, according to NME. They were also rumoured to be "getting cosy" at not one but two parties at Paris Fashion Week a few weeks after that, according to the MailOnline.
Fast-forward to June 2017, Skepta spoke publicly about Campbell for the first time. During an interview with Vogue about his debut clothing line, Mains, conversation somehow turned to the model and he was full of admiration He said: "It's an obvious one, but Naomi Campbell is my favourite cover girl. She broke down boundaries by doing those early Vogue covers. Shout out to all the beautiful ladies."
At the time, numerous people close to Skepta and Campbell spoke out to the papers, insisting that they were very much dating. Once source told The Sun: "Naomi and Skepta have been meeting up for a string of secret dates. They are both very creative which is why they have hit it off with each other. Things are going well but they are taking it very slowly."
Skepta then sent the rumour mill into overdrive last October when he published a picture of himself with Campbell on Twitter. In the snap, the model could be seen smiling with her face pressed up against his chest. Although the pic could have been a friendly one, it was the caption that got people's attention — two love heart emojis. Too cute.
After that, neither Skepta or Campbell spoke publicly about their "relationship" for some time. However, they did continue to get snapped at the same parties across the world. During Milan Fashion Week earlier this year, both attended the Moncler show. However, they walked the red caret separately as reported by the Metro, hence the lack of pics. The sudden silence left fans guessing; are they or aren't they?
Just when some had started to think that the pair's relationship may have fizzled out, they dropped that GQ cover in March. Not only that, but the pair also released an accompanying shoot video that sent the rumour mill into overdrive.
In the clip, the duo came across extremely flirtatious and I can't be the only one to see that there's definitely a little twinkle in their eyes when they look at each other, right? They were even finishing each other's sentences. I mean, come on.
In the video, Skepta is also seen kissing Campbell's hand, while in the shoot, she is noticeably wearing a pair of boxer shorts from his clothing line. Commenting on modelling his underpants, she told the magazine: "Even though I've been modelling 32 years in April, I was never ever comfortable modelling in underwear. Junior made me feel very comfortable," to which Skepta replied with a Cheshire cat smile.
Although they've been quiet on social media about each other for some time now, Skepta only has one post on his Instagram grid, which dates back to January, so it's pretty obvious he's not an avid user anyway. Nevertheless, in April 2018 the pair shared that they were both in Lagos at the same time, as Vogue reported. On the trip, Metro reported Skepta was awarded a Chieftancy Title, with Campbell attending the ceremony and tweeting her congratulations after.
In order to get clarification, I reached out to both Campbell and Skepta to set the record straight, but am yet to hear back from their teams. Although I can't personally confirm their relationship status, I can see that they look very happy in each other's company. And to be honest, I'm happy for them, whichever way this works out. Although, let's be real, who isn't hoping that this is the real deal?