'The Graham Norton Show' Has An Epic Line-Up & Getting Audience Tickets Is So Easy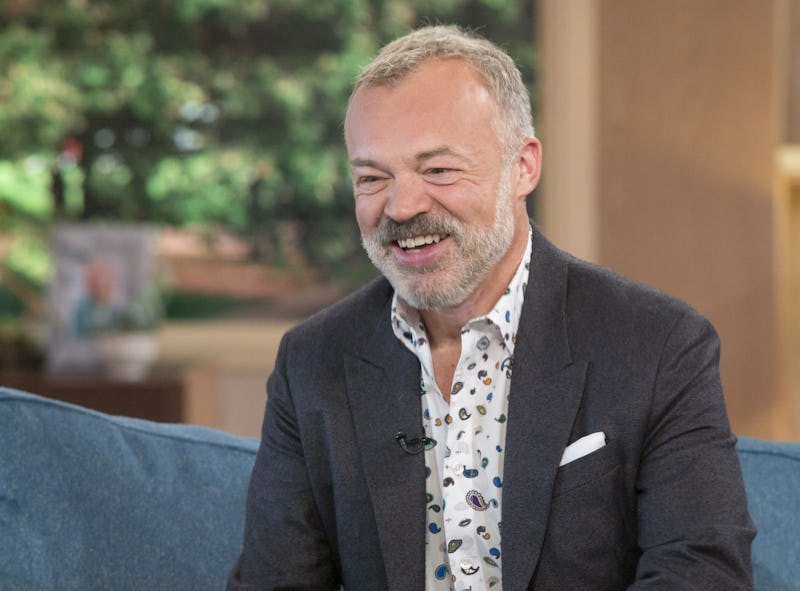 Steve Meddle/ITV/Shutterstock
The 24th season of The Graham Norton Show is well underway, and one of Britain's favourite chat shows has boasted the likes of Tom Hanks and Carrie Fisher in its 11-year history. This series, Norton's already had Lady Gaga and Bradley Cooper on his sofa, and has plenty more starry appearances to get excited about. But with the announcement of the world's biggest boyband — the K-pop megastars BTS — appearing on the show later in October, the show's getting more buzz than a beyhive. If you wanna get closer, here's how to get tickets to The Graham Norton Show.
As Metro reported, BTS will be performing their single 'Idol' on the show on Oct. 21, and they'll all be squished up on the couch alongside Whoopi Goldberg, Jamie Dornan, Rosamund Pike, and Harry Connick Jr. Even though that sounds like five Christmas bonuses worth of TV entertainment, did you know you can go one step further and actually be in the audience for The Graham Norton Show? Well, you can, and getting tickets is easier than you think.
In fact, if you want to be in the audience, you don't even need to pay a penny. All you need to do is apply over at the SRO Audience site. It's a first come first served basis, and studio space is limited, so you'll wanna click over to the site straight after finishing this sentence if you fancy getting tickets for this week's show.
You don't exactly need to give out your entire life story in order to apply, either. All you need to do is give your name, preferred show dates (remember BTS is on Oct. 12), and a couple of other details. But you'll have to leave the baby at home, as audience members must be aged 18 and above.
If you're unlucky then you'll be put on the waiting list, so you may get the chance to sit in on a future show. And that's no bad thing. Norton's yet to have a starless show, as A listers cosy on up on his couch each week. And if you're having really, really bad luck then — who are we kidding? Nothing's better than staying in and cosying up on your sofa while Norton's on his.
Book your days off now as filming for the show takes place on Wednesdays and Thursdays, and you can apply for dates up to Dec. 13. Did give you a flavour of the calibre of guests Norton's show attracts, he next episode, which will feature the likes of Jeff Goldblum, Rowan Atkinson, Jamie Lee Curtis, Gary Barlow, and Imelda May. I know, right?
The first episode this series, which featured Doctor Who's Jodie Whittaker performing a hilarious rendition of the show's theme song, as Radio Times reported, has set up this season to be one of the best yet. And Norton's musical guests have got the clout to match. Following Rod Stewart's knockout performance on the first show, the man and the legend that is Jeff Goldblum will be showcasing his musical talents in a TV world first, as Official Charts reported.
So, sign up for tickets for The Graham Norton Show, or get that takeaway order in now. Your choice.