How You Can Still Get Tickets To Coachella 2017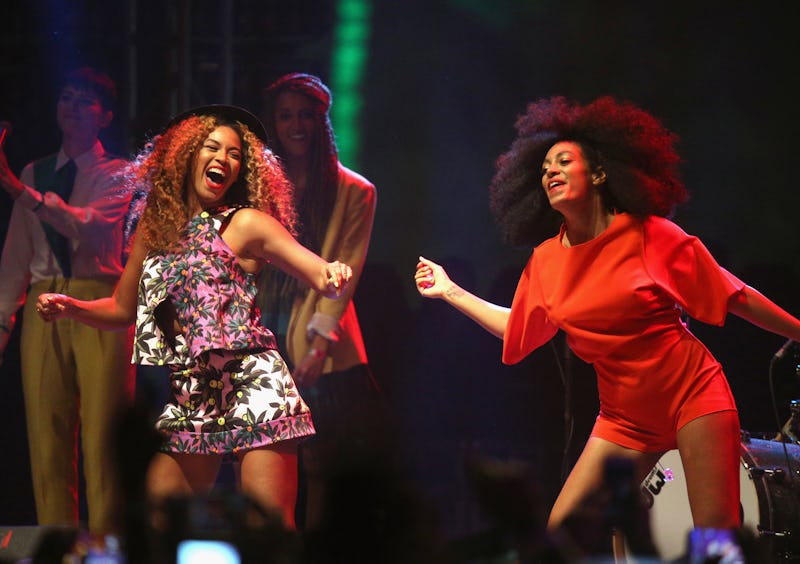 Imeh Akpanudosen/Getty Images Entertainment/Getty Images
If you were planning on going to Coachella this year, I hope you have fast fingers, because the most flower crown-filled music festival of all reportedly sold out within just three hours. So the dilemma now is — how to get tickets to Coachella 2017. Well, there's good news and bad news. The good news is a lot of the people who scooped up all 99,000 tickets to the two-weekend music festival did so with the intention of selling them to people like you. The bad news is they want to make a pretty hefty profit, and with headliners like Beyoncé, Kendrick Lamar, and Radiohead, they're going to be able to do it, too. So it's likely that the faster you move, the better. On Coachella's website, the now sold-out general admission passes for both weekends were $399, but you should expect to pay substantially more for just one weekend, now that they've hit the secondary market.
As I'm writing this, the website TicketIQ, which gives you an idea of market-wide prices for a certain type of ticket, is listing resale tickets for Weekend One beginning at $702 and Weekend Two beginning at $534. Stubhub has everything from camping passes to parking passes to weekend tickets themselves, as do Tickets Now and Vivid Seats, that you can snap up right away. And probably should, if you have your heart set on going. Just make sure that you check around, and try to stay close to the numbers on TicketIQ, since that's the average people are paying — but the sooner the better.
These prices are way higher than the tickets were originally, of course, but you can't expect them to come down anytime soon. This isn't one of those concerts where the longer you wait, the more reasonable the costs. This is a dawg-eat-dawg music festival, and people are willing to pay top dollar for their favorites. LA Weekly points out that in 2014, the average Coachella ticket price to see headliner OutKast was $1,434.91. Average. So some people paid waaaaay more than that. Eek. And with a living legend like Beyoncé on the docket next to a charismatic performer like Kendrick Lamar and huge-name classics like Radiohead, there are gonna be a ton of people with a wide range of musical tastes clamoring for these tickets.
So if you just have to have them, then grit your teeth and shell out the big bucks now, because they're going to be huge bucks later.
Did you know that you can find Stubhub discount codes at the Bustle Coupons page? Bustle Coupons is a service provided by Groupon in collaboration with BDG Media, Inc. Each time you use a coupon or promo code from Bustle Coupons to make a purchase, Groupon and BDG Media, Inc. earn a small commission. This article was created independently from Bustle's sales department.