Brace Yourself For The 2017 Coachella Lineup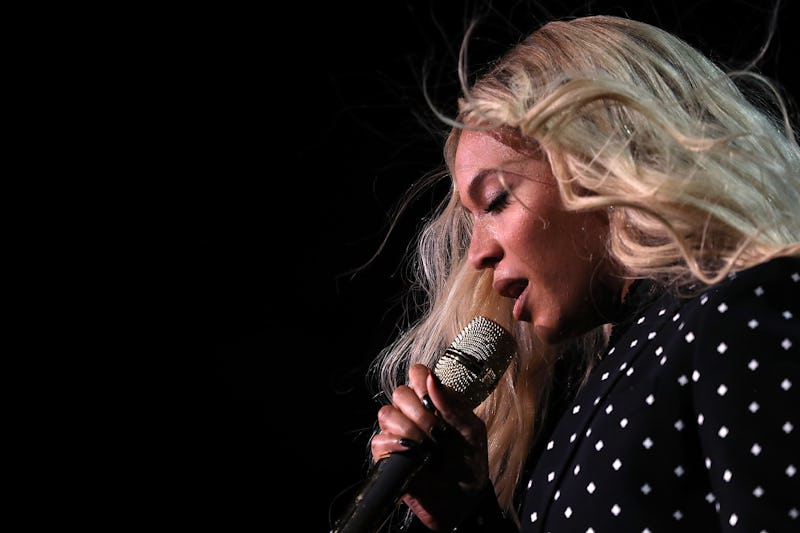 Justin Sullivan/Getty Images News/Getty Images
Take a wild guess at who is most assuredly not sorry to be headlining at Coachella in 2017. Beyoncé. That's right, the Queen herself will be the main event of day two at this year's Indio concert. The Coachella Valley Music and Arts Festival has announced its lineup for 2017, and if I didn't have you at Beyoncé, are you crazy? Are you feeling OK? Did you hit your head? Anyway, if I didn't have you at Beyoncé, then maybe some of the other headliners will woo you. On day one, we've got Radiohead, and on day three, the one and only Pimped Butterfly, Kendrick Lamar. (I know, right? It's insane.)
The festival consists of two weekends, taking place from April 14 to 16 and April 21 to April 23. Of course, it all goes down in the sunny Empire Polo Field in Indio, California. Other acts on the roster to look out for include Bon Iver, the xx, Father John Misty, Future, Gucci Mane, Schoolboy Q, DJ Khaled, Travis Scott, Lorde, Justice, and the list goes on and on. Truly, there's someone for everyone. Not even including any surprise performances or Leonardo DiCaprio dancing with his bandana disguise. That's saying something.
Just check out the full lineup.
Not only is a Beyoncé headline epic because, well, it's Beyoncé, but there's a larger picture to note here too. Last year, Bustle writer Shannon Carlin pointed out that there's been a glaring lack of female headliners in Coachella's history. In fact, in all 16 years that the festival has occurred, a solo female performer was the main attraction only twice. But wait. Both of those attractions were the same performer (Björk). So, really, there's only been one solo female headliner. Ouch.
Last year, there were 47 female artists — counting both those in bands and solo artists (roughly 29 percent of the lineup). In 2015, it was even worse with a mere 28. This year, with a female solo artist headlining, Coachella might finally be on the precipice of change. In other words, it looks like Coachella's en route to representing a more balanced set of performers. Truthfully, there's no better place to mark that shift toward equality than with Beyoncé, an artist who has remained unabashedly feminist, and released one of the most — if not the most — outwardly feminist compilations of music and visuals this year.
Get in formation because passes go on sale Wednesday, Jan. 4 at 11:00 a.m. PST.