There's An 'Only Fools And Horses' Musical Coming & It Sounds Lovely Jubbly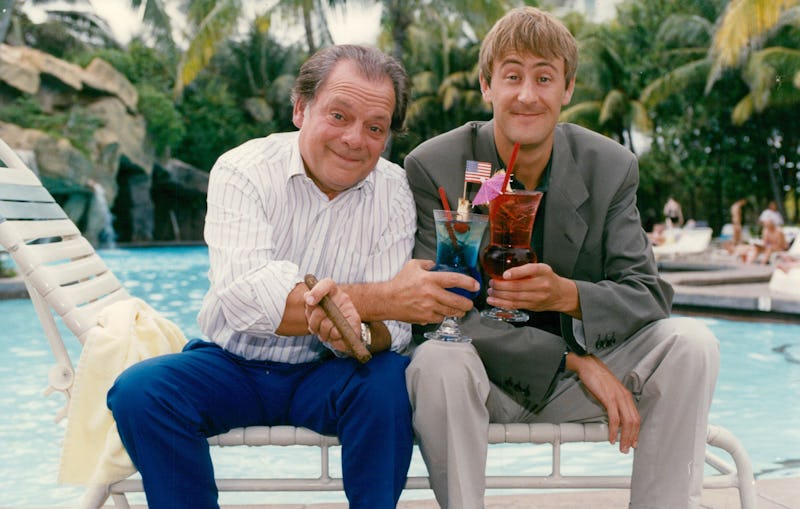 Chris Barham/Associated Newspapers/Shutterstock
Winter's coming and things are about to get cushty. It's been 15 years since Only Fools and Horses aired, and viewers got reeled into Del Boy and Rodney's smarmy antics. Now things are set to get right luvly jubbly as news has broken that an Only Fools and Horses musical is on the way. It'll be written by the original creator's son, and will be starring comedy legend Paul Whitehouse. It's bound to be very popular though, so you'll want to consider this early — here's how to get tickets to the Only Fools And Horses musical.
The musical, which will of course be "mange tout, mange tout," will also honour some of the iconic show's late and greats. It comes from the brain of Jim Sullivan, son of the late John Sullivan, who was the show's crafty creator. Jim's been honouring his dad for a while now, as he wrote the Only Fools and Horses special for Sport Relief back in 2014. But, as The Mirror reported in Jan. 2014, this was only set to be a one off. But that's no longer so. Rumours of a Fools musical were first bandied about in Aug. 2017. Speaking to the Daily Mirror, Jim hinted at the idea of a "musical about the Trotter family," and now it's happening for real.
According to the Radio Times, the musical will be coming to stick a pony in your pocket in Feb. 2019. The van will be slipping into the Theatre Royal in London, and tickets for it can be bought on the theatre's website. It won't cost you a pretty penny, either. Tickets start from £15, which seems really, really reasonable, especially when you consider the star studded cast. The Theatre Royal's website lists PHONESHOP's Tom Bennett as Del Boy, while Alan Partridge's temporary sidekick Zoe (Pippa Duffy) joins the cast as Cassandra.
If you didn't think things could get any better, you'd be sorely mistaken. Songs for the musical were written by none other than the absolute legends that are Chas 'n' Dave. And when you consider Chas Hodges' recent death, it makes this musical all the more special and bittersweet. The original score includes contributions from Hodges, The Telegraph confirmed, and will feature around 20 new tunes. According to The Telegraph, the score was five years in the making, so you can expect all bangers and no mash on the night.
As The Telegraph also reported, Jim's dad was working on the musical before he died. As actor Whitehouse reportedly told the Press Association: "It was John Sullivan's project and it was what he was writing when he very tragically died. I spoke with Chas Hodges about doing some stuff with this. Sadly Chas is gone now as well," he explained. "So it is a delicate legacy. Especially for Jim. I think he set out to finish what his father had started. Only Fools wasn't just a comedy show, it became part of people's lives. We want to celebrate John Sullivan's writing, and hope we've done it justice."