You Will Be SHOOK At How Easy Getting Tickets To 'The Jonathan Ross Show' Is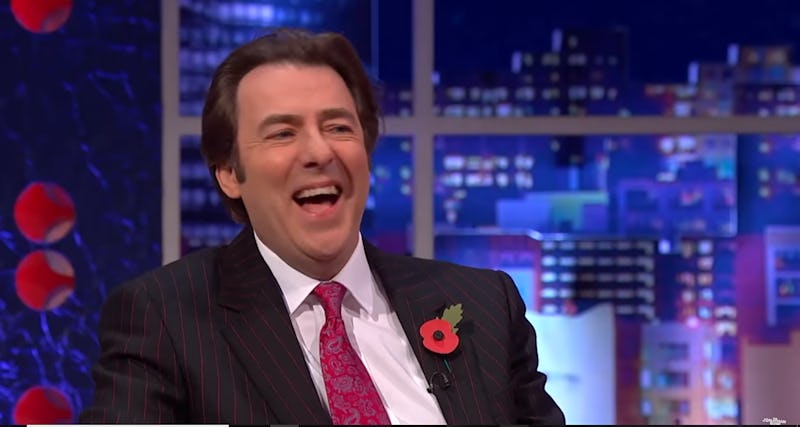 The Jonathon Ross Show/ YouTube
He is straight up Saturday night TV royalty. No one quite does it like Rossy. Since The Jonathon Ross Show returned for Season 13 in Sept. 2018, a whole host of celebrities have sat on the big mustard sofa for with the show's enigmatic host, who is now just as famous as many of the stars that he interviews. Watching as a live audience member would be a perfect way to spend your evening, so here is how to get tickets to The Jonathon Ross Show. I was shocked at how easy it was is, to be honest.
So, if you are like me and would rather be in the same room as Ross and his famous friends, instead of just watching them through a screen all you have to do is apply for tickets online via the SRO audiences website. It is really that easy. The studio where they film the show is in White City, London. If you are 18 or over you can apply for up to six tickets on a selected date. If all tickets are allocated for certain dates, you can apply to be on a waiting list and new dates are added. But obviously there is one catch. As you can imagine, the show is seriously popular and show dates fill up really quickly. There is no guarantee that you will be allocated all the tickets that you apply for, and tickets aren't transferable, so once your name is on the list, you can't give them to a friend. Doors open at 6:30 p.m., and judging by the date options available, it appears the show is pre-recorded on a Wednesday evening ahead of a Saturday broadcast.
The Jonathon Ross Show is hugely popular and the last few weeks' line ups prove that it is so worth trying to be an audience member. On Nov. 10 he only grilled our girl power overlords, the Spice Girls, about their upcoming reunion tour and whether there will be any new music to spice up our worlds. Like that wasn't enough girl power on one sofa, pop icon Kylie Minogue performed. If that isn't so much your scene Sigrid took to the stage on Nov. 3 and Stormzy sat on the lush, mustard sofa and amongst other things revealed he played the bugle growing up (you have to see it to believe it). Always hilarious, with amazing line ups, surely those names are enough to convince you that it is worth trying to get tickets.
If you are successful in getting tickets you will get an email to your registered email account. However, Ross' guests and performers aren't often announced before the show and can change, so there is no guarantee you will get to see one person in particular. Although, with the names he has had on the show for the entirety of Season 13, I wouldn't worry too much.
Being the presenting force of nature that he is, I feel like the super easy ticket application process for The Jonathon Ross Show is one of the best kept secrets. Whilst you might be up against some fierce competition, it is so quick to apply and who knows? You might spend an evening very soon laughing at Rossy's jokes face-to-face.