7 Non-Awkward Ways To Give Your Partner Direction In Bed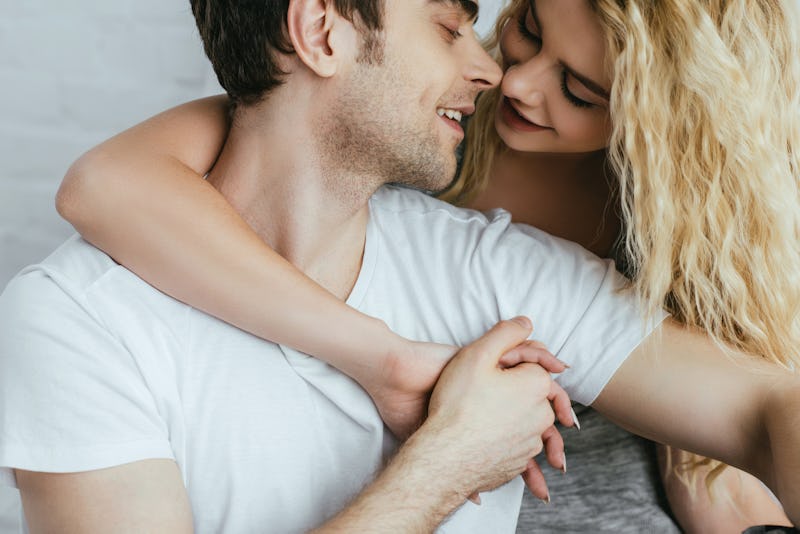 Shutterstock
Having good sex doesn't always happen immediately. It can take time, practice, and a lot of communication. According to The Gottman Institute, couples that talk about sex typically have better sex. If your partner isn't quite giving you what you want in bed, experts say you may need to give them some directions.
A 2018 study published in the Journal of Social and Personal Relationships found that people would rather let it go and have unsatisfying sex than talk to their partner about ways to improve. According to researchers, it's their way of avoiding a potential conflict. Even couples who are usually good at working through non-sex related issues, will avoid discussing an unsatisfying sex life as well.
Sex is so personal. Nobody wants to make their partner feel bad in bed. But as sex therapist Candice Cooper-Lovett, PhD, LMFT, tells Bustle, giving your partner directions in bed can take your sex life and your relationship to the next level.
"Giving your partner feedback as it relates to sex can be an opportunity for intimacy on an emotional level," Cooper-Lovett says. "Everyone is different and each partner can continue to learn from one another about what pleasures them."
There are ways to give your partner directions in bed without making them feeling inadequate. Here are some things you can do, according to experts.