How To Help Animal Shelters During Hurricane Florence And Make Sure Rescues Stay Safe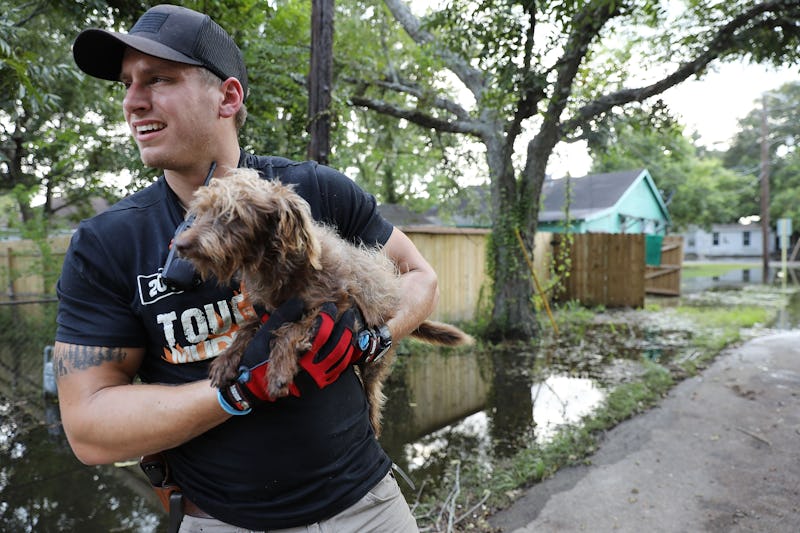 Spencer Platt/Getty Images News/Getty Images
As millions of people evacuate their homes in the Southeast, you might be wondering how to help animal shelters during Hurricane Florence, too. The category 2 storm is expected to incur significant damage along the coastlines of North Carolina and South Carolina over the next week, and shelters are working around the clock to protect some of the area's most vulnerable inhabitants: animals.
While many families have been able to safely evacuate with their pets, other animals left behind in homes and shelters face a serious safety risk and possible resource shortage. "Our expenses for responding to Hurricanes Harvey, Irma and Maria were around $120,000 last year," Joe Elmore, CEO of the Charleston Animal Society told Money magazine on Tuesday. "Five years ago we didn't even budget for disasters."
Local shelters have been working nonstop this week to get ahead of the storm by arranging evacuations and preparing disaster relief. Brother Wolf Animal Rescue in Asheville sent out teams to move adoptable animals to higher ground. The American Society for the Prevention of Cruelty to Animals (ASPCA) says it has a disaster response team on the ground and already arranged for boats, disaster-relief trailers, and other supplies to help in affected areas, according to the Asheville-Citizen Times.
If you would like to get involved with efforts to help animals in the path of the hurricane, here are a few ways to help: