What You Can Do Right Now To Help Those Affected By The Capital Gazette Shooting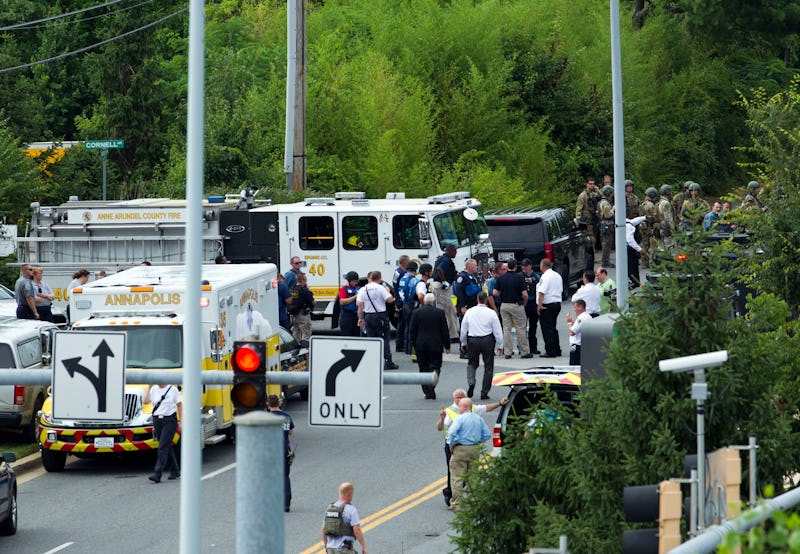 Jose Luis Magana/AP/REX/Shutterstock
On Thursday, Maryland's Anne Arundel County Executive Steve Schuh confirmed that at least five people had been killed in a shooting at the Capital Gazette. It's understandable to feel helpless as you read about yet another deadly incident as this, but there are ways you can help the victims in the Capital Gazette shooting.
As information trickled out on Thursday, employees at the publication described the situation in disturbing tweets. Capital Gazette reporter Phil Davis tweeted, "Gunman shot through the glass door to the office and opened fire on multiple employees. Can't say much more and don't want to declare anyone dead, but it's bad."
Davis also tweeted, "There is nothing more terrifying than hearing multiple people get shot while you're under your desk and then hear the gunman reload." An intern for Capital Gazette also tweeted for help.
The outpour of support from the public was instant. Maryland Sen. Ben Cardin tweeted about the shooting, calling it "devastating" and urging people in the area to "please stay inside and stay safe."
Unfortunately, more often than not, there is a ton of confusion and misinformation after such disturbing events. But there are ways you can help those affected by the Capital Gazette shooting — some of them are listed below.