You Can Help Colombia Mudslide Survivors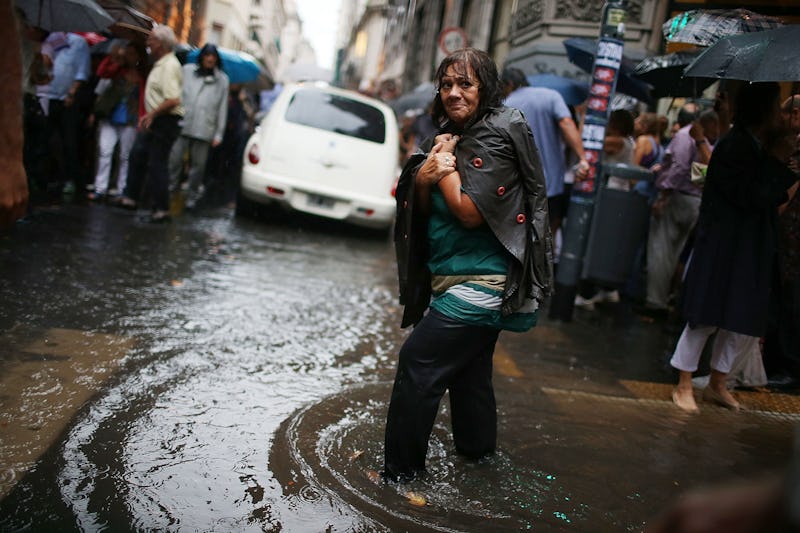 Mario Tama/Getty Images News/Getty Images
Survivors of a mudslide in a small city in southwest Colombia are struggling to locate loved ones, get to safe place, and access clean drinking water after heavy rains on Saturday caused three local rivers to overflow. The Colombian Red Cross estimates that at least 234 people have died, but there are many ways that you can help survivors of the Colombian flood, and support organizations that are working in the area to provide assistance.
While residents of Mocoa, Colombia were sleeping on Saturday, an unprecedented one-third of the city's usual monthly rainfall came in just one night, sending mud, water, and objects as large as trucks surging through the city of 40,000. The Associated Press reports that the death toll may continue to rise, as more than 200 people are injured and relief workers are still searching for remains in debris throughout the city.
Colombian President Juan Manuel Santos declared Mocoa a disaster zone on Sunday, and blamed climate change for the five inches of rain that devastated the city, according to the Associated Press. But he also pledged to work towards rebuilding the city and offering aid to survivors, stating that he plans to launch a health and vaccination campaign to prevent potential water-borne diseases from spreading.
"Mocoa needs to rise up from this blow," Santos told reporters on Sunday. "And it will."
Here are some ways you can help residents of Mocoa as they work towards healing and rebuilding after this tragic natural disaster.