How To Help Get More Women Into Government Office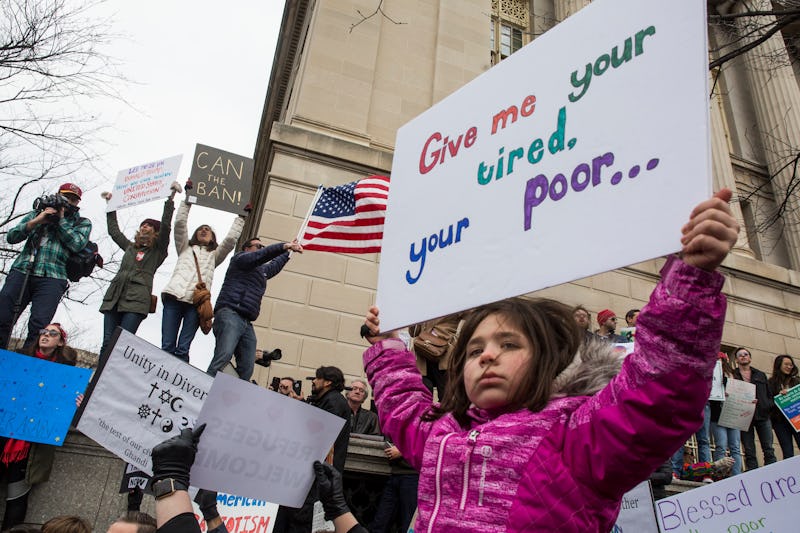 Zach Gibson/Getty Images News/Getty Images
Slowly but surely, the amount of representation of women in government is growing. According to a new survey from the National Conference of State Legislatures, women hold a historic number of seats in state legislature. Just under 25 percent of the legislative body for all 50 states is made up of women. 24.8 percent to be exact. As Broadly points out, though, it's still not nearly enough — but I have good news, too: There are plenty of ways to help get more women in office. If you are also a woman, one of those ways is of course to run yourself; even if you're not interested in holding office, though, there's still a whole lot you can do to help the cause.
While the current number is history-making, it's not even a half percent increase from last year. (In 2016, women held 24.4 percent of the state legislature.) Many state legislative bodies have a long way to go before women hold the same amount of seats at men. Currently, Nevada is the closest to gender parity with 39.7 percent of their seats being occupied by women (25 of its 63 seats). Wyoming is well below the national average with only 11.1 percent of its state legislature being comprised of women (10 of their 90 seats). You can see how your state holds up in this chart from the National Conference of State Legislature.
Women have also seen an increase in representation in some regard at the federal level. In November, the number of women of color in the U.S. Senate quadrupled. While yes, that number went from one to four, it is still a victory given the amount of racial and gender bias that persists in government. Before we get too ahead of ourselves in celebration, the number of women in the U.S. Congress decreased in the last election. There are currently 104 women in Congress, down from 105 women in 2016.
Female representation matters in government. Because there are laws being passed on women's health with few to no women in the room. Because women make up about 51 percent of the U.S. population. Because seeing a women hold office can be motivation enough for other women to run.
While all 51 percent of us aren't necessarily interested in running for office, there are ways we can help the ones who are. Here are seven ways to help get more women in office.