Here's How To Help The Hurricane Michael Victims Who Desperately Need It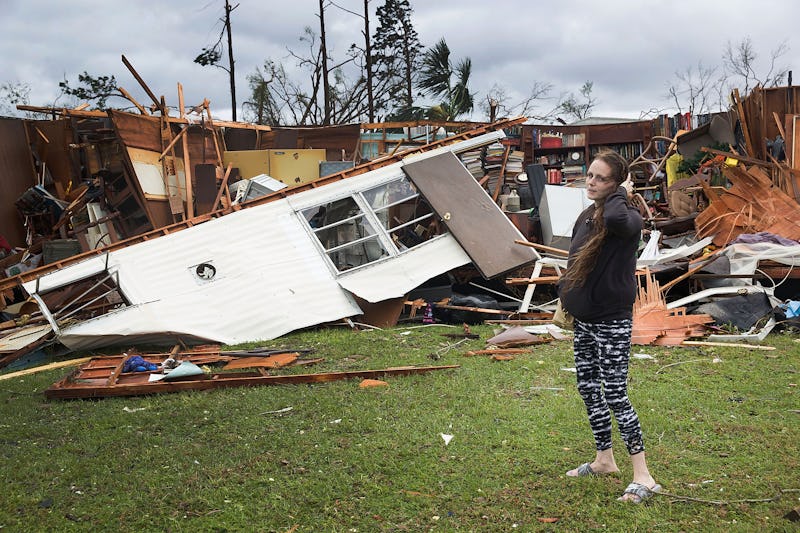 Joe Raedle/Getty Images News/Getty Images
Hurricane Michael became "Post-Tropical Cyclone Michael" when it left the East Coast and started to move over the Atlantic Ocean. But while hundreds of thousands of people remain without power and unobstructed access to emergency aid, the threat from the storm lingers. Here's how to help Hurricane Michael victims at this crucial time.
Eleven deaths have been reported so far from the storm, according to The Washington Post, including five in Virginia and the rest in Florida, North Carolina, and Georgia. Most of the deaths are reportedly related to getting hit by trees or other falling debris and driving on flooded roadways. At 10 a.m. ET on Friday, over 1.5 million people were experiencing power outages in those four states and in Alabama, according to PowerOutage.us.
Michael was the third-strongest storm to make landfall in the United States in recorded history, according to Accuweather. It hit the country with 155 mph winds as a Category 4 hurricane and nearly reached the level of a Category 5.
Victims of the storm desperately need assistance right now. One of the most important means of helping is donating (though it's not the only way — keep reading), so here are some relief organizations that are doing important work right now. They've all been vetted by Charity Navigator and given a score of 4 out of 4 for financial performance and transparency.
SBP: Immediate Rebuilding Efforts
SBP teams move into a disaster zone as soon as it's safe and work to repair the physical damage to homes. The first step involves mucking (i.e. removing the mud and debris from the space), gutting (i.e. removing damaged construction materials like flooring and dry wall), and mold remediation. When appropriate, they'll begin rebuilding homes. On average, it costs the organization $25,000 to reconstruct a dwelling, so your donation is essential.
Americares: Health Care Response
Americares assesses and mitigates the damage done to health facilities. It also immediately provides hygiene items and comfort to patients. Teams from the organization began Michael relief efforts on Wednesday in Jacksonville, per WTNH. Donate here.
American Kidney Fund: Helps Dialysis Patients
Patients whose kidneys have failed require regular dialysis treatments to keep their body functioning properly. Major storms can interfere with their ability to get the treatments and maintain their often highly-specialized diets, per the American Kidney Fund. AKF gives grants to disaster victims who are dialysis patients; that money is used to pay for new medication and special diet items as well as other necessary relief. Donate here.
LeSea Global Feed the Hungry: Provides Food And Water
This organization puts food, water, and emergency supplies directly into the hands of those impacted by the storm. The materials are distributed by a network of church partners. Just $50 sends an entire quarter ton's worth of emergency supplies, so donate here.
First Book: Helps Kids And Educators
First Book works to provide educational resources to low-income communities, and they administer special services in disaster zones, including providing books and hygiene kits. They're still working in areas affected by Hurricane Florence. Now they're also heading to the zone hit by Hurricane Michael. Make a donation here.
Good360: Donates Goods For All Steps Of The Recovery Process
Good360 raises money to donate relief materials for every stage of recovery. In the immediate aftermath, the organization brings goods to people who are displaced from their homes. Right now, for example, they say that they're providing pillows, sheets, and blankets; hygiene products; cleaning supplies; tarps; safety equipment; and more. Next they'll provide clean-up materials, then rebuilding materials, and finally goods that can be used to protect against disasters in the future. Donate here.
What If You Can't Donate?
Giving money isn't the only way to help Hurricane Michael victims. You can also donate blood through organizations like OneBlood (find a donation center in a county affected by the storm here). If you live in or near the storm-hit area, consider hosting people who have been displaced. Volunteer to help rebuild homes through organizations like Samaritan's Purse or SPB.
"So many lives have been changed forever," Florida's Gov. Rick Scott said on Thursday. "So many families have lost everything."
It's crucially important that they receive help from those who can give it. Considering following one of the suggestions above, or find even more options here.