How You Can Help Defend Immigrant Kids Who Are Taken From Their Parents At The Border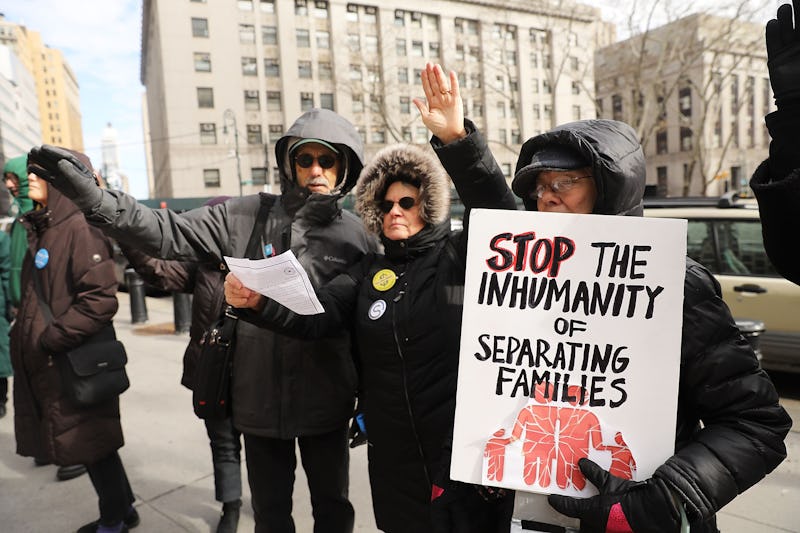 Spencer Platt/Getty Images News/Getty Images
Earlier this month, the Trump administration indicated that it would be more readily separating immigrant families at the southwestern border of the United States. This revelation was made after Attorney General Jeff Sessions announced that the U.S. would be prosecuting, as opposed to deporting, anyone seeking to cross the border illegally. This policy also means that immigrant children will be forcefully taken from their parents much more frequently. If you want to help immigrant kids who are taken from their parents at the border, there are many ways you can use your resources and your voice to protect their rights.
UPDATE: Since this story has been published, new statistics from the Trump administration reveal that 2,342 children were separated from their parents between May 5 and June 9 of this year, for an average of 65 separations a day.
As the Women's March described, when undocumented parents crossing the U.S. border are criminally prosecuted, their children are taken away from them and placed into government custody. As the New York Times reported, family separation has been occurring quite frequently during the Trump administration. Indeed, the paper revealed that, since October, there have been over 700 children taken from their parents at the border.
Parents and children are often not given any information regarding the length of their separation. And children are sometimes forced to go through court proceedings alone, without legal representation. Laura St. John, the legal director at the Florence Project, an Arizona immigrant services nonprofit, described the devastating impact of separating children from their parents to Chris Hayes on MSNBC. As St. John noted:
Children and parents who are separated sometimes don't have any way to communicate with each other for days, for weeks — I've seen months where a parent had no idea where their child was after the U.S. government took their child away.
If you wish to help kids who have been separated from their families at the U.S. border, the list below offers some options that will allow you to immediately take a stand on their behalf.