One Couple Raised $4 Million To Reunite Immigrant Families — And You Can Still Help Them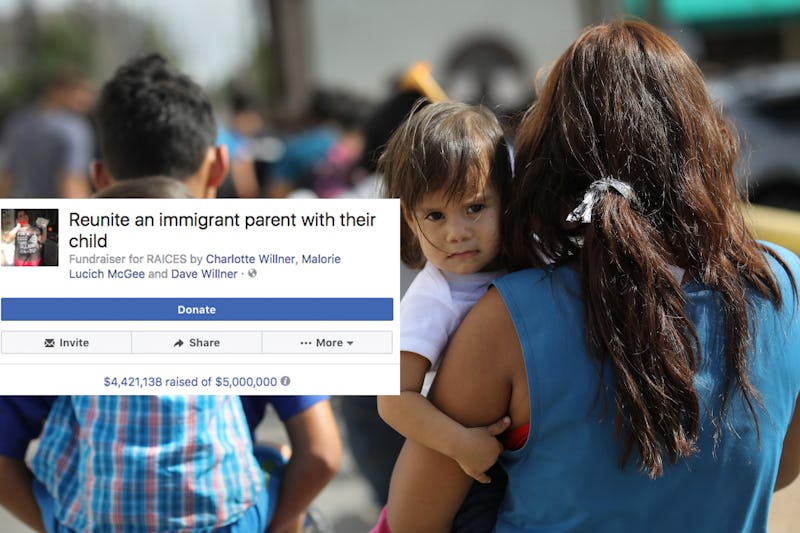 John Moore/Getty Images News/Getty Images
As national outrage grows over reports of children separated from their families at the United States border, many individuals are turning to online advocacy. One California couple started a Facebook fundraiser for separated immigrant families, raising more than $4 million in the process (so far).
Charlotte and Dave Willner started the campaign on Saturday — and since then, it has had 96,000 donations, and 91,000 shares. According to their website, the Willners, who are both former Facebook employees, are donating proceeds to the Refugee and Immigrant Center for Education and Legal Services (RAICES), a nonprofit organization that provides "free and low-cost legal services to underserved immigrant children, families and refugees" in central and southern Texas, according to its website.
According to CNN, the Willners launched their campaign after they saw the now-viral photograph of a 2-year-old Honduran girl crying as her mother was detained by a Border Patrol agent. The fundraiser began with a $1,500 goal, the minimum cost to bail out a parent arrested for unlawfully crossing the border.
"When we look at the faces of these children, we can't help but see our own children's faces," Charlotte told San Jose Mercury News. "It was the closest thing we could do to hugging that kid," Dave added.
According to the Willners, most of the donations have been between $5 and $10, though on Sunday, Charlotte announced on the Facebook page that several private donors have agreed to match donations up to $250,000. On Monday, a spokesperson for Facebook announced that Mark Zuckerberg and Sheryl Sandberg also contributed to the Willners' fundraiser.
On Monday night, Dave posted on Facebook that with the current rate of donations, "we'll be in striking distance of helping a substantial % of the separated parents and children, as well as many unaccompanied minors".
He added, "the run rate over the last 3 hours was nearly $4k every minute."
The firestorm surrounding the issue of family separation has sparked input from Democratic and Republican political representatives alike, and mobilized individuals to take action to advocate for families currently separated in government detention. There are many ways to add your voice to this movement against family separation, including contacting your legislator or the Department of Homeland Security, attending a protest, or signing a petition.
You can also contribute to or start your own fundraising campaign and send the proceeds to one of several nonprofit organizations dedicated to providing immigrant families with resources and support.
A Facebook fundraiser like the Willners' allows you to link your donations directly to a nonprofit organization, so you don't have to handle anything other than sharing your campaign on social media. Facebook has a how-to guide on creating a fundraiser and a direct link to get started. Other crowdfunding platforms like Kickstarter, or the more advocacy-oriented site GoFund Me are also good options.
In addition to RAICES, there are plenty of nonprofit organizations dedicated to helping immigrant families — here are just a few providing support to the separated families in crisis right now.
The process of family separation has been condemned as "government-sanctioned child abuse" by president of the American Academy of Pediatrics. It is unclear how many more children will be placed in detainment facilities without their parents, or a clear way to find them, but social organizing could have an impact on the future of the policy.