Hundreds Were Killed By An Earthquake On This Indonesian Island — Here's How To Help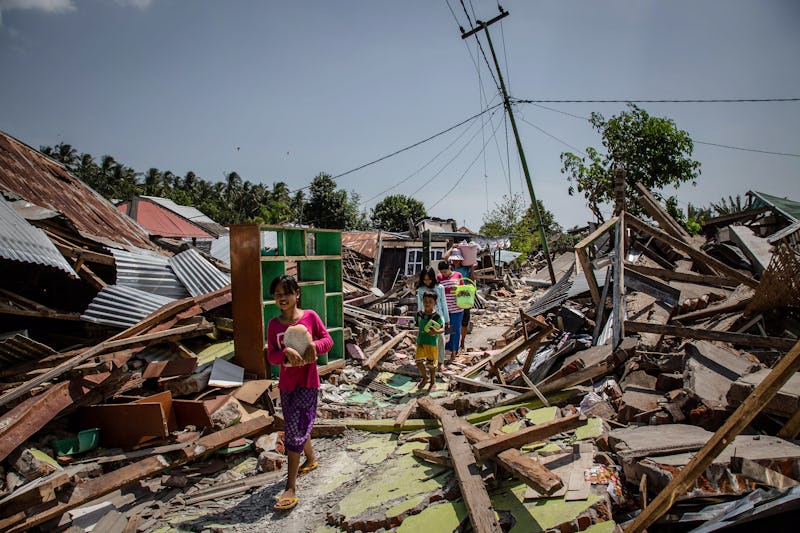 Ulet Ifansasti/Getty Images News/Getty Images
On Friday, as the city of Palu prepared for a beach festival, a 7.5-magnitude earthquake struck Sulawesi, a central island in Indonesia, followed by a massive tsunami, leaving at least 384 people dead, according to the Indonesia National Disaster and Mitigation Agency. Here's how to help Indonesia after the earthquake and tsunami.
"Updated numbers of the victims show that 384 people died, 29 are missing and 540 are injured. Donggala is still unreachable because communications are still cut off. A team has been dispatched to the regency," National Disaster and Mitigation Agency spokesperson Sutopo Purwo Nugroho told reporters on Saturday, according to The Jakarta Post.
The Indonesian Red Cross, or Palang Merah Indonesia (PMI), along with International Federation of Red Cross and Red Crescent Societies, are already on scene. The organization sent 27 volunteers from Donggala and 20 volunteers from Luwu to help with search and rescue as well as assistant efforts, according to PMI memo posted online on Friday.
The memo also said the organization is preparing to distribute 500 tarpaulins, 200 blankets, 200 sleeping mats, and 200 sarongs. The Indonesian Red Cross has mobilized at least five ambulances already, according to Twitter.
To help the Indonesian Red Cross relief efforts, you can donate online.
Google also has a donation option. The company works with the Center for Disaster Philanthropy, which then distributes the donation you made to nonprofits in the area. The Center for Disaster Philanthropy is an American nonprofit that has worked with groups around the world, from the Guatemala volcano eruption to the flooding incidents in Sri Lanka and Bangladesh.
Islamic Relief USA — an organization aiming to eradicate poverty — has a fund specifically for earthquake relief in Indonesia. You can donate to the Islamic Relief USA's effort here.
The organization is "on the ground providing vital humanitarian aid" to survivors and first responders, according to their site. Excess funds will be used for long-term relief in the area, according to Islamic Relief USA.
Many internationally focused aid organizations have fundraisers for their efforts to help support first responders and survivors of the earthquake and tsunami.
Save the Children has an Indonesia-specific fundraising call-out in light of the devastating earthquake. And Humanity & Inclusion has a donation page on its website to help victims of the tsunami.
Helping Hand for Relief And Development, an international aid organization, has re-upped its fundraising call for its Indonesia Earthquake Relief fund. The organization says the immediate needs include medical supplies and personnel, food, water, blanket, and tarps, among others; the funds will be used to purchase these supplies.
HHRAD's Indonesia Earthquake Relief fund was first set up in wake of previous earthquakes. In August, a 7.0-magnitude quake killed at least 98 people and injured hundreds, according to The New York Times.
BBC reported that Indonesia experiences earthquakes with some regularity because of its position on the Ring of Fire, a line of active volcanoes. For example, in 2004, a 9.1-magnitude earthquake struck in the Indian Ocean near Indonesia. The resulting tsunami killed more than 230,000 people in more than a dozen countries, according to The Atlantic. In Indonesia, more than 120,000 people died, according to BBC.
This article has been updated.