7 Ways To Help Jorge Garcia's Family & Other DACA Recipients Right Now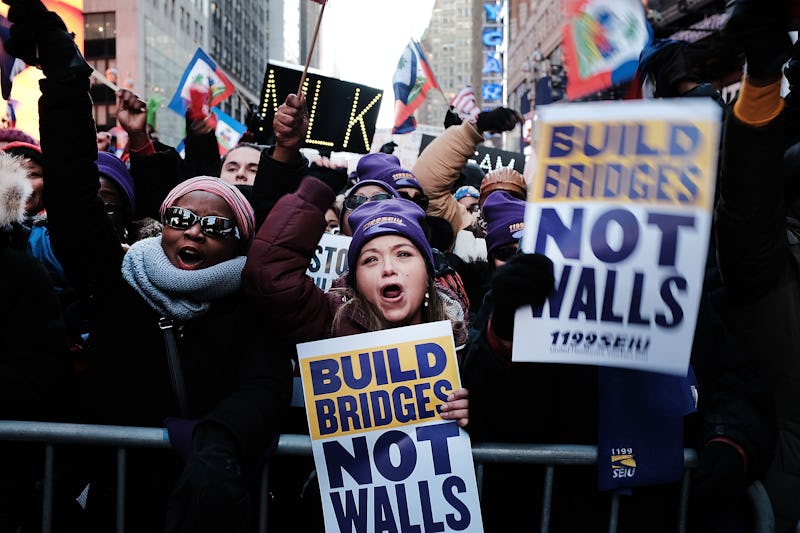 Spencer Platt/Getty Images News/Getty Images
On Martin Luther King, Jr. Day, the Trump administration deported a Detroit man with two children who was brought into the country when he was 10 years old. A lot of people were outraged at this decision, and if you're one of them, you may be wondering how to help Jorge Garcia's family in light of his deportation to Mexico.
Garcia had lived in Detroit for 30 years and worked as a landscaper. He was given temporary reprieves on several occasions, including one on Thanksgiving of this year, and he and his American-born wife have spent $125,000 on legal fees since 2005 in an attempt to find a way for Garcia to remain in the country legally. But at 39-years-old, he's just barely too old to qualify for DACA, the Obama-era program that shielded certain nonviolent immigrants from deportation. According to Detroit News, Garcia had no criminal record and met with immigration officials every year.
"I feel kind of sad," Garcia told the Detroit Free Press on Sunday night, hours before he was deported. "I got to leave my family behind, knowing that they're probably going to have a hard time adjusting. Me not being there for them for who knows how long. It's just hard."
Needless to say, there was widespread anger at the decision to deport a father of two who was brought to the U.S. as a child by no choice of his own. If you'd like to help Garcia and his family, here are a few ways.
Give To The Garcia Family's GoFundMe
Garcia's wife Cindy set up a GoFundMe before her husband was deported, when the family was in a protracted legal battle to win citizenship for Garcia, and the fund is still collecting money. The Garcia family lost a major source of income when Jorge was deported, and the family will undoubtedly rack up more legal bills as it continues to fight for his right to re-enter the U.S.. Donating directly to their GoFundMe is a great way to directly ease the financial pain the family is going through right now.
Support United Michigan
United Michigan is an advocacy group that fights for compassionate immigration policies and provides legal services to undocumented immigrants in the state. The group worked on Garcia's case for years and will continue to fight for immigrants just like him. If you're appalled at Garcia's deportation, consider donating to United Michigan to help provide undocumented immigrants with the services and support that they so often lack.
Donate To Otros Dreams en Acción
Despite the hard work of United Michigan and other activists, Garcia was deported to Mexico. Otros Dreams en Acción (ODA) is an organization devoted that provides resources to immigrants like Garcia, who once lived in the U.S. but have been deported to Mexico.
The group works to help such folks with the transition to life in Mexico and, just as importantly, connects them with one another to foster a sense of community for recent deportees. Garcia is exactly the kind of person ODA seeks to help, and you can donate to the organization here.
Tell Your Representatives To Pass The DREAM Act
If Congress had passed the DREAM Act or a similar bill, Garcia could have qualified for it, thus shielding him from deportation. But it didn't. Nevertheless, immigration activists aren't giving up the fight for the DREAM Act, and if you'd like to help prevent immigrant families like the Garcias from being broken up, call your representatives in Congress and tell them.
It sounds cliche, but persistent pressure from the public is what saved Obamacare from being repealed, and with enough work, it could turn the DREAM Act into a reality and prevent deportations like Garcia's. This website will show you your elected representatives' contact information.
Volunteer as a Translator
One of the biggest obstacles many undocumented immigrants face in legal battles is the language barrier. If you're bilingual, you may be able to help prevent future deportations by volunteering as a translator. The activist group Stand With Immigrants has a helpful webpage with information on how to do this, but the gist of it is simple: Call an immigrants' rights organization in your area and tell them you want to be a translator. Your help could be what prevents an immigrant family in the U.S. from being broken up.
Sign This Petition To Help Garcia Return
In addition to phoning or emailing your representatives, you can also sign this petition at MoveOn.org. It demands that Congress pass the DREAM Act; if that were to happen, Garcia could potentially be allowed to return home, depending on the legislation's language. As of this writing, over 6,000 people have signed the petition, which will be delivered to the House of Representatives, the Senate and President Trump once it reaches 7,500.
Welcome Immigrants In Your Community
Being in perpetual legal peril is hard enough, and facing discrimination or hostility from your own community makes it even even harder. One very easy way to make a huge difference is to simply be kind and welcoming of the immigrants in your community. Make it clear that they're as welcome in your neighborhood as anybody, and — if they so desire — help them integrate into the larger local community. It's a small step, but it can have an enormous impact.
The fact that Garcia was deported was shocking and demoralizing to many activists. But the fight for compassionate, common-sense immigration policies is nowhere near over, and there are still of ways to help Garcia and folks like him.