5 Undocumented Activists Who Are Fighting For All Immigrants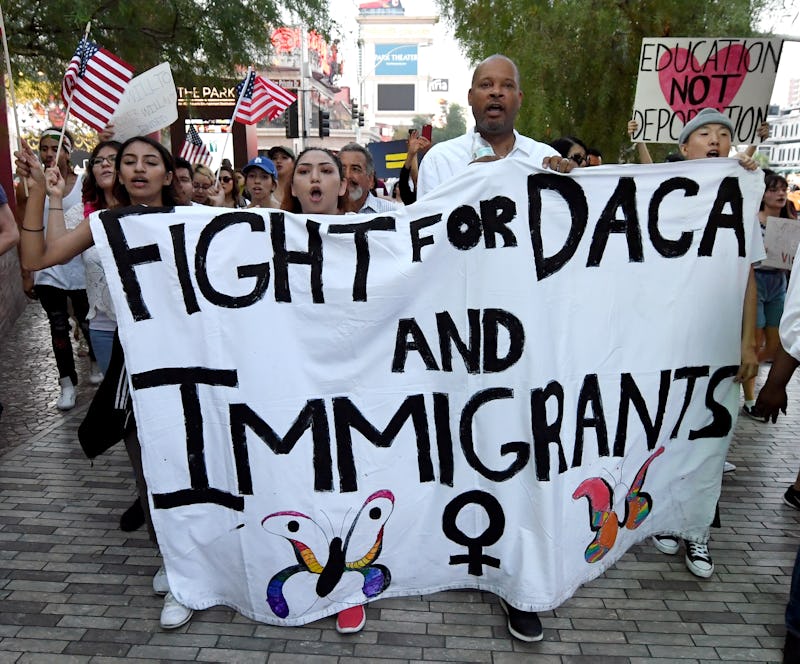 Ethan Miller/Getty Images News/Getty Images
If it seems like the fight for immigrants' rights has been in the news more than usual lately, you're not wrong. On Sept. 13, House Minority Leader Nancy Pelosi and Senate Minority Leader Chuck Schumer allegedly struck a deal with Trump to protect the 800,000 undocumented immigrants who had received protection under the Deferred Action For Childhood Arrivals (DACA) program, before Attorney General Jeff Sessions announced its end on Sept. 5. If the deal is able to happen, and DACA is enshrined in law, it would make life so much easier for the almost 1 million undocumented people living in the United States, but some activists were frustrated that the deal was made without the input of undocumented people. Iván Ceja, director and co-founder of Undocumedia, posted on social media after the deal was announced, saying, "Democrats, could you refrain [from making] agreements without us in the room?"
The recent attacks on DACA recipients have made it clear that anyone who cares about immigrant rights needs to be taking their cues from immigrants themselves. And beyond that, allyship and support must take into account the human rights of all undocumented people, not just DREAMers and DACA recipients. As immigrant rights activist Joel Sati writes in The Washington Post:
DACA, for all its benefits, was a Faustian bargain that we never should have struck. Our movement must make a fundamental shift in how we frame our experience in the struggle for substantive immigration protections: safety from deportation, citizenship for all 12 million, and a reconceptualization of political membership in such a way that the situation we face never happens again. We deserve this not because we are good, but because we are human beings.
Bustle spoke with five leaders in the immigration rights movement about the advice they have for fellow undocumented immigrants, and what allies can do to support them during this period of uncertainty.