Here's How To Help Other Women On International Day Of The Girl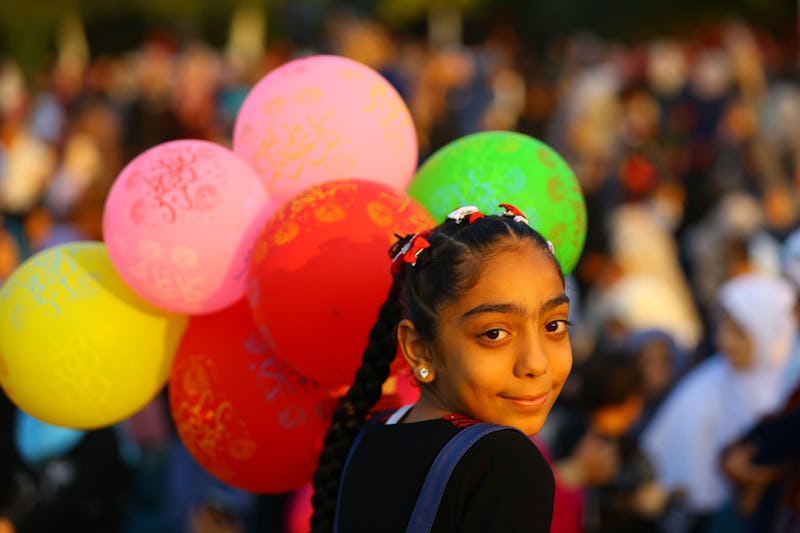 MOHAMMED ABED/AFP/Getty Images
Historically, the basic human rights of girls around the world have been overlooked, and the seeds planted during childhood inform the rest of a person's life for better or worse. If you want to ensure it's for better, here's how to help other women on International Day Of The Girl. Six years ago, the United Nations designated Oct. 11 as International Day of the Girl Child to recognize girls' rights and the unique challenges girls face around the world because, empowering girls helps them grow into strong, confident women. This year's theme — EmPOWER girls: emergency response and resilience planning — is designed to do just that.
"Whether caused by armed conflict or natural disaster, humanitarian crises always hurt women and girls the most — they account for more than 75 percent of the refugees and displaced persons at risk from war, famine, persecution, and natural disaster," UNESCO Director-General Irina Bokova said in a statement on the UN's website. "They are also vulnerable to sexual abuse and exploitation, during conflicts, and in refugee camps."
In many parts of the world girls are regularly denied education, medical care, and personal freedoms, and this withholding of their basic human rights is amplified during times of crisis. As we continue to fight for the rights of women, the transgender community, and non-binary people in the U.S., it's important to remember that girls around the world need help to improve their quality of life and plan for a sustainable future.
If you want to lend your support, here are some ways to help other women and girls on International Day Of The Girl, Oct. 11.
Mentor In Your Community
You've likely heard the phrase "think globally, act locally." Basically, this means that you can take a large issue — like the rights of girls around the world — and apply it to your own community. Every town and city across the country has young girls in need of mentors, and your community likely has some mentorship programs that would allow you to help change the life of a girl in your own backyard.
If you're not sure where to start, I AM THAT GIRL is a non-profit group that provides girls a safe space to connect and have honest conversations about things that matter. The organization has chapters all over the country, and if there isn't an I AM THAT GIRL chapter in your area, you can start one.
Attend An Event In Person
If you're available Wednesday, Oct. 11, there are events for International Day Of The Girl taking place around the world. The UNICEF website has a list of sponsored events that you can access on its website, and thousands of communities and organizations in every city and town are hosting events as well. Search for #dayofthegirl on Twitter, or search International Day Of The Girl in Facebook events to find an event near you.
Support Women Running For Office
The Representation Project, which inspires individuals and communities to challenge and overcome limiting stereotypes so that everyone can fulfill their human potential, is engaging in a live Twitter chat with Ignite National, an organization that builds political ambition in young women via political and civic education, to inspire women to run for office. Join the International Day Of The Girl live chat at 1 p.m. ET on Oct. 11.
You can also engage with other organizations that support women running for office, like She Should Run. Because, the future is female, and the only people who should be making decisions for women, girls, transgender and non-binary people are the people who belong to these communities. The best way to do this is to become one of the decision makers by running for office.
Lift Each Other Up
While women and girls should be lifting each other up every day, on International Day Of The Girl let's put aside our differences and dedicate the day to showering the women and girls we admire with the love they deserve. GirlUp, part of the United Nations Foundation, is spearheading a project called #GIRLHERO, and it's and easy and fun way to participate in this important day.
Just post a video on social media talking about your #GIRLHERO — or surprise them on camera. You can also get a feminist reading list, and learn how to donate to support women leaders.
Educate Yourself About Girls' Issues
While it's easy to get stuck in the microcosm of your own life (guilty right here), if you widen your gaze you can learn a lot. On International Day Of The Girl consider committing part of your day to educating yourself about issues that are affecting girls around the world.
UNICEF reported that "Every 10 minutes, somewhere in the world, an adolescent girl dies as a result of violence. Gender-based violence often spikes in humanitarian emergencies and displacement settings, subjecting girls to sexual and physical violence, child marriage, exploitation, and trafficking. Girls are also 2.5 times more likely to be out of school than boys during conflict, compromising their future prospects for work and financial independence as adults. Health services critical to girls' wellbeing, including sexual and reproductive health services and information, maternal care, and provisions for menstrual health and hygiene, are often scarce or insufficient in crisis situations."
Taking time to educate yourself is the first step toward helping women and girls thrive, and it's something everyone can do. Here are some documents to read if you want to get started.
Support Businesses Run By Women
If you want to help other women and girls succeed, consider supporting businesses founded and run by women. Frequent their shops, help fund their start-up campaigns, download their apps, take their classes, and support them on social media. More women than ever before are starting businesses, like career coaching, media companies, and more, that are run by women for women because the needs of women are unique, and they should be nurtured by women.
Being a woman, girl, or transgender or non-binary person means that you have to fight harder for the same rights. On International Day Of The Girl let's remember how important it is to support each other. And, in the words of Lady Gaga, "Hey girl, if you lose your way, just know that I got you."