Here's How You Can Help Victims In This City Hurricane Harvey Absolutely Devastated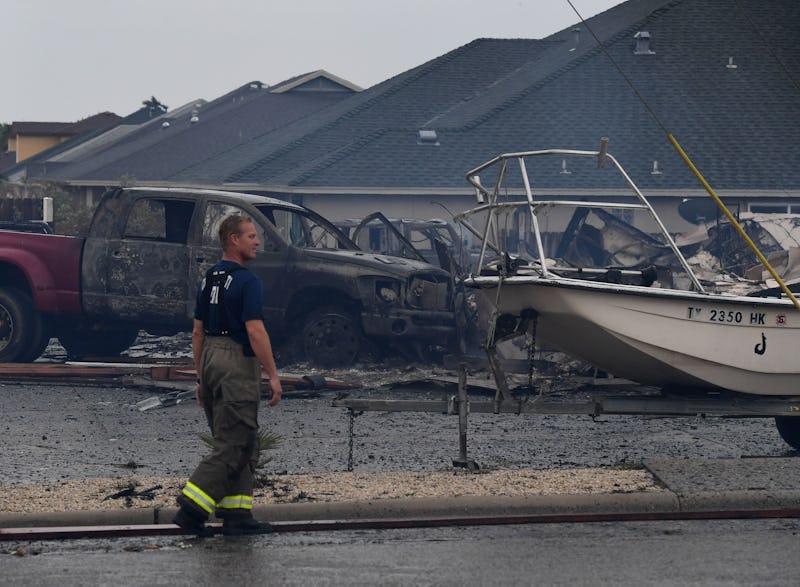 MARK RALSTON/AFP/Getty Images
Hurricane Harvey is hitting Texas hard, but so far, some places are more affected than others. One of those place is Rockport, Texas, where Hurricane Harvey made landfall on Friday night. Following mass power outages, heavy winds, and dangerous flooding, Harvey victims in Rockport need your help. And if you're interested, there are a few ways you can reach out a helping hand.
According to the National Weather Service, Rockport — a town of just about 10,000 residents — was hit hard with nearly 130 mile per hour winds on Friday night. In a grave warning to convey the seriousness of the storm, Rockport's Mayor Pro Tem Patrick Rios asked anyone not evacuating to mark their arms with their social security numbers. "We hate to talk about things like that," he said. "It's not something we like to do but it's the reality, people don't listen."
Though the hurricane has passed through the city already, flooding and storm surge will continue to pose threats to residents as the weekend progresses. Rockport's Mayor CJ Wax told The Weather Channel on Saturday:
We know there is widespread devastation. I think it's safe to say we took a Cat. 4 (hurricane) right on the nose, and we'd appreciate everyone's prayers.
Volunteer Your Time
If you're able to get to Southeast Texas in the coming days, consider volunteering your time with the Red Cross or Salvation Army to help those in Rockport and other communities whose lives have been devastated by Harvey.
Consider Donating Money
If you can't make it to the Texas Gulf Coast to do volunteer work, the Red Cross and Salvation Army are also taking donations.
Donate Blood
Those injured by Hurricane Harvey will need medical attention and may need blood transfusions. The Texas-based Carter BloodCare is soliciting blood donations for those affected by Harvey.
Help Displaced Pets
The SPCA of Texas is accepting monetary donations so that it can help pets lost in the havoc that Hurricane Harvey wrought.