You Can Help These Senators "Hold The Floor"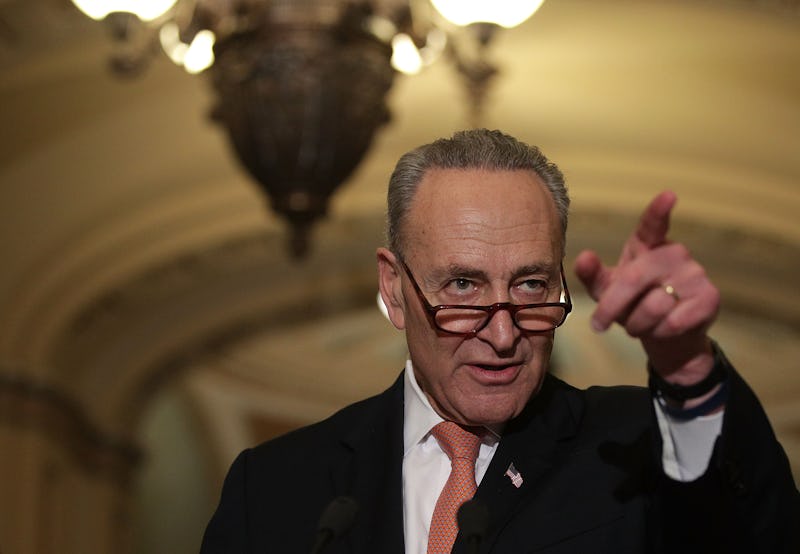 Alex Wong/Getty Images News/Getty Images
President Donald Trump's nomination for Secretary of Education, billionaire philanthropist Betsy DeVos, is a controversial choice, given her lack of experience with the public school system. But she isn't part of Trump's cabinet just yet; there are ways you can help Senate Democrats stop DeVos from being confirmed by supporting their latest efforts to #HoldTheFloor until another Republican Senator vows to vote against her confirmation.
If confirmed, DeVos, a proponent of charter schools, would be the first education secretary to have neither been a public school parent nor a public school student, Education Week reported. She also has no teaching experience in public K-12 schools or colleges. While many Republicans support DeVos' nomination, including Jeb Bush and Mitt Romney, all Senate Democrats, as well as two Senate Republicans, are set to vote against her confirmation.
In a last attempt to gain the one more Republican vote necessary to prevent DeVos' confirmation, Senate Democrats have been holding the floor. This means that they will continue to voice their opposition to DeVos' nomination throughout the night, up until her Feb. 7 confirmation vote.
But if they don't manage to sway at least one Republican senator to vote against DeVos, Democrats won't be able to block her; Vice President Mike Pence could break the current 50-50 Senate tie. That's why it's even more important to contact your representatives, especially if they're Republican, and let them know you want them to vote against the potential education secretary.
Tweet Your Senator
Elected officials get their power from being voted into office, and their job is to represent their constituencies. It seems basic enough, but sometimes people forget that we shouldn't be at the mercy of our representatives' decisions; they should be working for us instead.
That being said, if people tweet their senators and make it clear that they would be very unhappy if DeVos was confirmed, it might very well be enough to push a Republican into voting against her. Actor George Takei calls it the "DeVos pledge;" tell your senator that if they vote for DeVos' confirmation, you will vote against them when election season comes around. Here is a useful list of senators' Twitter profiles so that you can do just that.
It's also important to remember you can cheer your Democratic senators on and thank them for their efforts via Twitter. After all, pulling an all-nighter on the Senate floor can't be easy.
Call Your Senator
OK, so this one might not work if your senator's voicemail is full, but you should give it a try anyway. Here is the contact information for Senators from each state, and here's a sample script on what to say about DeVos if your call does get through. You can also call the Congress switchboard at 202-224-3121 if you're not sure who represents you.
Use An Online Contact Form
More than 1.1 million people have used the National Education Association's online form to contact their representatives on voting against DeVos, the association told USA Today. If talking on the phone isn't working out for you, this may be the way for you to put pressure on your senators.
Sign A Petition
There are plenty of petitions about DeVos circulating, including a Change.org petition that has close to 425,000 signees. It may not seem like there's a point in doing this, but remember that it's not over yet. After all, Democrats need just one Republican to switch their vote to stop DeVos' confirmation. In fact, just today, Sen. Debbie Stabenow of Michigan told CNN's Erin Burnett, "We may, in fact, have an additional Republican colleague voting 'no,' which would stop her tomorrow." Hopefully this is the case, but for now it's clear that Americans have still have a chance to prevent DeVos' confirmation.