It's Not Too Late To Protest Trump's U.S. Gag Rule On Abortion — Here's What You Can Do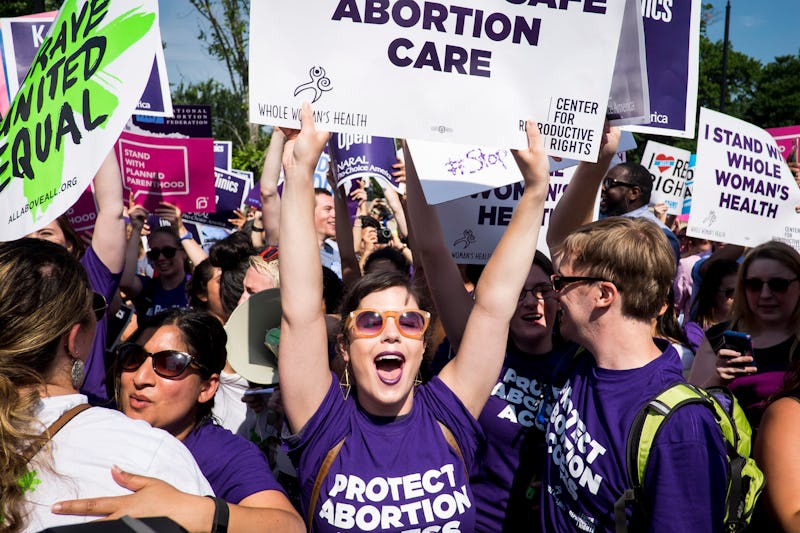 Pete Marovich/Getty Images News/Getty Images
In a striking blow for women's health and rights, the Trump administration has announced that it is proposing a new rule related to federal family planning funding. The proposed rule would strip federal Title X funding from any organization that provides women with or refers them for abortions. This rule, which many are referring to as a domestic "gag rule," would severely inhibit many women's ability to receive essential reproductive health services. If you want to help stop Trump's Title X abortion funding rule from being implemented, there are several ways you can take a stand to fight for women's health and rights.
Trump's proposed "gag rule" has been posted to the Department of Health and Human Services (DHHS)' website, but not yet published in the Federal Register. According to The Washington Post, the proposed rule has been sent to the White House budget office for an interagency review, a process which will likely take multiple months.
If enacted, many believe that the rule will be absolutely detrimental for women's health. The proposed rule precludes doctors at clinics that receive Title X funding from referring women for abortion procedures, infringing heavily on women's rights. It also forces many reproductive health organizations to choose between continuing to provide abortion services and forgoing their Title X funding — or ending abortion services and inhibiting women from accessing them.
Dawn Laguens, the executive vice president of the Planned Parenthood Federation of America, an organization which stands to be profoundly affected by the proposed rule, highlighted the many problems with the rule in a press release on Tuesday:
This is the worst attack on women's health and rights we've seen from the Trump-Pence administration. No woman should be denied basic information about her health care — including safe and legal abortion ... [Moreover], the result of this rule is that people will not get the health care they need. They won't get birth control, cancer screenings, STD testing and treatment, or even general women's health exams.
So, if you wish to take a stand to help stop Trump's Title X abortion funding rule, the time is now. The list below offers some ways in which you can raise your voice to protect women's rights.