6 Ways You Can Help Animals Displaced By Harvey, No Matter Where You Live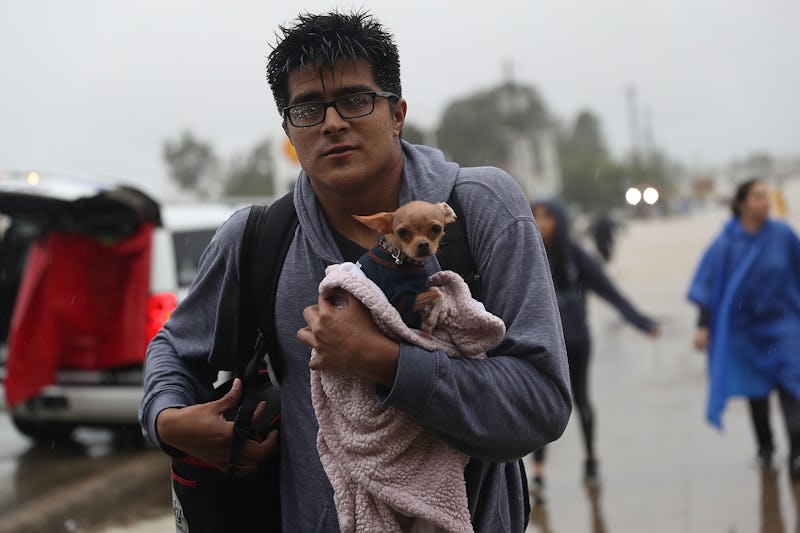 Joe Raedle/Getty Images News/Getty Images
Hurricane Harvey touched down in Texas last week, and its effects are still rippling through the state. Texas experienced historic flooding, with 16 inches of rain in a single day, and will take some time before all of the damage done by the storm can be properly assessed. Residents have fled their homes, leaving behind their possessions, and in some cases, their animals. Luckily, there are ways you can help animals displaced by Hurricane Harvey.
Many pets were left behind during Hurricane Katrina in New Orleans in 2005. Because most shelters did not accept animals, some owners were forced to part ways with their animals when being rescued from the flooding. According to The Atlantic, more than 600,000 animals were killed or stranded by Katrina. Dogs left after the floods suffered from lack of food and increased risk of disease, and eventually stray females started reproducing at a quick rate as neighborhoods were left abandoned and no one was around to report strays.
The aftermath of Katrina was horrible, but ahead of Harvey, animal groups began putting plans into effect before the storm to minimize the danger for animals during and after the storm. In Corpus Christi and Houston, shelters transported animals to other locations throughout the country to make room for strays who will eventually end up there. The Humane Society of the United States, Wings of Rescue, the American Society for the Prevention of Cruelty to Animals, Greatergood.org, and other organizations have joined forces to make this happen before the flooding became dangerous.
But just because local shelters began preparing for the effects the hurricane would have on pets, it doesn't mean that they still don't need help. Here are some ways you can aid the animals affected by Harvey.
Adopt Don't Shop
In Harvey's aftermath, there will likely be a number of dogs, cats, and various other pets transported to shelters. After Katrina, some homeowners never returned to their property. In the case of Harvey, we don't yet know what the damage will be like, but deciding to adopt an animal left behind in the storm could save that animal's life.
Donate To Shelters
Sending money to an animal shelter can help provide food, medical supplies, and places to keep animals like crates, kiddie pools, and beds.
Volunteer
You can volunteer at your local animal shelter, and get the word out about animals up for adoption. Taking care of strays who may be frightened and hurt after the storm requires loving volunteers willing to help.
Report Strays
Especially for those who live in the areas affected by Harvey, reporting stray animals in the streets or in abandoned buildings is important so that they can get the proper medical attention they may need.
Foster Homeless Animals
You can lighten the burden on animal shelters by temporarily fostering a pet. You can contact your local animal shelter to ask what their needs are and communicate with them about what you can handle.
Help Transport Animals To Various Locations
If you have a truck or other vehicle that can transport animals, consider using it to drive pets to less-crowded animal shelters in the area to ease the burden of the ones that will be struggling after the hurricane.
Any little bit you can do to help the animals who cannot fend for themselves during this time of crisis is a good thing.