6 Seriously Important Ways To Help The Flood Victims In Texas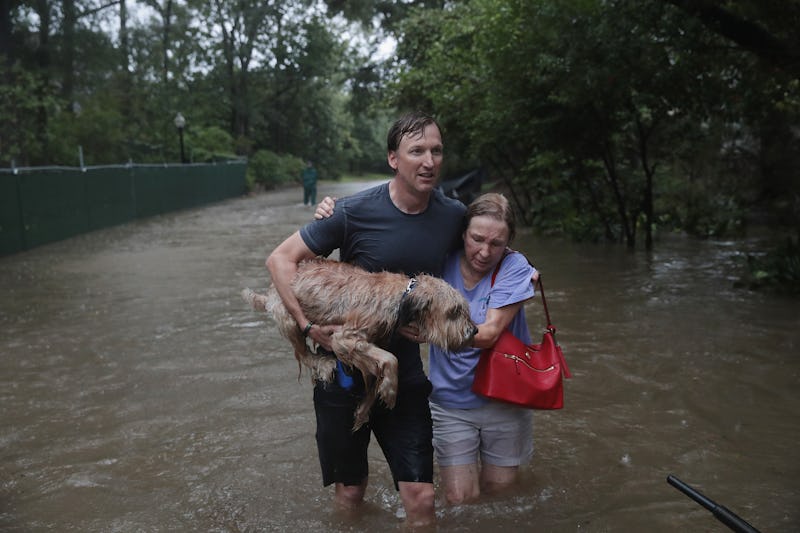 Scott Olson/Getty Images News/Getty Images
Rain and strong winds battered south Texas over the weekend, as Hurricane Harvey hit cities like Rockport, Galveston, and Houston. The storm made landfall Friday as a Category 4 hurricane with winds up to 130 miles per hour. By Sunday, the system had been downgraded to a tropical storm, but destructive floods continued to wreak havoc on communities in the greater Houston metro area. As recovery efforts begin, people across the country can help the Texas flood victims get back on their feet after the devastating storm.
It may still be too early to assess the full scope of damage done by Harvey's powerful storm system. Experts predicted that the Houston area would continue to see more rain throughout the day on Sunday, worsening the already-worrisome flood conditions. In total, the region could see some 40 inches of rainfall. The quickly rising flood waters caused local residents to seek higher ground, as their ground-floor living spaces and vehicles became submerged under the tide.
Needless to say, the most dire need in Texas as of Sunday was likely rescue services. According to Fox News, more than 1,000 rescues had been made in Houston by Sunday morning, but plenty more rescue calls had also been made, with some people not able to get through to 911. Beyond rescue efforts, Texan flood victims will likely need shelter, food, water, and even care for their animals.
Support The Red Cross
The American Red Cross set up shelters across Texas and Louisiana to provide refuge to Hurricane Harvey victims. As of Sunday, more than 1,800 people had taken refuge from the storm in 35 Red Cross shelters. Making a donation online or via text is quick and easy way to support the Red Cross' efforts.
Want to do more? Consider volunteering, no matter where you're from. The Red Cross volunteers in Texas came from all over the country, including a team of 17 people from New Jersey. You can learn more about volunteering for the Red Cross on the organization's website.
Give On GoFundMe
In response to the hurricane, GoFundMe created a Hurricane Harvey landing page specifically for the flooding and hurricane relief campaigns on its platform. There, you can find all kinds of worthwhile campaigns to support, including animal shelters, rescue teams, and individual families. One campaign sponsored by Rockport, Massachusetts, seeks money to support its sister city of Rockport, Texas. Another campaign seeks funds to send a team of volunteers from California to south Texas.
Bring Your Boat
If you do happen to live near the affected areas, you may be able to help in person. Local news agencies reported on Sunday that local officials needed boats and high-water vehicles to help in rescue efforts.
Donate Blood
If you're in a flooded area, remember that it is best not to drive or walk through flood waters unless absolutely necessary. However, if your streets are clear and you can make it to a blood donation center, the South Texas Blood & Tissue Center has called for donations. Texas-based Carter Blood Care has also called for donations.
Send Pet Supplies
It's not just Texas' humans who need help after the storm. Pets across the hurricane's path have been displaced, and animal shelters in the affected areas are in need of donations. Austin Pets Alive! had transported more than 200 displaced pets to its shelter by Saturday morning. On its website, the shelter thanked supporters for an outpouring of donations, but the organization still needed items like flea and tick medication, leashes, cat litter, and more.
Make Space For Evacuees
People in San Antonio and Austin have begun offering up space in their homes for displaced Texans via Airbnb. Airbnb has encouraged users to offer their accomodations for free, and the company has waived all service fees for people who check in by September 1.
With more rain in the forecast for Sunday, it seemed like things in Texas were going to get worse before they could get better. Thanks to online donations and volunteers in the area, though, flood victims could find some relief. With a long road of recovery ahead, help from across the country could go a long way.