How You Can Help The California Wildfire Victims From Anywhere In The World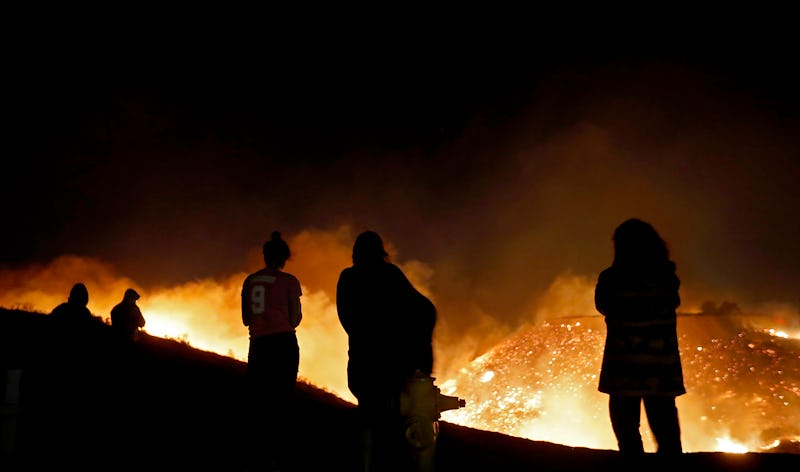 Luis Sinco/Los Angeles Times/Getty Images
This week, a series of wildfires in Southern California have caused a tremendous amount of damage to properties and the local environment, and have uprooted tens of thousands of people's lives. It's times like these when you might feel like you want to lend a helping hand, but are not quite sure what to do. But don't fret: Here are some suggestions on how to help victims of the Southern California fires.
A handful of major fires ― the Thomas fire, the Creek fire, and the Rye fire ― have already destroyed hundreds of homes, and forced more than 150,000 people to evacuate, according to The Los Angeles Times. The Thomas fire is by far the biggest and most widespread of them, having reportedly burnt up more than 60,000 acres of land. By comparison, the Times reports the Creek fire has burned through some 14,000 acres, while the Rye fire has burned about 7,000 acres.
Another fire, named the Skirball fire, reportedly began near the Sepulveda Pass in Los Angeles on Wednesday morning, and is currently at zero percent containment. In short, it's a chaotic and hugely stressful time for countless people, and if you have the time and the ability, there are some ways you can try to help.
1. Donate To A Recently Established Fund
There are some major fundraisers underway right now for anyone who wants to make a financial contribution to help those affected by the fires. For instance, a fundraiser for the biggest of the fires, the Thomas fire, has been established by a combination of the Ventura County Sheriff's Office of Emergency Services, the United Way, the Red Cross, and it's now accepting donations.
2. Donate To Local Charities
According to ABC 7 News Los Angeles, the Salvation Army's Ventura chapter is accepting donations of food and water to be distributed at the county's fairgrounds, which is where many evacuees of the fires are currently being housed. In times of massive natural disasters, resources as simple as food and water can often be a big help, so whether you're local to the area or want to donate from afar, this is one possible option for you.
3. Donate To A Verified GoFundMe
Donating to online fundraisers can be a tricky business sometimes, because it takes some effort to verify that particular causes are legitimate. Fortunately, GoFundMe has verified a number of fundraisers that are accepting donations right now for a variety of causes related to the fires, whether for general relief and reconstruction, or for individual families affected by the fire.
4. Volunteer To Help
The Red Cross often accepts volunteers to help with aid efforts in their communities and regions, so if you're interested in helping with the practical work of helping families and individuals survive the fires and recover from them, you could consider getting more actively involved. If you live in the vicinity of the fires, you can type in your zip code on the Red Cross website and see what volunteer openings are in your area.
5. Donate To Animal Shelters That Are Boarding Pets During The Crisis
Some animal shelters are accepting pets to be boarded throughout the fires, an essential resource for pet owners who aren't able to adequately care for or provide shelter to their beloved animals in the midst of the ongoing disaster. Again, if you live in or around the affected areas, the Humane Society of Ventura County is a great option to donate human food for volunteers, pet food for animals, or money to keep things running smoothly.
6. Spread The Word About Useful Resources
It never hurts to signal boost anything on your social media networks that might be useful if seen by someone currently fleeing the wildfires, or trying to plan in the event of an evacuation, or even someone who simply knows someone else who is, and might pass the information along.
For example, the above list of L.A.-area animal facilities that are providing free board to animals displaced by the fires, a crucial service for pet owners who suddenly find themselves without a home to return to.
7. Practice & Raise Awareness About Wildfire Prevention
One key facet of helping protect people from wildfires is preventing and avoiding them in the first place. While the chief concern right now is extinguishing the fires in Southern California and helping the victims recover from everything that's been lost, it's also a good time to refresh yourself with the basic tenets of fire safety in the wilderness or in nature, and advocate publicly for people to take them seriously.
Many wildfires are caused by human activity, after all, the stuff of smoldering cigarette butts, unattended campfires, and flammable yard waste. So do yourself and everyone a favor and refresh your memory on what precautions to take when you're in a wildfire-prone area ― the biggest way to make a difference is to stop these fires before they start.
It's going to continue to be a rough experience for residents of the areas affected by these raging wildfires, both until they're finally extinguished, and for some time after. It takes a lot of work to recover from natural disasters as sweeping and unstoppable as these. But that process can be helped along by the support, charity, and generosity of others.