Here's How To Help The Homeless & Other People Affected Most By The Bomb Cyclone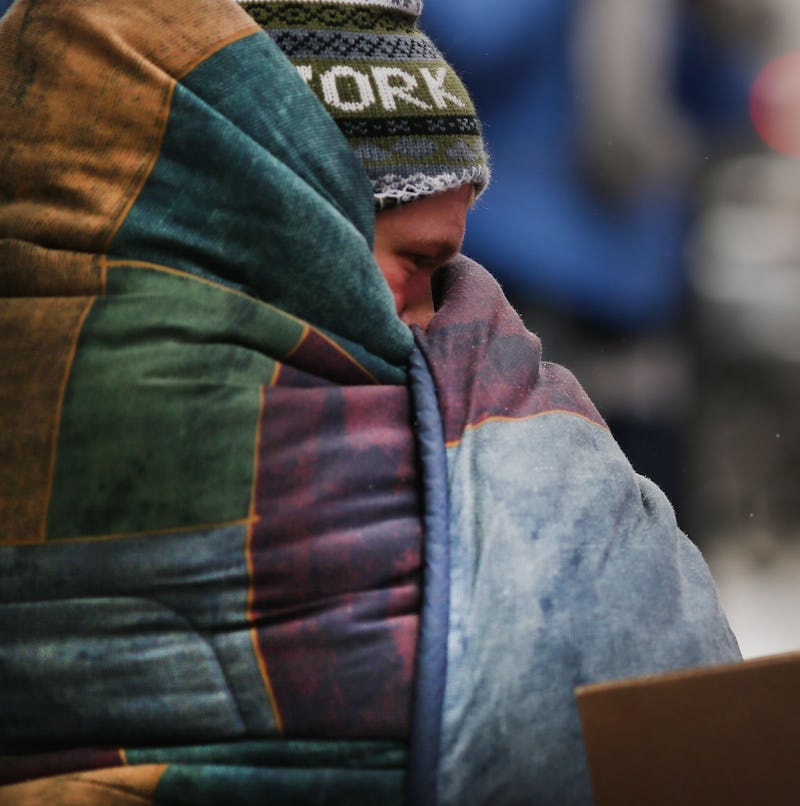 Spencer Platt/Getty Images News/Getty Images
2018 entered with a blast of cold, but the worst of it is expected to come later this week in the form of what meteorologists are calling a "bomb cyclone." Scientists are predicting the storm, which is being compared to a winter hurricane, will impact the majority of the East Coast on Jan. 4 in a major way. And many of the people who will be worst hit by the bomb cyclone will be among the most vulnerable, but there are ways you can help people who will be affected by the bomb cyclone.
"This rapidly intensifying East Coast storm will produce strong, damaging winds — possibly resulting in downed trees, power outages and coastal flooding," the National Weather Service tweeted Wednesday morning. Bomb cyclones are created by a dramatic drop in atmospheric pressure — 24 millibars in 24 hours, to be exact, which is a lot.
For people who are experiencing homelessness, or who are at risk of going without heat, this storm has the potential to be extremely damaging, or even fatal. Fortunately, some east coast cities are anticipating the increased need for shelter during the storm and making preparations accordingly. There are other ways to help out during this storm, though, that you can do individually or with friends. Ahead, find some practical ways you can help folks who will be impacted by the bomb cyclone.