How To Help US Women's Soccer & Other Sports Teams Close The Gender Pay Gap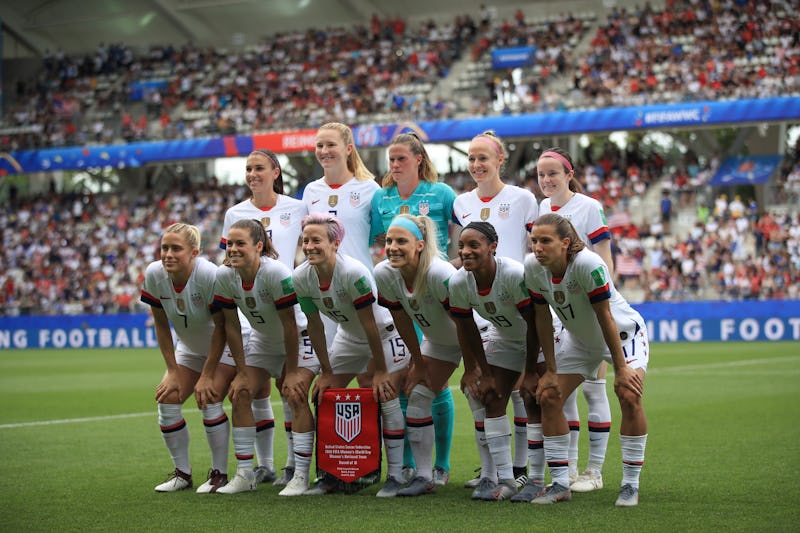 Marc Atkins/Getty Images Sport/Getty Images
Gender pay equality isn't just a problem for white and blue collar workers — women athletes face similar disparities. As the World Cup continues on, you might be wondering how to help US women's soccer and other sports teams close the gender pay gap. The controversy around pay equality in sports has made a lot of headlines in recent months, and there are multiple ways that you can get involved.
Currently, the U.S. women's soccer team is embroiled in a lawsuit over the fact that the men's soccer team makes significantly more than they do. This is underscored by a report from The Wall Street Journal that indicates the women's team actually generates more revenue than the men's team. In May, the U.S. Soccer Federation responded to the lawsuit by denying gender discrimination allegations, pointing out differences in how the women's and men's teams function, The Journal reported.
But soccer players aren't the only women athletes fighting to close the gender pay gap. After rallying together, the U.S. women's hockey team negotiated its way into bumping up players' salaries three-fold. Team captain Meghan Duggan told the outlet that the process involved hiring lawyers and working with former athletes to generate support.
In the last several years, the WNBA has also received attention for the pay disparity between itself and the men's basketball league. Forbes reports that while men players routinely make several million dollars for playing, the women average less than $80,00 a year.
At the end of the day, a great way to support any team is to go to their games and promote them on social media. But if you're looking for a checklist of specific ways to help women athletes achieve equal pay, there are a few additional ways you can get involved. Just like in gym class, participation is key.