6 Tips For Making A Good Impression On Your Partner's Family Without Trying Too Hard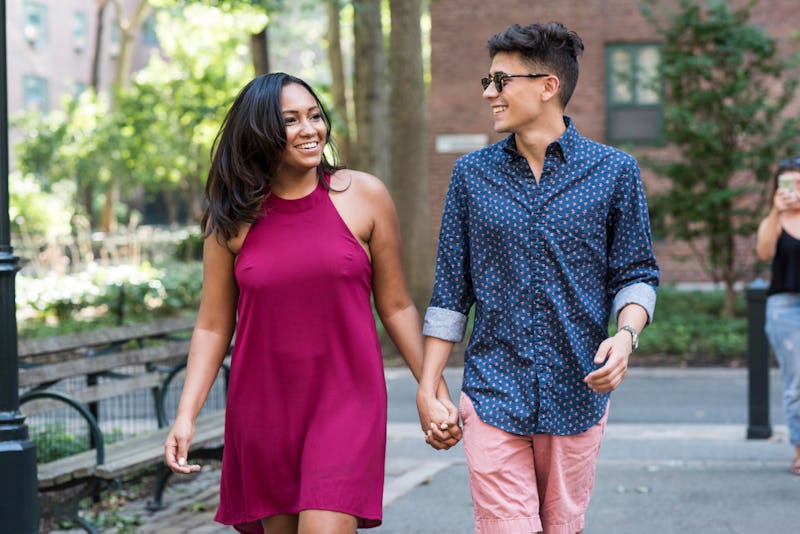 BDG Media, Inc.
Meeting your partner's parents is both an exciting milestone and a potentially terrifying experience. I was so scared to meet my girlfriend's parents and when I did, it turned into a bit of a circus. Let's just say that there was a cat peeing all over the floor and someone walked in on me on while I was eating peanut butter straight from the jar. But hey, at least it gave a realistic impression of how I live my life.
It's totally normal to be nervous AF when you're meeting your partner's parents for the first time. You want to impress them, but you also don't want to come across as stiff or awkward — you want to be yourself. Knowing when to meet them can also be tricky, so it helps to not rush things.
"I don't think there's a timeline that fits for everyone," Anita A. Chlipala, LMFT, and author of First Comes Us: The Busy Couple's Guide to Lasting Love tells Bustle. "Some people will want to wait until they're exclusive before they introduce their partner to their parents. Others may want to meet the parents to see how their significant other is around them — how they interact, whether they are respectful toward their parents, how they handle conflict or something unexpected, or even the kind of stories the parents share about him or her. Meeting the parents can provide a wealth of information about the person that you're dating that may have taken you additional weeks or even months to learn."
It's definitely a big moment. So, from when you should do it to what you should say, here's what to keep in mind.
1. Pick Your Timing
Choose the timing wisely and not just in terms of where you are in your relationship, but also in terms of the actual dates. The holidays seem to be a default time for meeting the family because people are gathered in once place. I met a lot of my girlfriend's extended family over Easter weekend, but just because it's convenient doesn't mean it's the best choice. "For many, the holidays are times to celebrate family, life, love, and personal goals," Clarissa Silva, behavioral scientist and founder of C Silva Solutions, tells Bustle. "However, when you're meeting your partner's family for the first time it can be a little anxiety-provoking."
If you're nervous and worry that the stress of the holidays will impact the kind of impression you make, maybe rethink doing it then. A dinner or coffee in a neutral setting may take some of the pressure off and let you be yourself.
2. Think About What You Want To Get Out Of It
How big of a deal is meeting the parents to you? If that question is looming, it's just going to make you more nervous. Try talking it out with your partner beforehand. "What's important is to be mindful of the meaning that you and your partner make of the meeting, especially if one puts more significance around it than the other," Chlipala says. "If one person is thinking, 'This means we're ready for the next step' while the other is thinking, 'I get to see them in action with their family!' it might create some conflict and hurt feelings. I recommend having a conversation about what meeting the parents means to each of you just to have clear expectations."
If you both know what this means to you, you can go into with a better understanding instead of letting uncertainty make you nervous.
3. Keep It Light
Sure, it may be a little uncomfortable at moments, you may say the wrong thing or witness some family drama, but try to keep things light on your end. Instead of pointing out the drama or getting upset over it, you're better off switching gears. After all, you're there for your partner.
4. Ask Questions
Worried about making a good impression? Ask questions. It shows that you're genuinely interested in them. Not only is it considerate and kind, but it'll also keep the spotlight from being on you the whole time.
5. Be Yourself
When it comes to meeting the parents, don't overthink it. Your partner likes you for you, remember? "The person you were when you met is what attracted your partner in the first place," Silva says. And when it comes to the parents, they're probably going to be as concerned about their child's happiness as they are about your personality — if not more so. "They just want to see that you are going to be a good fit for their son/daughter," Silva says. If they see that you make their child happy, that's important. So never be afraid to be yourself.
6. Remember That Your Relationship Is Between You And Your Partner
If you find the idea of being genuine difficult in high-stress scenarios like meeting your partner's family, remember that this is ultimately about you and your partner. Meeting the family is for them. "Remember your partner and how you feel about them at any moment that you want to respond negatively about their parents," relationship coach and founder of Maze of Love, Chris Armstrong, tells Bustle. "This is not about the parents, it's about your partner." Your partner wants you to feel comfortable being yourself.
Meeting the parents can be stressful, but ultimately you just want to be yourself. Ask questions, keep it light, and you'll be fine.