Planned Parenthood Will Help You Flip Red States Blue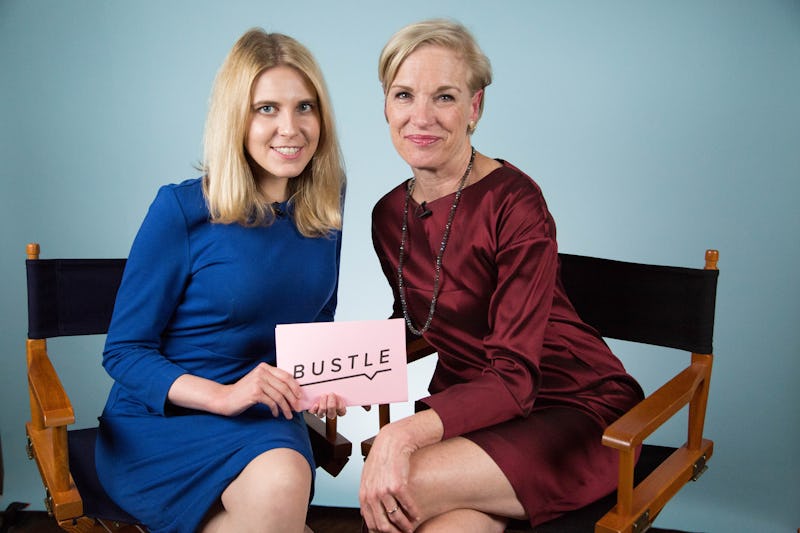 Lauren Betesh/Bustle
Planned Parenthood president Cecile Richards has reliably been a vocal critic of states' efforts to limit reproductive health care access. On Wednesday, during a Facebook Live discussion with Bustle, Richards goes one step further, offering multiple suggestions for how women can fight back while clearing up misconceptions about Planned Parenthood regarding abortion and its federal funding. And for those who live in states where their access to reproductive health care is being bludgeoned by the week, Richards' suggestions for how people in blue states can help those in red states could prove particularly helpful.
Firstly, Richards recommends a service provided by Planned Parenthood to help keep supporters informed. Anyone in the U.S. can text DEFEND to 22422 and Planned Parenthood will respond with events people can attend and actions they can take based on their zip codes. Richards also points out that advocacy for reproductive health care and women's rights has been accelerating rapidly for some time now; she cites the historic Women's Marches in January, resistance at town halls, and calls to elected officials as just a few examples. According to Richards, an app commonly used to call congressional officials reported that 86 percent of said calls were coming from women.
But when touching on the disparity between the lived experiences of women in red and blue states, Richards acknowledges that the American Health Care Act (AHCA) — also known as Trumpcare — is so dangerous precisely because, in her words, "[the bill is] basically saying to the states, 'you can discriminate against women and it's okay.'"
"How do we make this real for women who live in very blue states?" Bustle's politics editor, Emily Shire, asks Richards during the Facebook Live conversation. Shire points out that women living in really blue states like New York may not necessarily understand the restrictions or difficulties faced by women living in red states like Mississippi or Indiana.
"We just believe at Planned Parenthood — whether you live in Mississippi or in New York State, you need to have the same rights, and that we are completely committed that all people in this country have full reproductive health care access," Richards responds. "That's one of the reasons we've been investing in states with less equitable care and why this whole American Health Care Act, or Trumpcare, is so dangerous, because in fact it would exacerbate, I think, the inequality that women face in this country."
Richards also once again urges viewers to text DEFEND to 22422; by doing so, she says, people would be able to protest attempts to restrict reproductive health care access no matter where they are. Even if a certain law isn't directly affecting you, and even if you are not able to go to a town hall in a certain state to speak out against it, there are other steps you can take to fight for reproductive justice and women's rights.
"This bill would literally allow insurance companies to charge women more again, make it tougher for women with pre-existing conditions to get insured, be able to block access to basic maternity care and other benefits," Richards says, conveying a sense of urgency as she encourages viewers to get involved. "Those are issues that shouldn't be different depending on which state you live in, and unfortunately that is really core to what this bill is."