How To Unite For Equality At The Women's Strike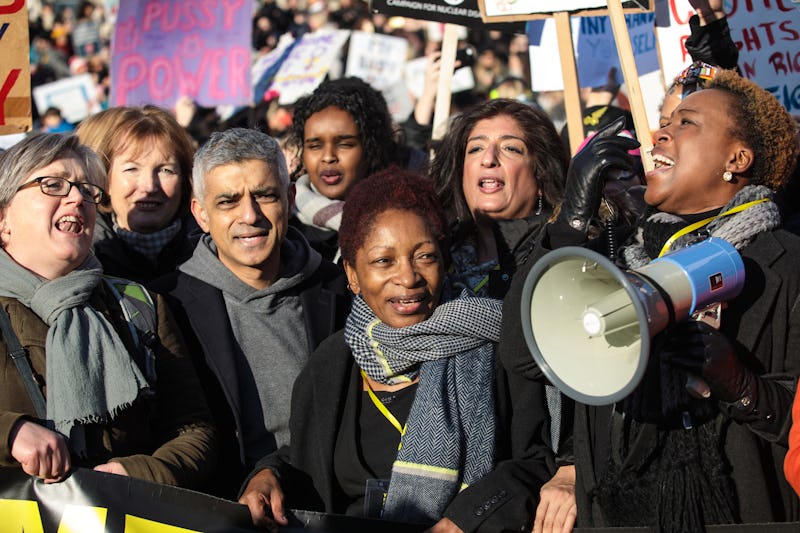 Jack Taylor/Getty Images News/Getty Images
If you're eager to keep the energy of a large, nationwide protest going after the Women's March on Washington, you're in luck. The event that brought together millions of women (and men) worldwide to stand up for women's rights has another protest in the works. So how can you join the Day Without Women strike? The strike is being planned by the same organizers of the Women's March, and will happen on March 8, International Women's Day.
In a series of tweets on Feb. 14, the Women's March wrote: "We ask: do businesses support our communities, or do they drain our communities? Do businesses strive for gender equity or do they support the policies and leaders that perpetuate oppression? Do businesses align with a sustainable environment or do they profit off destruction & steal the futures of our children? We saw what happened when millions of us stood together. We know that our army of love greatly outnumbers the army of fear, greed & hatred. On March 8th, International Women's Day, let's unite again in our communities for A Day Without A Woman."
The Women's March said they'll be sharing more information over the weeks leading up to March 8 on how you can best participate and recommended people start "brainstorming ideas for how you can enhance your community, stand up to this administration, & integrate resistance and self-care." The announcement about the strike was initially made in a tweet from the Women's March account. By naming it a Day Without Women, it hints that the goal of the strike is to show the country how essential women are to the day-to-day operations.
The Women's March on Washington was widely successful, though it is not the end of the road. The organization has laid out on its website a "10 Actions, 100 Days" plan to keep people opposing Trump and his policies. Participants can sign up to receive an action to follow through on every 10 days throughout the first 100 days of Trump's presidency — and likely to get more information on the strike as it is planned. As the website says, "our march does not end here." While the Women's March itself was an incredible event, if the action were to stop there, it would have all been for nothing. As organizers reminded participants on Twitter, "Remember: this is a marathon, not a sprint."
The Women's March strike isn't the first to hit since Trump assumed office, but it could very likely be the biggest. Previously, the New York Taxi Workers Alliance went on strike at JFK airport to protest Trump's executive order on immigration quickly following the announcement. Also in New York, Yemeni-owned bodegas went on strike on Feb. 3 from noon to 8 p.m. to act against Trump's order. The bodega owners instead rallied outside the court house at Borough Hall in Brooklyn.
Besides strikes, groups have also called for boycotts of certain products related to Trump and his circle. The Democratic Coalition Against Trump created an app, Boycott Trump, to inform people of Trump-adjacent products they should avoid.
It's encouraging that the Women's March is keeping up the momentum from its first organized event and harnessing the energy of those who are still concerned about this administration and want to do something about it.