How To Layer Accessories For The Holidays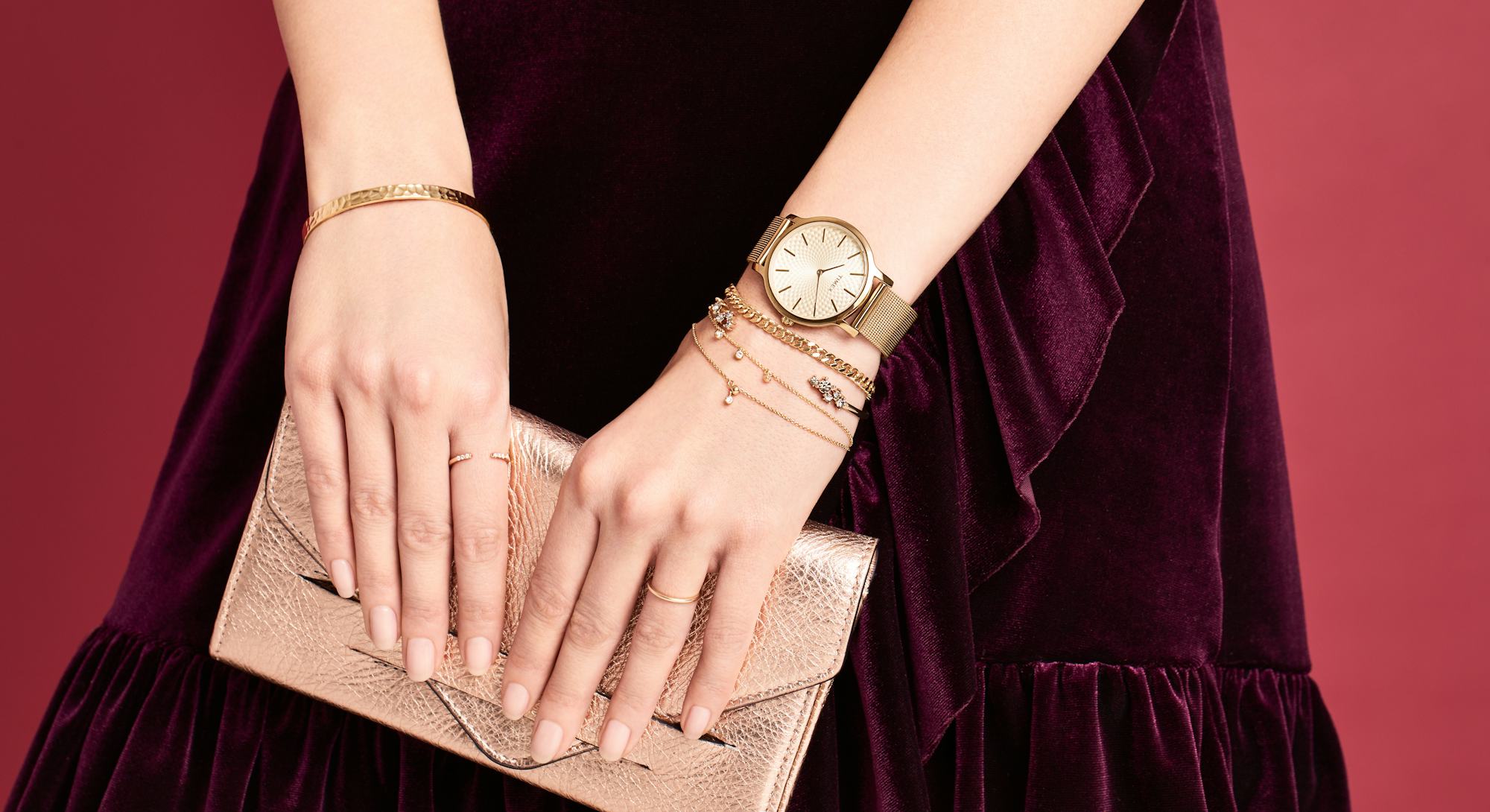 Everyone knows that getting dressed for the holidays is significantly better than getting dressed for pretty much anything else. For one, colder temps mean more clothes — and when was being able to wear extra layers of plush velvet and cozy tights ever a bad thing? For another, it's the unofficial season of sparkle. Doubling up on accessories that twinkle and shine isn't just stylish, it's practically a requisite for embracing the holidays with open (bejeweled) arms. That brings us to our essential style strategy this season: Why wear one festive piece when you can wear two, three, seven?
Now we get that piling on the accessories may cause a few hesitations. Maybe you're all for adding a little effervescence to your look but aren't sure where to start. Maybe you want to find a way to add more glam to your hairstyle or finally master the perfect "arm party" combo, but you don't want to overdo it. We've partnered with Timex to help by bringing you six shimmering ways to nail the layering look. From lining up shiny hair pins to getting crafty with your footwear pairings, these are the ways to mix, match, and layer all your accessories for the holidays.
Wrap Your Wristlet In Fun Enamel Pins
Irma is wearing a Timex Metropolitan watch, Topshop dress, & Other Stories wristlet, These Are Things pins (diamond, NYC sign, camera, and star), Georgia Perry pin (daisy), and Bustle pin (lipstick).
Up your holiday style by investing in the unsung heroes of subtle accessories: enamel pins. Pick colorful ones that convey your mood for the night, and instead of using them to decorate your lapel, switch things up by peppering your wristlet with the sparkle. Anything goes with pin layering — just be sure to place them where your fingers won't cover up your handiwork. The final touch? Add a minimalist gold watch for extra glimmer, and leave your fellow fêters doing double takes.
Triple Up On Necklaces
Irma is wearing (from top to bottom) a Topshop necklace, Ela Rae lapis stone necklace, & Other Stories hanging necklace, and a Urban Outfitters top.
Opting for a high-drama V-neck top? Necklace layering is one way to turn your holiday glamour all the way up. (But even if you're sporting a scoop neckline or turtleneck, you can still make this A-plus accessorizing technique work.) Use the varying lengths as your guide. For example, if one necklace's charm obscures another, re-fasten until all the pieces can be seen. Maximum visibility equals maximum shine.
Bring On The Bracelets
Irma is wearing (from left) a Cloverpost hammer bracelet, Shashi Ava ring, Timex Metropolitan watch, Cloverpost chain bracelet, & Other Stories jeweled cuff, Anthropologie bracelet duo, Madewell ring, & Other Stories clutch, and MISA wrap dress.
Start with your favorite jewelry pick (we chose the watch), and then curate a collection of pieces around it. Select items that play off this piece, rather than compete with it, to make it stand out even more. We also like layering from heaviest to lightest, letting the arm party float down the wrist — from a sturdy watch and chain bracelet to a delicate cuff and hanging charms.
Go For The Gold (And Gunmetal, And Rose Gold...)
Irma is wearing (from left) a Madewell blue stone ring duo, Topshop midi ring, vintage ring duo, Topshop black ring, Anthropologie ring stack, Timex Metropolitan watch, and & Other Stories phone case and sweater.
Key tip: When picking your perfect ring combo, don't stop at gold. From gunmetal and silver to rose gold and rhinestones, mix up your metals, jewels, and band widths to create your own unique medley. After all, the more, the merrier. Nude nails keep the focus on the rings, while adding a metallic watch keeps your holiday shine levels exactly where they should be.
Embrace The Embellished Twinkle Toe
Irma is wearing Madewell boots and Free People socks.
When it comes to layering your holiday accessories from head to toe, consider giving your footwear some extra attention. Embellished socks — like ones dotted with flurries of pearls — add an effortless luxe to your whole outfit. And paired with glittery boots, the combo practically kicks up snowstorm of style.
Make A Crown Fit For A Snow Queen
Irma is wearing Anthropologie jeweled bobby pins, Topshop hair jewelry, and a Zara top.
Want to get even more creative with accessorizing? Take it to the top, and layer shimmery snowflake pins alongside other twinkling hair jewelry. Whether you opt for an ornate braid or a simple half-up twist, follow your hair's natural bend with your favorite barrettes to keep your holiday style game going strong.
This post is sponsored by Timex.
Photos: Joshua Pestka; Art Direction and Styling: Jenna Wexler/ Bustle; Hair: Marcos Diaz; Makeup: Tiffany Patton; Nails: Tatyana Molot; Editor: Elly Ayres/Bustle; Senior Editor: Lexi Novak/Bustle; Production: Lucy Haller and Nancy Valev/Bustle.