This New BBC Podcast About Frank Conversations Under The Bedsheets Is Vital AF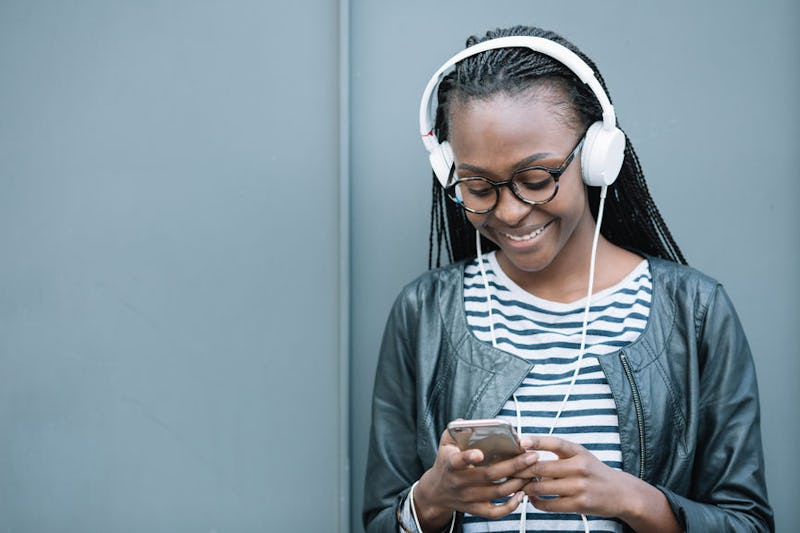 Alberto Bogo/Stocksy
Recently, the BBC has faced criticism for failing to cater to younger viewers, particularly those under the age of 35. Last month, in an effort to attract a younger audience, the broadcaster launched the BBC Sounds app, which offers "80,000 hours of unmissable music, radio and podcasts" — including several original podcasts created specifically for the platform. One of those podcasts? Duvet Days, in which producer and host Abby Hollick has "under-the-cover chats with frank-talking guests." The first episode features performance artist Bryony Kimmings, while actor Zawe Ashton is also set to appear. Here's how to listen to Duvet Days, should your interest be sufficiently piqued.
Duvet Days is available, as you might have guessed, through the BBC Sounds app, which is free to download for iPhones, Androids, and Amazon Fire devices (plus all the corresponding tablets). Alternatively, you can subscribe to the podcast directly via iTunes or the Podcasts app, or find it through the Google Podcasts app on Android. There's also an option on the Duvet Days website for Windows Phone users. Just want to listen online? You can do so in two places on the BBC website (best to know all the options, isn't it): on the Duvet Days page, or through the BBC Sounds page.
The first episode, now available to listen to, sees host Abby Hollick chat with self-described "autobiographical performance artist" Bryony Kimmings. Her latest show, I'm a Phoenix, B*tch, premiered in October this year at the Battersea Arts Centre in London. It deals with the intensely traumatic period after the birth of her son in which she developed postnatal depression, broke up with her boyfriend, and almost lost her baby to a rare neurological disorder. "It's not a sexy subject; it's not a very happy subject," Kimmings tells Hollick.
"When it happened to me, I realised that everything I'd ever seen about postnatal depression, or ever heard about postnatal depression, was women killing their children on dramas on the telly written by men," Kimmings says. "Because there was nothing out there, I thought I had to make a show about it."
"We're all told that it's going to be the happiest time in our lives, even by other women," she adds.
Duvet Days is one of 20 new podcasts, as well as multiple existing podcasts, launching on BBC Sound. Beyond Today, with journalists Tina Daheley and Matthew Price, "recasts news reporting for an on demand world," while The Sista Collective, hosted by journalist Jessie Aru-Phillips, Olympian Anyika Onuora, BlackGirlFest founder Paula Akpan, and Apprentice finalist Joanna Jarjue, "offers candid conversation by women of colour." The network will provide scripted horror with The Case Of Charles Dexter Ward, as well as true crime reporting with End of Days, which focuses on the 30 British people involved in the 1993 Waco siege.
A recent Ofcom report said the BBC "is not currently doing enough, quickly enough, to reach young people," urging the broadcaster to "ensure it delivers content that appeals in ways that suit and reflect young people's viewing and listening habits." James Purnell, BBC director of radio and education, said, "We do serve younger people less well than older people and we have to do more for them," explaining that BBC Sound aims to enable the BBC to "lean in to the podcast revolution."