Here's How To Make A Poll In Your Instagram Stories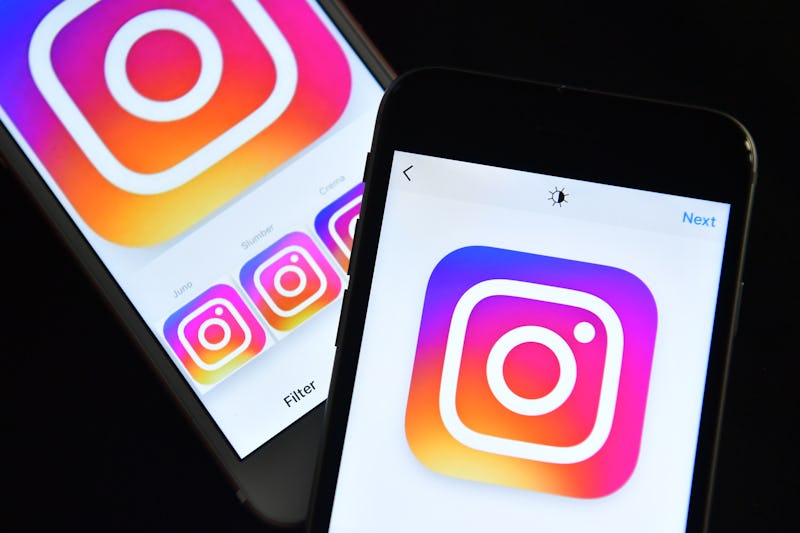 Carl Court/Getty Images News/Getty Images
As soon as you think you're all up-to-date with Instagram trends and features, they go and add something totally new. And on Oct. 3, they're adding something most of us probably never even considered even yearning for: polls. Yeah, you're going to want to know how to make a poll on Instagram stories because it's about to be your new favorite way to interact with your friends and followers. In addition to becoming a seriously useful tool, it's going to make you feel a lot closer to your social network too.
Staring Oct. 3, Instagram is introducing a new sticker to stories — it's called the "poll" sticker and it allows you to ask a question and see the results from your friends and followers in real time as they vote. So now, you can interact with people from the stories screen, without having to make a private direct message by leaving the story. It just keeps everything in one place, and encourages more people to interact with your stories than they would if direct messages were the only options. Not only does this feature make interacting easier, but it inspires it, which will end up making your whole stories experience, a lot more dynamic. Poll stickers are going to be just the thing to bridge the gap between the people that you barely interact and the people who you interact with constantly. It's going to create an organic middle ground.
Sometimes we just want to interact with our friends, but don't necessarily have a photo or moment worth posting. Now, we don't need a momentous shot to stir up a great conversation. All we need is a good question and some kind of capture. Think about all of the possibilities this opens up for our Instagram experience! Instead of messaging your group chat to ask which shirt to buy when you're literally standing in a dressing room, waiting for someone to reply as the line lengthens, you can turn to Instagram and get immediate answers. Or, you can get even more adventurous with it, like asking your followers for advice on which way to go on a trail, or which item to order off a menu or which movie you should rent. It's a great excuse to interact and engage with your social following, and also a really resourceful tool. Here's how to use the super easy new feature:
Capture Something
Take a picture of video for your story, just as you would normally. Once you're happy with a capture, select the "poll" sticker from the stick collection and place it anywhere on the image.
Ask Something
Using the "poll" sticker, ask your followers a question and customize the poll choices to your liking. You can get as creative as you want with this. You can add other decorations here, and edit your media as you normally would.
Get Polling
When your followers see your story and choose to interact with the poll, they'll see which option is in the lead right after they cast their vote. So they're just as engrossed in the choice as you are!
Get Results
Once you share your story, you share your poll. Immediately, your friends and followers can start voting and seeing real-time results. To check out how your poll is doing, just swipe up as you would to see your viewers list for that frame of the story. There, you'll see how many votes each option received, but also who voted for what. Never again will you have to wait for someone from your group chat to notice your dire question. Now you have a constant jury at the tip of your fingers!