How To Make The Most Of The 'Animal Crossing: New Horizons' Easter Event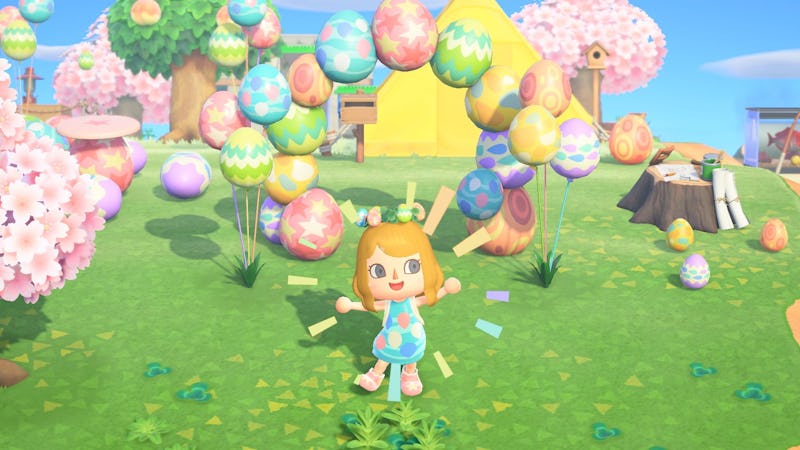 @animalcrossing/Nintendo
Due to the current climate, you may have forgotten that Easter is just around the corner. Thankfully, Animal Crossing hasn't and will start celebrating the holiday on April 1, which they've dubbed as Bunny Day, through a free update. For those unfamiliar as to how these special events work in game, here's how to make the most of Animal Crossing's Easter event on New Horizons.
Meet Zipper T
Among the pink hues of cherry blossoms and other indications that Spring has sprung on your island, you'll notice a hopping new face has discovered the place you call home. Zipper T. Bunny will give you all the deets you need to know about Bunny Day.
You'll also begin to question whether they in fact are a real bunny or another villager in a suit, as Eurogamer points out, there's a zip on his back. Probably best not to think about that.
How To Collect Easter Eggs
Easter — I mean, Bunny Day — wouldn't be complete without an egg hunt. Once you've talked with Zippy, your task will be to collect eggs across the island. There are six different eggs to collect, which you'll find by shaking and hitting trees, digging up holes, shooting at the sky, hitting rocks, and fishing out of the water. So your shovel, stone axe, and rod will be your trusty friends up until April 12, when the event ends.
So make sure you've got enough materials at hand to craft these once they inevitably break (add branches, iron ore, stone, wood, and hardwood to your list).
New Egg-Cellent Furniture & Clothes
Once you have an abundance of eggs (and trust me, you will), you can start crafting a bunch of new recipes. There are nearly 40 recipes to learn, which include things like a pastel egg crown, wreath, furniture, wallpaper, and flooring.
You'll find them washed up on the shore in a bottle, floating through the air attached to a rainbow balloon, or from your neighbours. You'll also come up with clothing recipes while out hunting for eggs by studying the patterns.
As tedious as it will become, if you've learned all the recipes Zipper T. Bunny will give you a mysterious prize on April 12.
Bugs & Fish Appearing On 'Animal Crossing' In April
While players have only experienced the latter half of March, some critters like the Emperor Butterfly and the Stringfish won't be available in April. That being said, a bunch of new bugs and fish will be appearing on your island. These include:
Agrias butterfly (8 a.m. to 5 p.m. — 3000 Bells)
Atlas moth (7 p.m. to 4 a.m. — 3000 Bells)
Rajah Brooke's Birdwing (8 a.m. to 5 p.m. — 2500 Bells)
Madagascan sunset moth (8 a.m. to 4 p.m. — 2500 Bells)
Jewel beetle (All day — 2400 Bells)
Giant water bug (7 p.m. to 8 a.m. — Water's surface — 2000 Bells)
Rice grasshopper (8 a.m. to 7 p.m. — 400 Bells)
Damer dragonfly (8 a.m. to 5 p.m. — 230 Bells)
Long locust (8 a.m. to 7 p.m. — 200 Bells)
Snapping Turtle (Night — River — 5000 Bells)
Guppy (9 a.m. to 4 p.m. — River — 1300 Bells)
Sea horse (All day — Sea — 1100 Bells)
Surgeonfish (All day — Sea — 1000 Bells)
Butterfly Fish (All day — Sea — 1000 Bells)
Clown fish (All day — Sea — 650 Bells)
Neon tetra (9 a.m. to 4 p.m. — River — 500 Bells)
Zebra Turkeyfish (All Day — Sea — 500 Bells)
Killifish (All day — Pond — 300 Bells)
Crawfish (All day — Pond — 200 Bells)
This article was originally published on