How To Pair Burgers And Rosé Like A Food Expert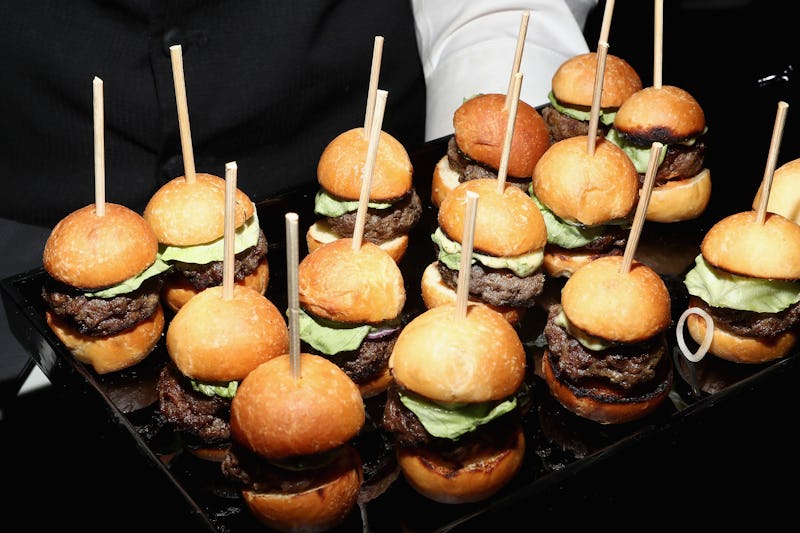 Astrid Stawiarz/Getty Images Entertainment/Getty Images
Nothing says summer like burgers. When you don't have access to a backyard, though, you've got to do what you've got to do to get your fix. With options like Shake Shack, Walburgers and Five Guys, there is never a shortage of a good burger to get your hands on. And, since it's summer, it's the perfect time to trade in your beer for rosé — even with your burger. Believe it or not, they pair quite well together!
Since the kind of meat will determine the kind of rosé you should reach for, I turned to a pro for his advice. Brahm Callahan, MS, Beverage Director Himmel Hospitality Group, has been pairing wine and food for decades. He and his team just won the Grand Award from Wine Spectator and he travels to wine regions regularly to see what's new in the world. So, when it came time to pair our favorite burgers with summer's signature drink, I knew he would have the answers.
"There is just something about a good burger that is so appealing, and frankly, there's no better hangover cure. Burgers scream summer — and so does rosé. As it turns out, the two work really well together, largely because the wine tends to bring a lot of ripe fruit and lush flavors to the table, yet still has enough popped acidity to cut through even the richest of burgers. "
Brahm did the hard work of tasting some of the country's most famous burgers in order to find them the perfect rosé pairing (you're welcome). Read on for what he found, and his utterly scientific recommendations.
Walburgers "House Burger"
Pair with: Protos, 2016 tempranillo rosé from Ribera del Duero
Brahm says: "I had this burger with LTO, American "government cheese," and Paul's Wahl sauce and housemade pickle. The bun was nice and warm but a little doughy. The burger itself was great, a thicker patty with a great beefy flavor, and the sauce is a little sweet, a little tangy — just right. I recommend this with a bigger rosé, and the Protos, 2016 tempranillo rosé from Ribera del Duero is my choice. It has heartier red and black fruits with a little more body than your typical rosé. I think the key to this pairing is that the amount of fat in the patty helped settle down the structure in the rosé, yet the wine remained really bright and fresh."
Shake Shack: The Shackburger
Pair with: Chateau Peyrassol, 2016 spicy rosé from Provence
Brahm says: "I also had this with LTO, with cheese, pickles and Shack Sauce. This is a solid burger: the Shack Sauce is more sweet than it is tangy, and really nice with the acid from the pickles. The bun was a nice soft bun that soaked up all the goodness that was layered on top. The sweetness of the sauce and the brightness of the pickles cried out for a spicy rosé from Provence, so I picked Chateau Peyrassol's 2016. It is a little more on the pretty, riper red fruit side and is balanced out by really nice Herbs de Provence and pepper spice. That spicy note helped enhance the flavor of the sauce and tame a little of the sweetness, too. Those herbal notes played nicely off he pickle in the burger ,too.
Wendy's: Dave's Double
Pair with: Villa Des Anges, 2016 Pays D'Oc Rosé from Languedoc-Roussillon
Brahm says: "You know the Wendy's claim: fresh, never frozen. I had the Dave's Double with LTO, cheese, and pickles. This is a burger you grab when you are on the go, so there's not much to think about when it comes to pairing. I grabbed a lighter style rosé that is all about summer and drinkability — a Switzerland pairing, that didn't change the burger or the rosé too much. I picked Villa Des Anges 2016 Pays D'Oc Rosé, which is crisp, refreshing, nice and easy.
White Castle: Original Slider
Pair with: Ruza, 2015 rosé in a can from California
Brahm says: "Not one to stray from habit, I ate this with LTO and pickles, too. It's a solid burger; the onions are the star here, and bring serious spice and lots of great flavor. I needed a rosé that was focused on fruit that I could drink all day for this. So, on a budget, I grabbed Ruza's 2015 rosé in a can. Don't be surprised: it's wicked refreshing, with super-ripe fruit, and it helped mellow out the aggressive onions. For this match, nice and cold is the way I like it."
Five Guys: Original Cheeseburger
Pair with: Bodegas Chacra, 2016 Pinot Noir Rosé from Argentina
Brahm says: "The sesame seed bun was solid, the patty was nice and juicy: this is a pretty straightforward burger that wants something that is nice, round, and easy to drink with it.. I picked Bodegas Chacra's 2016 Pinot Noir Rosé from Patagonia in Argentina. It's full of lovely ripe red fruits, yet is floral and easy. This is one of my favorites,with just enough structure to help out the burger but lots of pretty fruit that leads the charge."
In-N-Out Burger: Cheeseburger, Animal Style
Pair with: Cepa, 21's Hito Rosé from Ribera del Duero
Brahm says: "This is an absolute favorite with LTO, and the animal style (pickles, grilled onions, extra sauce and mustard) takes this to a whole new level. This is a big flavor combination, and it needs some serious rosé to go with it, since you're dealing with spicy, sweet, tangy, and savory notes all turned up to 11. My go-to rosé for such a mission is Cepa 21's Hito Rosé from Ribera del Duero. This wine is made in a high-altitude site that gives it exceptionally fresh and bright fruit that is focused. The richness of the burger needed the tartness to help cut through, and it left me wanting more. This Spanish wine region's clone of Tempranillo (tinto fino) has some serious structure that matches up to all the umami you find in the 'animal style.'"
Burger Fi: The CEO
Pair with: Domaine Temper, 2016 Bandol rosé from Provence
Brahm says: "The CEO here is a serious gourmet burger. It's a double Wagyu + brisket blend burger topped with homemade candied bacon-tomato jam. As if that wasn't grand enough, there's aged Swiss AND truffle aioli on there, too. So much good stuff going on here, savory notes from the wagyu and the truffle aioli, sweet and tangy from candied bacon tomato, this needs a more structured Rose with spice and everything nice – Domaine Tempier's Bandol Rosé – it is driven by ripe red fruits but it is savory and herbaceous at the same time. The mourvedre really brings some serious structure and while this might be a splurge so is the burger — a perfect match."
Bobby's Burger Palace: Turkey Burger
Pair with: Globerati, rosé from Italy
Brahm says: "You can customize your burger any way you like at Bobby's Burger Palace. Topping options include queso sauce if you're on an New Mexico vibe or a fried egg if you're in brunch mode. No matter the topping, the ground turkey here is luscious yet still light, so a bright rosé is a great match, especially in the summertime. Globerati Rosé, which you can find at Whole Foods for around $6 is crisp and delicate with subtle hints of wild strawberry. This would great to balance the turkey and rich toppings Bobby offers here. This is also a great bottle to keep on hand for backyard burgers made at home."