How To Plan A Sober Wedding, According To Experts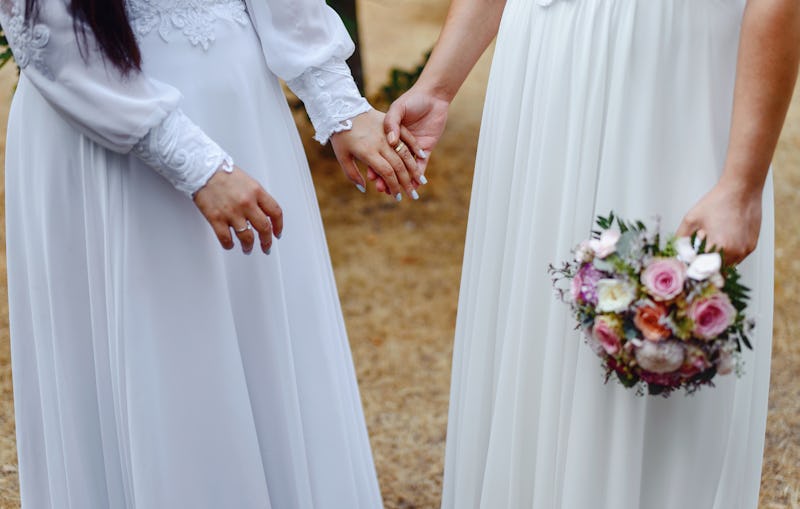 Shutterstock
Among millennials, "sober curiosity" is on the rise — and that means that big life events, like weddings, are increasingly sober, too. A survey by Nielsen in 2019 found that 66% of millennials are keen to reduce their overall alcohol intake. Given that a 2017 study from wedding planning website The Knot found that the average cost of a wedding reception bar was over $2,300, a dry wedding can represent a not-insignifcant cost savings, as well as be more comfortable for sober soon-to-be-newlyweds. If you're planning a wedding celebration that reflects your commitment to sobriety, you're not alone.
"Dry weddings and events are gaining traction," Lauren Grech, co-founder and CEO of LLG Events, tells Bustle. "Sober events should be respected, and that's why we're so supportive of their increasing prevalence." But planning to have a sober event that's historically alcohol-heavy may present some difficulties, from navigating social pressures to dealing with the expectations of caterers and guests alike.
Weddings are alcohol-heavy events in many cultural traditions, so it may raise a few eyebrows to have a dry event. "Not everyone has the same enthusiasm when you take away their liquid courage for the dance floor," Grech says. So if you're planning a dry wedding, you need to make preparations not only for an excellent event, but also to forestall any concerns that it won't be as fun, elegant, or romantic as a wedding with free-flowing champagne. (Spoiler alert: it will be just as lovely, if not more so.)
Here are seven things to keep top of mind as you plan a dry wedding.