What To Wear To An Outdoor Wedding In The Fall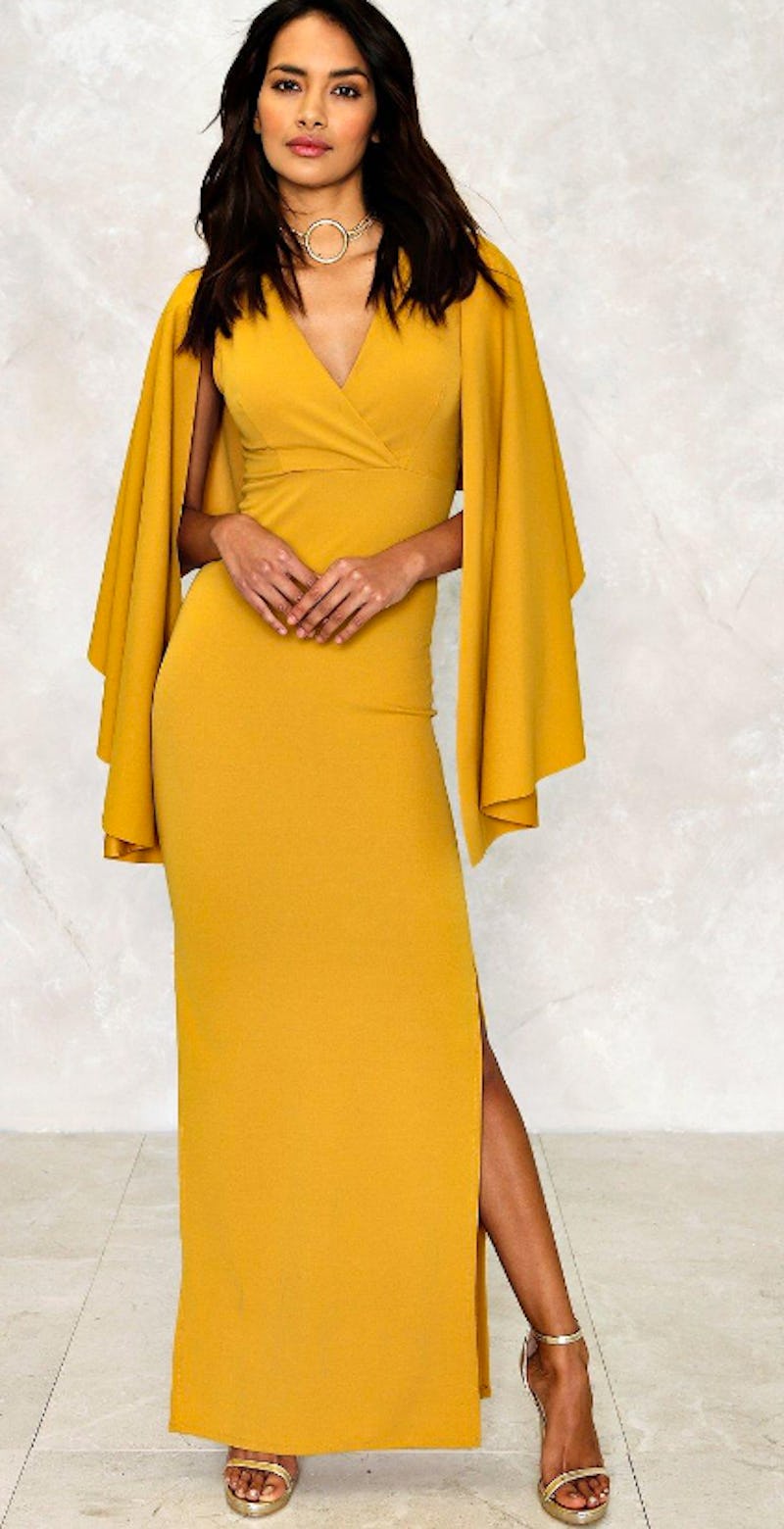 As wedding season approaches, clothing stores become full to the brim of stunning outfits that are perfect for weddings. However, if you're attending a wedding later in the year, you might be wondering what to wear to an outdoor wedding in the fall.
If you ask me, weddings at any time of year are amazing. Being invited to celebrate the love between two people is so special and weddings always leave me feeling optimistic about the human race. Plus, they're a great occasion to dress up fancy, eat some awesome food, and dance the night away; usually in gorgeous settings. Folks who've been asked to attend an outdoor wedding are in for a treat — there's something super romantic about being in a marquee underneath a twinkly night sky. Outdoor weddings in the daytime are equally as unique, because there's nothing like dining alfresco in the balmy air.
Guests invited to outdoor weddings in the summer are spoiled for choice when it comes to seasonally appropriate wedding attire, but those attending weddings in the autumn might have hit a sartorial stumbling block. Fall brings with it cooler temperatures and possibly rain, so if you're invited to an outdoor wedding in autumn you've got to be ready for every eventuality.
With this in mind, here are some awesome options of what to wear to an outdoor wedding in the fall.
Plus Size Black Mesh Panels Midi Dress, $25, Miss Guided
Leave your jacket at home and choose a long sleeved midi dress to keep you from getting chilly as the day goes on.
Tie Bandeau Jumpsuit, $110, Topshop
A jumpsuit with a quirky detail is a surefire way to stand out from the rest of the guests.
Asos Edith Embroidered Boots, $61, Asos
Gals who want to rock a heel without sinking into the lawn can opt for these divine ankle boots.
Superbly Unique Pants, $50, Modcloth
A pair of wide legged, patterned pants look super sophisticated and will ensure you stay comfy all day.
Velvet High Slit Maxi Dress, $109, Torrid
Nothing says fall like a plush velvet dress in a jewel tone.
Joules Women's Evedon Short Rain Boot, $140, Amazon
When the weather forecast predicts rain or the wedding is set in a muddy forest, don't chance it — wear a pair of glam rain boots so you don't ruin your favorite formal shoes.
Lexi Cape Dress, $60, Nasty Gal
A cape dress will have you feeling elegant and ready for whatever the fall weather brings.
DC Formal Poison Ivy Maxi Dress, $109, Torrid
One of the best things about fall weddings is the seasonal theme, so embrace the fall vibes with an appropriately autumnal dress.
Nevada Crushed Velvet High Waist Leggings, $16, Boohoo
Flaunt a pair of high waisted leggings in a luxe fabric instead of tailored trousers that are sure to feel restrictive after the wedding breakfast. Pair with a flouncy blouse and your outfit is complete!
Floral Vintage Jacquard Blazer, $95, Asos
A blazer with a dark floral pattern is a great way to finish off a pantsuit or add an edge to a feminine dress.
Dopobo Stylish Transparent Raincoat, $22, Amazon
There's no need to cover up your gorgeous outfit when you have a see-through raincoat.
You certainly don't need to panic about what to wear to an outdoor fall wedding, so put on your autumnal ensemble and enjoy the celebrations!
Images: Courtesy Brands