Here's How To Post A Video On Instagram IGTV & Instantly Become A Social Media Star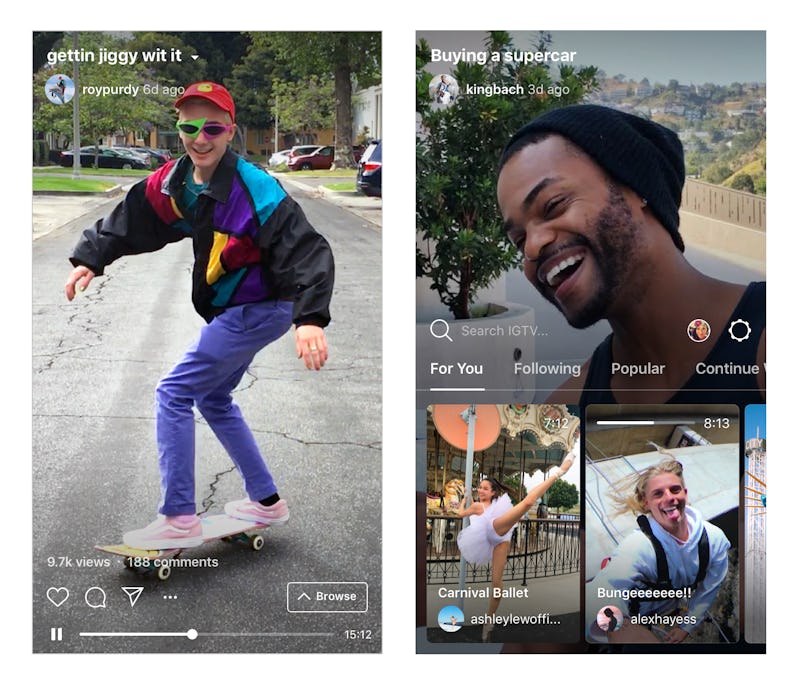 Instagram
On Wednesday, Instagram announced the launch of its new feature, IGTV, and with its announcement, they effectively changed the social media game forever. Now that the brand new, long-form video platform is available for users who have updated their Instagram app for version 50.0, it's time to start taking full advantage of all of its rad features. If you've updated the app and already received a notification that IGTV is officially available, the future of streaming content is in your hands! Here I'll walk you through a step by step guide for how to post videos to Instagram IGTV, because while the process is totally simple, it will take some getting used to. It is a brand new feature, after all.
First, let's go over the basics. The new feature will allow you to record and post videos that are anywhere from 15 seconds to 10 minutes long if you have less than 10,000 followers. If you have more than 10,000 followers, you can post up to 60 minutes of footage. But while it might sound like professional content creators have an advantage over the rest of us, the app is really for everyone: You can make as many 10 minute videos as you like, and your profile page can be easily made into your very own channel, giving you total control over your network.
Videos are meant to be filmed and watched in a vertical, full-screen format, so you never have to turn your phone sideways to capture anything; this makes the feature feel extra intuitive to use. When you tap on the TV icon on the upper right hand side of the screen, you'll be teleported into TV land and, immediately, you'll be able to start watching videos from creators who have already shared content. Videos will start playing the second you tap the icon, which makes it exactly like watching TV — but in the future, of course. Here's how to make your own content on IGTV, because with this update, we're all viral content creators.