This Is How You Should Prepare If You're In Hurricane Irma's Path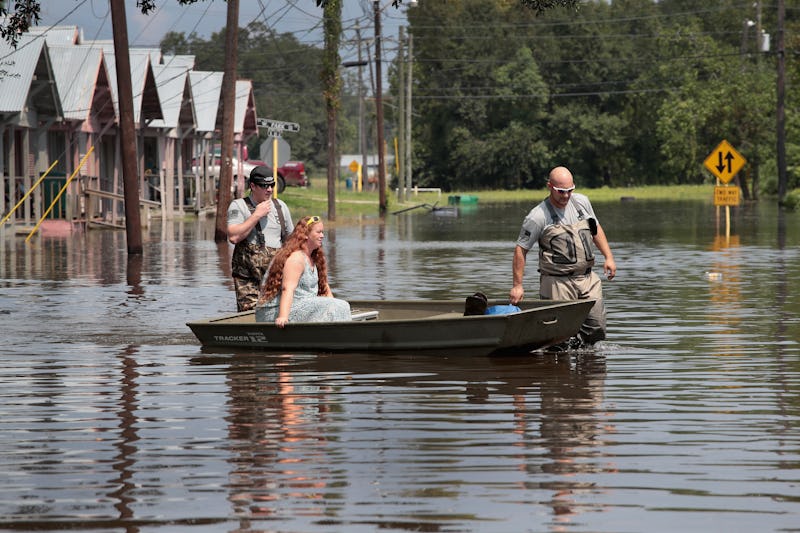 Scott Olson/Getty Images News/Getty Images
On Sunday, Hurricane Irma was upgraded to a Category 3 storm. Irma remained far from land, traveling west toward Caribbean islands like Puerto Rico, the Bahamas, and the Virgin Islands. It was expected to strike several islands over the course of the week, and experts predicted that Irma could make landfall in the U.S. next weekend. It's still too early to tell for sure, but Americans in the storm's potential path, particularly along the East Coast, should know ahead of time how to prepare for Hurricane Irma.
Perhaps the most important tip for Americans looking to prepare for the storm is to pay attention. The path and severity of hurricanes is difficult to predict, and predictions can change often as the storm nears closer to the U.S. coastland. For those reasons, it's important that people in or near the path of Irma pay attention to updates from their local meteorologists, the Weather Channel, the National Hurricane Center, and other sources.
Those who could be affected by Irma should prepare an evacuation plan. If an evacuation order is issued, you should quickly heed the warning and evacuate your home. To make evacuation go as smoothly as possible for you and for cities and communities at large, it's important not to waste time. Pack your bags with clothes, supplies, and any valuables you may want to take with you ahead of time. If, or when, the evacuation order is issued, you should quickly grab this "go-bag" and follow the evacuation routes as set out by local officials.
In the event of an evacuation, remember to pack supplies for and transport your pets along with you. Also, FEMA recommends checking with your neighbors to make sure that everyone can evacuate safely.
Even if a mandatory evacuation order isn't issued, it's important to have a bag packed with all necessary supplies, including emergency materials, like a flashlight, first-aid kit, and drinking water. If you don't evacuate before the storm, you may need to evacuate during or after the storm, depending on the damage to your home or community.
If a mandatory evacuation order is not issued and you choose to stay in your home, you'll need a plan for riding out the storm, too. For instance, you should plan ahead to keep your devices like smartphones and tablets charged so that you can use them to call for help or to monitor the local news at any point during the storm, even if your power goes out. You should also plan ahead by stocking up on basic supplies like non-perishable food, water, flashlights, blankets, batteries, and first-aid supplies. Again, be sure to stock up on enough supplies for any pets you may have, as well.
The Department of Homeland Security (DHS) recommends preparing your house before a storm. Hurricane-force winds and rains can knock over trees, pull off siding and shingles, and cause even greater damage to your home via debris. To prepare, DHS suggests trimming or removing dead trees, securing loose rain gutters, and reinforcing your roof, windows, and doors. Although Irma could be more than a week away for some Americans in its path, now is the time to prepare appropriately.