Here's How You're ACTUALLY Supposed To Pronounce iPhone Xs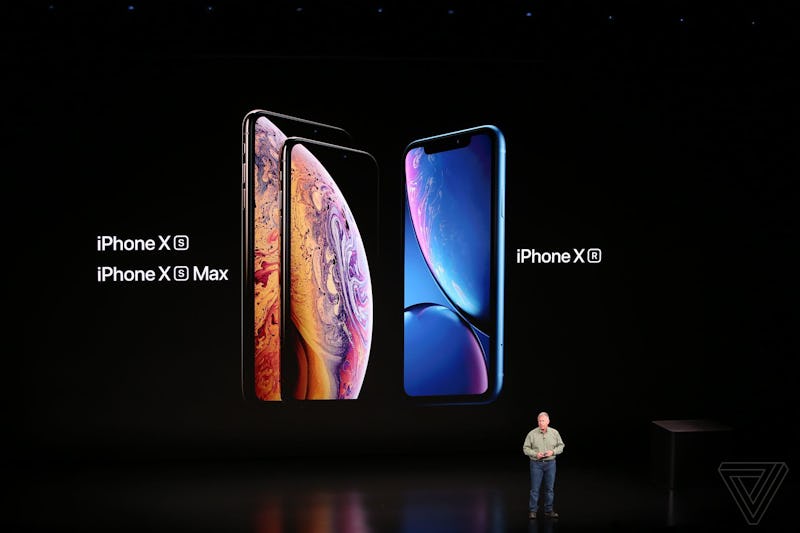 Apple
To meme, or not to meme? That is the question — in particular, when it comes to how to pronounce iPhone Xs, one of three new iPhone models announced at the Apple Keynote on Sept. 12. If you're confused about the name, you're truly not alone — before the Keynote even happened, rumors about the iPhone Xs prompted a whole bunch of memes about the then-potential new name. It seems "Xs" sounds like a lot of words, from access to excess to (gasp) exes. And although it's nice to see some good, clean meme-ing on your Twitter timeline every now and then, it turns out the pronunciation is more confusing than some would think, since it doesn't even look like it sounds.
The iPhone X, the predecessor to the iPhone Xs, is not pronounced "iPhone Ex" — the "X" is a roman numeral 10, meaning you're supposed to say it "iPhone Ten" out loud. The Xs is no X-eption (I'm truly sorry). The correct way to refer to the new iPhone out loud is "iPhone Ten S," which rolls off the tongue a lot more easily, even if it doesn't make the most sense. The memes, however, will live on in glorious Twitter infamy, and that's all we're really here for anyway, right?
While we're on the topic, it's worth noting that the iPhone Xs Max and the iPhone XR, the two other forthcoming models that were announced in the Apple Keynote today, are pronounced out loud the same way — i.e., "iPhone Ten S Max" and "iPhone Ten R". That being said, it's a free country, and if you want to pronounce it excess or access or extra-small, you do you, friend.
The brief confusion of the name aside, the updates in these new "Xs" and "Xs Max" models are noteworthy; according to Apple, these new models will be more durable, feature super retina displays with more range for color, a wider stereo sound, more storage (a whopping 512GB), and longer, more efficient battery life than its predecessors. The camera, too, features more effective lenses and editing tools, including a depth tool that lets you dramatically alter the background and foreground of a photo after it's been taken.
These new models will be available for preorder on Friday, Sept. 14, to ship out on Friday, Sept. 21, so start emotionally preparing yourselves for the melee that comes with every major new Apple launch — you're going to need all the prep you can get. The iPhone Xs, and iPhone Xs Max will retail for $999 and $1099 respectively, so make sure you bear that in mind before forging ahead, too — if you want to wait on it a little bit, you may be more inclined to look into the iPhone XR, which has an Oct. 19 preorder date and Oct. 26 release date, and will retail for $749. I'm sure we will all have plenty of time to come up with some more ha-larious tweets about the names until then.