Here's How You Can Help Protect Transgender Rights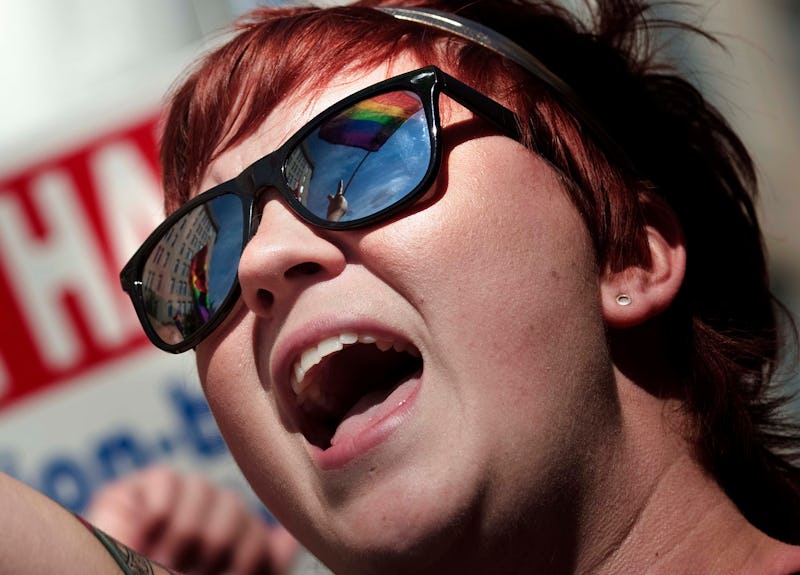 Brendan Smialowski/Getty Images News/Getty Images
President Donald Trump's administration decided to remove federal guidelines allowing transgender students to use the bathroom of their choice; this decision was immediately followed by protests directly outside of the White House. If you want to join the movement, there are various ways you can protest for transgender rights.
Trump's move technically leaves the decision up to states and localities about whether to uphold nondiscrimination guidelines concerning transgender students. New York's Attorney General Eric Schneiderman, for instance, has already made it clear that New York will be continuing to protect transgender students from discrimination and harassment. But other state governments could make different decisions, leaving transgender students even more vulnerable to harassment than they currently are. In fact, other states have tried in the past to remove the Obama administration's guidelines; 13 states, spearheaded by Texas, sued to stop them, and a Texas judge actually temporarily stopped them, Reuters reported.
But the protesters outside of the White House, as well as widespread backlash from both members of the transgender community and supporters, showed that civil rights activists won't take the Trump administration's actions lightly. Speakers at the White House protest included Gavin Grimm, who will have his case to use the male bathroom at his school heard by the Supreme Court in March. Grimm, a transgender teenager, spoke to the crowd, saying, "I've faced my share of adversaries in rural Virginia, but I never imagined that my government would be one of them," ABC News reported.
There are plenty of things you can do to show solidarity and fight for transgender rights. For starters, you should know where to refer transgender and LGBTQ youth who are in a crisis. The Trevor Project's Hotline is accessible by phone, chat, and text, and youth in crisis can talk to trained counselors. You can call the hotline at 1-866-488-7386, or text a counselor at: 1-202-304-1200. If you have the time, consider becoming a counselor yourself. In the meantime, you might want to take a look at this list of resources on transgender and non-binary student rights from the Human Rights Campaign.
Contacting your representatives is imperative; as PFLAG, a nonprofit run by allies of the LGBTQ community, points out, you can contact your congressional representatives whether or not you have a school-age child. Here's a list of actions you can take in the wake of the Title IX decision, compiled by PFLAG. And if you want to make a difference locally, here's how you can help, according to the National Center for Transgender Equality. Of course, you can also help these organizations fight the battle against discrimination by donating, if you have the funds to. For instance, you can give to the Transgender Law Center, a nonprofit which works to give transgender individuals legal assistance.
As for protests, there have been and will be many to come. For instance, Texans who are against the Texas transgender bathroom bill will be protesting outside the governor's mansion on Feb. 23 — in the form of a queer dance party, the Dallas News reported. "We say NO to anti-transgender bathroom bills," the Facebook event's description reads. "We say YES to shaking our asses. We say YES to the freedoms of the body."
Of course, if you're not comfortable with a dance party, you can always scour Facebook and other social media websites for protest events near you. And if you don't find any, why not start your own? After all, peaceful assembly is one of your constitutional rights.