How To Make Your Voice Heard For Gun Control After The Capital Gazette Shooting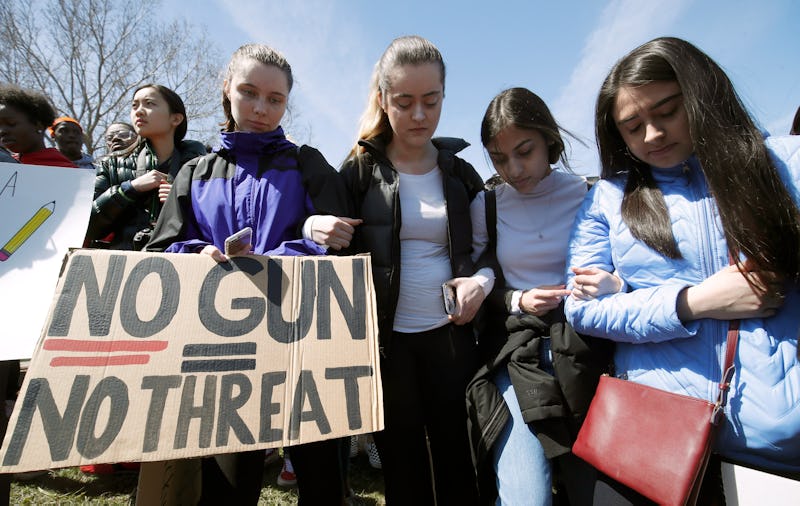 Jim Young/Getty Images News/Getty Images
On Thursday, a mass shooting in Annapolis brought Americans yet another chapter in a tragically familiar narrative, as police confirmed the death of five staffers at local paper The Capital Gazette. The story followed a recognized pattern — one armed man opening fire on a group of unsuspecting victims. And for those who are fed up with that recurring narrative, there are several ways to protest gun violence.
The past 12 months have seen the United States hit with a string of deadly shootings that have raised questions over the current state of gun laws. A mass shooting in Las Vegas left 58 dead in October. Another 26 people died in Sutherland Springs, Texas, after a lone gunman opened fire in November on a church congregation. Three months later, a shooter killed 17 people — 13 of them teenagers — at Marjory Stoneman Douglas High School in Parkland, Florida. Another ten people died in May from a school shooting in Texas.
But the slew of gun violence has raised more than just questions. At least one movement — the March for Our Lives — has risen up in response to the Parkland shooting. Nearly a million students across the nation walked out of class on March 14 in support of gun control reform.
But you don't have to wait for next year's march. Here are a few immediate ways you can make your voice heard on gun control.