Here's What You Can Do To Protest The Jones Act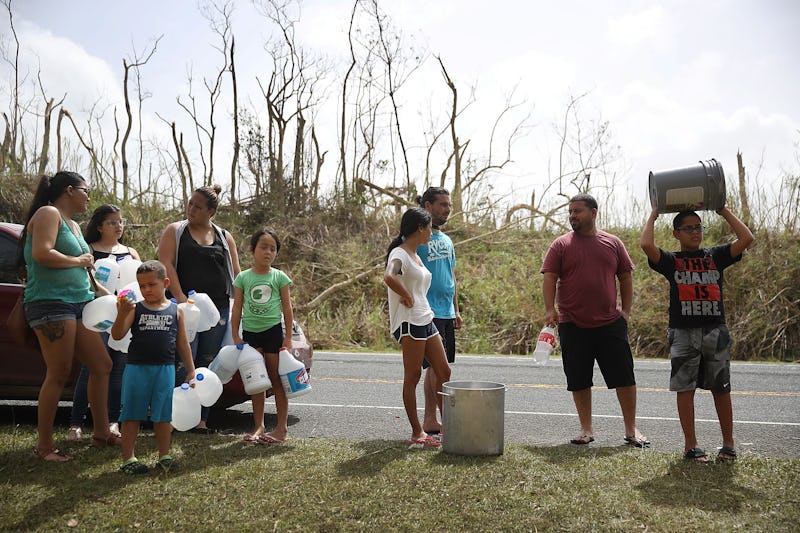 Joe Raedle/Getty Images News/Getty Images
After the devastation that Hurricane Maria wrought on the island of Puerto Rico, the U.S. territory has been struggling to provide its citizens with even the most basic needs. And because of an outdated law called the Jones Act, the U.S. government is actually preventing some aid from getting to the island. Now, you need to know how to protest the Jones Act, because Puerto Rico is in absolutely dire need of the most fundamental supplies, like clean water, food, and gasoline to power generators.
First of all, you need to know what the Jones Act is and how exactly it's hurting Puerto Rico at the moment. This law, passed soon after World War I, prevents non-American ships from bringing goods and supplies from one American port to another without paying hefty fees. While this law did actually carry some weight in the political environment when it was passed (it made sure that only American ships could transport goods between U.S. ports, so as to stave off the threat of German U-boats), today it is essentially useless. The Jones Act imposes heavy tariffs, taxes, and fees on any foreign vessel, which gets passed on to Puerto Rico residents.
Now with this disaster, it's proving to be quite damaging. It's detrimental enough that the Trump administration waived it for Texas and Florida after Hurricanes Harvey and Irma, respectively. Now that it's Puerto Rico that needs the help, however, Trump has fallen back on a bizarre explanation: "[A] lot of people that work in the shipping industry ... don't want the Jones Act lifted."
A lot of people in Puerto Rico who need fresh water on the island do want it lifted, though, and you can add your voice to theirs in a couple of ways. There's a Change.org petition to waive the Jones Act, called "Waive the Jones Act for Puerto Rico to Help Rebuild its Infrastructure and Economy." Once the petition reaches 500,000 signatures, it will be sent off to the president and the Department of Homeland Security, urging them to help the millions of Americans currently suffering in Puerto Rico. The petition is currently at just over 423,000 signatures, so it's nearly there.
The other way to protest the Jones Act still being in place is something you've been hearing again and again over the past eight months: get in touch with your Congress members. While it's up to the Trump administration to actually waive the law, it could really help if they hear from enough angry senators and representatives.
John McCain already sent a strongly worded missive to President Trump:
It is unacceptable to force the people of Puerto Rico to pay at least twice as much for food, clean drinking water, supplies and infrastructure due to Jones Act requirements as they work to recover from this disaster. Now, more than ever, it is time to realize the devastating effect of this policy and implement a full repeal of this archaic and burdensome Act.
In case you don't already have those numbers on your speed dial, you can figure out how to reach your senators here and how to reach your representatives in the House here. The general number for the Senate is (202) 224-3121, and an operator there will connect you with your specific senator's office.
This is one of those times you really need to get over your phone-phobia — people in Puerto Rico are literally dying because of a lack of supplies. When hospitals running on generators run out of gasoline, people on life support have nothing keeping them alive. In sweltering heat, vulnerable people become even more vulnerable when they don't have access to plenty of clean water.
Puerto Rico is facing a humanitarian crisis that rival any other the U.S. has seen over the past several decades, and the fact is that the Trump administration simply isn't doing enough to help these American citizens in desperate need right now. Getting rid of the Jones Act wouldn't fix everything — the recovery process, and getting power restored to the island, is likely to take months, if not longer — but it would be a big step in the right direction.
By signing this petition and calling your representatives in Congress, you can do your part to help.